'American Democracy Is More Than One Election'
International election observers assess the state of U.S. politics.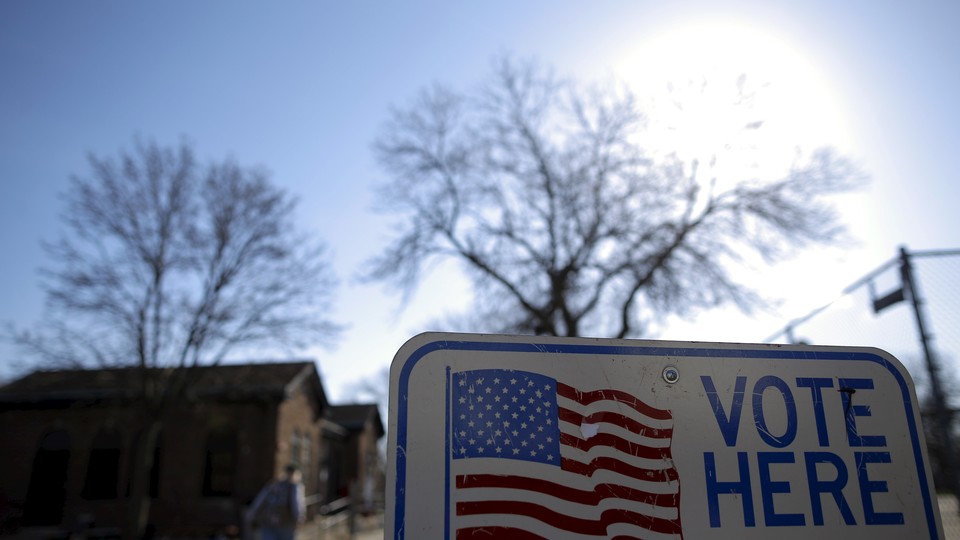 Reflecting on this year's stormy presidential election—the never-ending scandals, the allegations that the leading candidates are evil criminals, the talk of vote-rigging and suspense over a peaceful transfer of power, the specter of the Russians orchestrating it all—one former U.S. diplomat argued that the perception of American democracy has taken a hit. People around the world "don't expect that from the United States," Nicholas Burns told The New York Times. "We are the people who go and monitor other people's elections."
This year, the election observers are coming to America. The Organization of American States (OAS), a bloc of 35 countries in the Americas, is sending its first-ever mission to observe a U.S. election; on Tuesday, 41 OAS officials will fan out to 12 U.S. states. The Organization for Security and Cooperation in Europe (OSCE), a grouping of 57 North American, European, and Asian nations, is deploying 437 election observers—nearly eight times the number it dispatched for the 2012 U.S. presidential election—across more than 30 U.S. states.
The influx of international observers—typically thought of as the folks who assess whether elections in young, fragile democracies are free and fair—has some people marveling at how far one of the world's oldest, largest, and mightiest democracies has fallen. The new OAS mission puts "the United States in the same league as Haiti and other politically-volatile Latin American countries," Andres Oppenheimer wrote recently in the Miami Herald. "That's largely thanks to Republican candidate Donald Trump" and his claims about large-scale voter fraud and conspiracies to fix the election for Hillary Clinton, which have called "into question the very legitimacy of U.S. democracy."
That, however, is not actually the story. Gerardo de Icaza, the director of the OAS's Department of Electoral Cooperation and Observation, told me that the U.S. government invited the organization to observe the 2016 election this past summer, before Trump ratcheted up his warnings about a rigged election. (The OAS, which has been observing elections in the Americas for decades, only organizes missions at the request of member countries.) U.S. officials have described the invitation as an attempt to emphasize America's support for the organization's democracy-promotion efforts—a kind of practice-what-you-preach statement. Laura Chinchilla, the head of the OAS mission to the United States, has argued that the decision might also help the OAS persuade Latin America's more volatile democracies—countries like Venezuela and Nicaragua—to accept electoral-observation missions: "Many of them say, 'If the United States doesn't allow observers, why should we?'"
The OSCE, which began observing U.S. elections in 2002 in response to the 2000 vote-count debacle in the United States, hasn't mentioned Trump either in explaining why it has dramatically expanded its observer mission in the country. Instead, the organization has cited the need to monitor things like new voting systems, changes to campaign-finance rules, and the impact of the Supreme Court's 2013 decision to strike down part of the 1965 Voting Rights Act, which has reduced the number of Justice Department election monitors and observers, and produced new state voter-registration and voter-identification laws.
De Icaza told me that there are clearly areas for improvement in the U.S. electoral system, including the high cost of elections, which "seems to be an outlier in the region," and the "amount of money that private corporations can give to political parties or to PACs or to Super PACs." But he said the system also has numerous strengths relative to many Latin American democracies, including strong rule of law, respected electoral administrators, and—though this might be hard to accept as an asset at the end of a mind-numbing, 597-day-long presidential campaign—abundant information for voters.
"It can be both very factual information or it can be information that speaks to people who are like-minded, but there's a lot of information out there, and there's a lot of contrasting views, and there's a lot of debate," de Icaza said. "We're still seeing in some countries of Latin America where you only get one vision. Here, those visions sometimes can polarize and it can be an aggressive dialogue, but at least everybody gets all of the views."
De Icaza didn't sound too alarmed about the U.S. election being rigged. "The first thing that we have to describe is what does rigged mean?" he asked. "Does rigged mean that the system is designed in such a way that it gives an unfair advantage to one person over the other? … Well, we've seen no evidence of that. Does rigged mean that we'll see widespread fraud on Election Day? We've seen no evidence that that will be the case. Does rigged mean that there's a partial body that is in favor of one candidate over another, and that's the partial body that decides the election? Obviously that's not the case in a decentralized system like the U.S."
"No election is perfect—every election has irregularities," he continued. "What we try to look at is, are those irregularities … a determining factor in the result of the election or not? In such a huge election like this, with 120 million-plus voters probably, I would find it very difficult for one or two factors to be a determining issue."
From morning to evening on Election Day, de Icaza explained, OAS observers will station themselves at polling places, documenting things like how trained poll workers are, how long the lines are, and whether voters lodge complaints. The OAS is sending election observers, not election monitors like those affiliated with the Justice Department or U.S. political parties. The difference is that observers don't intervene in the political process; if a voter were to come to OAS officials with a complaint, they would report it to U.S. authorities rather than taking action themselves. The OAS will then pool its observations into a report released to all member states that details what happened during the election, what good practices were observed, and what bad practices could be improved. (As an example of a best practice he's observed in the course of his work, de Icaza cited Jamaica's "political ombudsman," who acts as a non-partisan mediator and arbiter of civil discourse during political campaigns and the rough and tumble of everyday politics.)
De Icaza's larger point seemed to be that election observation isn't just for weak and unstable democracies—that every democracy is imperfect and can learn from its peers and from its own failings. And that may be the broader lesson of America's 2016 election when it comes to democracy. The explosion of campaign money; the fragmentation of the country's party duopoly; the bitter partisanship inflamed by gerrymandering and media echo chambers; the profound public distrust of politicians, political institutions, and the electoral process—all have exposed what comparative studies of the world's democracies have been telling us for some time: The United States is not, as U.S. politicians like to proclaim, the greatest democracy on the face of this earth.
But the United States is still a great, centuries-old, exemplary democracy. As de Icaza told me, "American democracy [is] much more than one election. Your country is born out of a democratic tradition based on civil liberties that are universal values." I asked him whether he was concerned about the United States having the credibility to promote democracy in the Americas after this year's election. No, he said.
Speaking in London in October, U.S. Secretary of State John Kerry discussed his own struggle to square the ugliness of the 2016 election with the greatness of the American democratic experiment:
I must tell you bluntly this election has been difficult for our country's perception abroad. There are moments when it is downright embarrassing. There are times when it steps out of any norm that I've known, and I ran for president in 2004. I could never have imagined debates that were not focused on real issues, and so it's been a real change.

And the way it's made it difficult for me is that when you sit down with some foreign minister in another country or with the president or prime minister of another country and you say, "Hey, we really want you to move more authoritatively towards democracy," they look at you—they're polite, but you can see the question in their head, in their eyes, and in their expression. It's hard. Or when you run in and say, "By the way, it's really important you guys get your budget passed," and I can see the quizzical look at us when last time we tried to pass a budget was I don't know how many years ago. We do a continuing resolution nowadays. We don't do the normal process.

So this is a difficult moment, but the one thing I would say to you is the great thing about the United States is that it has an amazing resiliency. It has an incredible ability to absorb something like this, and it will come out, and in my judgment it will come out stronger.
In the same New York Times article in which Nicholas Burns noted the dark side of the world watching the 2016 campaign, Amara Nwankpa, who works at a Nigerian NGO that promotes good governance, pointed out a bright side: America, he hoped, would "emerge from this experience a more empathetic partner" to less-established democracies. "There's some ironic reassurance in the fact that even the great United States of America could struggle this much with elections," Nwankpa explained.
Democracy is hard, and messy, and miraculous when it works. America was never a place where, as John Kerry suggested, political debates were focused only on policy issues. Americans don't have to be the people who, as Nicholas Burns suggested, exclusively monitor other people's elections—who teach others but never learn from others. If Americans emerge from this election reminded of the considerable strength and resilience of their democracy, but also humbled by its very real shortcomings, that might just provide an opportunity to meaningfully reform democracy at home and more effectively promote it abroad.