Brexit Is Jeopardizing Britain's Intellectual Legacy
The country's cherished universities are in turmoil over whether their European and foreign professors and students will be able to remain once its membership in the European Union is over.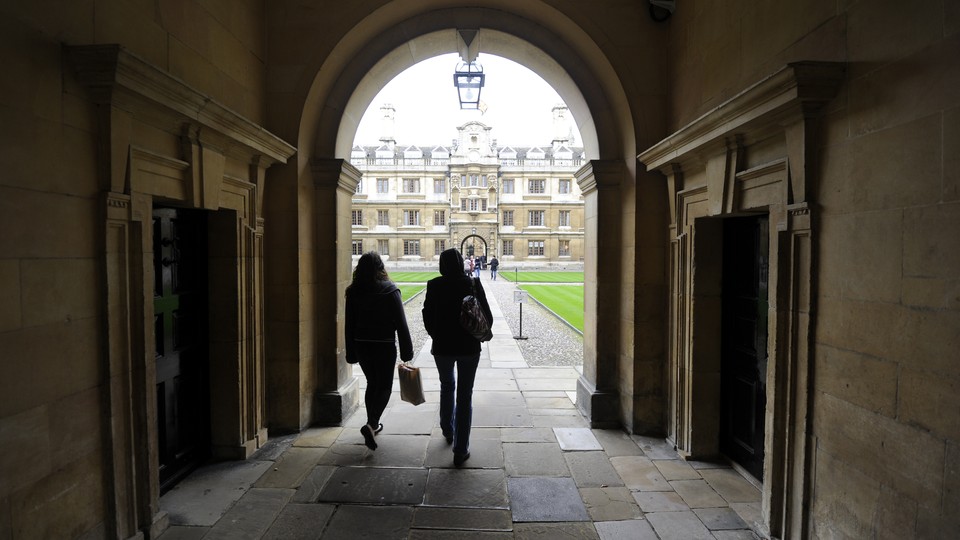 LONDON—On a recent afternoon in October, a group of academics gathered in a spare basement lecture hall in the underbelly of King's College London to discuss their university's post-Brexit future. The academics, who hailed from a range of disciplines and nationalities, knew that the campaign to leave the European Union had, in part, been an attack on them. Fueled by fear-mongering about the unceasing flow of immigrants and the proliferation of false statistics about British monetary contributions to the EU, the campaign was also a rebuke to the educated elite, based in cosmopolitan and academic centers that voted to remain by considerable margins. "People in this country have had enough of experts," Michael Gove, leave campaigner and former justice secretary, told Sky News in June.
The war over Brexit has pitted the government against both the British parliament and universities, paragons of the elite that have been portrayed, at times, determined to overrule the will of the people. Parliament won the latest round on Thursday, when a high court decision gave it the right to vote on invoking Article 50 of the Treaty of Lisbon, which governs the terms by which a member state can secede from the EU. Prime Minister Theresa May has vowed to trigger Article 50 by March, but the high court's ruling—and the imminent appeal from May's government—makes that unlikely at best. And as with much else related to Brexit, uncertainty now surrounds Britain's esteemed universities.
Since the referendum's narrow passage in June, May has promised to end the freedom of movement between Britain and Europe, one of the four freedoms enshrined in the Treaty on the Functioning of the European Union, which affords European citizens the right to work and live in Britain, and vice versa for British citizens. Given that universities depend on students, faculty, and staff from around the world, for everything from basic services to intellectual capital and tuition revenue, Brexit could threaten their very existence. From 2014-2015, EU, non-UK, and foreign students numbered 437,500, making up roughly 20 percent of the national student population. Overall, 13 percent of undergraduate students, 38 percent of postgraduate students, and 28 percent of academic staff nationwide are from outside the UK.
With their fates unknown, the academics who gathered at King's College that day sought to devise a plan of action to present to university administrators. Among those in attendance was Lucia Pradella, an Italian academic and lecturer in the European Studies department whose professional life would be radically altered by Brexit. The vast majority of instructors in her department hails from the EU; Europeans make up some 20 percent of the staff at King's overall, yet the subject of how the referendum result could alter their lives has gone largely undiscussed in the months since the vote.
British universities are already suffering losses of funding and talent stemming from Brexit-related concerns. Many British academics have reported being dropped from EU projects, or have been quietly asked to take less visible roles. More recently, reports surfaced that the British government allegedly told Sara Hagemann, a European professor at the London School of Economics (LSE), that she was no longer qualified to advise the government because she is not a British citizen. Meanwhile, Home Secretary Amber Rudd has announced plans to crack down on all student visas in an effort to curb overall immigration, from both within Europe and outside it—the government includes visiting foreign students in its immigration count. For some universities, that threatens anywhere from 15 to 50 percent of their student bodies, as well as the higher tuition revenue that foreign students provide (students from the EU pay the same reduced rate as British students).
In a melodic Italian accent, Pradella ticked off her list of demands she hoped to present to the university's higher-ups: the preservation of free movement between the UK and Europe, the immediate removal of foreign students from immigration targets, guarantees against any changes in the employment status of workers or enrollment of students from the EU, and more.
Pradella argued that the uncertainty at Brexit's core opened an opportunity for the universities to influence it—a reference to the referendum's vague wording ("Should the United Kingdom remain in the European Union or leave the European Union?"), and the fact that May will not invoke Article 50 until March at the earliest. "The nature of Brexit hasn't been decided, so to accept that this is the end of free movement is defeatist," Pradella told her colleagues. An organizing meeting and demonstration was planned for the following Saturday, in partnership with unionized professors from the University College London. But organizing around a cause is difficult when the precise nature of what one is organizing against remains unknown. Still, Pradella preached resilience. "Many people are quite depressed in general, they don't think we can change things," she told me. "People need to get a bit more confidence about what we can achieve."
But such optimism is hard to come by. Mike Galsworthy, a visiting researcher at the London School of Hygiene & Tropical Medicine, leads a group called Scientists for EU, which campaigned for the UK to remain in the union for the sake of scientific research. "The sensitivities are running high," he said, referring to the Hagemann incident. The message of that episode, he said, is that foreign experts, students, and workers, are no longer welcome in Britain. The government's "mindset toward negotiations is not Britain versus the EU. It's warlike. Our side versus your side," he said.
The government has outwardly sought to underplay the uncertainty Brexit poses, while incidents similar to the one at LSE simmer quietly beneath the surface. "What appears to be the position of the government, that nothing will change until the UK actually leaves the EU, seems to me naive in the extreme," Lord Anthony Giddens, former director of the London School of Economics, said in a debate in the House of Lords Thursday morning about the impact Brexit will have on higher education.
Already, things are changing. Scientists for EU has collected over 400 testimonies from British researchers and academics whose lives have been altered by the vote. Many have turned down offers from British universities in order to move to continental Europe, where they will be eligible for continued funding from Horizon 2020, an EU program that currently supports 14 to 19 percent of British research, according to a report from the Academy of Social Sciences. Others have seen promising EU job applicants withdraw their names from consideration; many cited an increasingly unwelcoming social climate and anti-immigrant rhetoric as their reason. Australia, Germany, Ireland, and Scotland are among the countries making aggressive bids for "Brexit refugees."
Other universities are already "window shopping" for satellite locations in Europe, as one vice chancellor told The Guardian last month. "It may very well be that this might speed up the process of opening campuses elsewhere, and maybe even moving," the British philosopher A. C. Grayling, who currently heads the New College of the Humanities in London, said. "Small, independent institutions like mine are in a better position to think about relocating to Europe."
Dame Julia Goodfellow, vice chancellor of the University of Kent, is a leading voice in higher-education education policy in her role as president of Universities UK, a higher-education action group. The umbrella group is advocating for uninterrupted funding streams, open visa regimes for researchers and students, and continued mobility via programs like Erasmus, which allows European students to study abroad in any other member state, free of cost.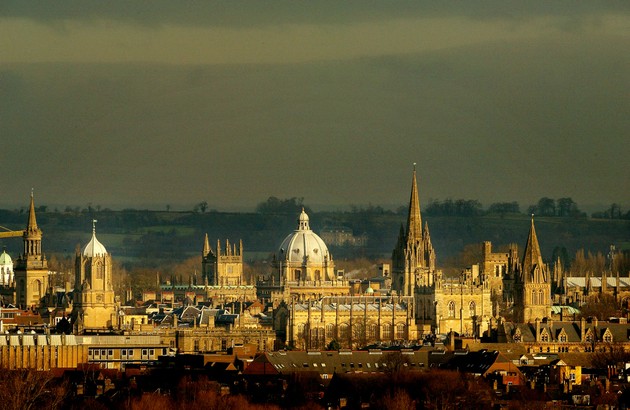 For their part, British officials have made various conciliatory statements intended to mitigate Brexit's blow to universities. Chancellor of the Exchequer Philip Hammond has said that the government will provide universities with funding for EU projects if Brexit is triggered, and the government has promised that fees for European students will remain unchanged at least for the 2017-2018 academic year. A spokesperson from the Department for Exiting the European Union said that since formal negotiations over how Britain will leave the EU have yet to begin, it is inappropriate to speculate on specific impacts, including those on higher education. She added that all sectors would be taken into account. But those assurances mean very little with the terms of Brexit up in the air. After all, ending free movement between the UK and Europe was one of the primary drivers of the "Leave" vote, and remains a government priority.
"Everyone can see that those guarantees will be vulnerable should there be a wider deterioration in the economic situation of the UK," Lord Giddens said Thursday.
The economic situation remains extremely volatile, and will become more so if the uncertainty hampering universities goes unaddressed. Overall, higher education contributes £73 billion to the British economy each year, or 2.8 percent of its GDP. From 2011 to 2012, higher education contributed £10.7 billion in British export earnings, with international students spending  £4.9 billion off-campus and £4.4 billion in tuition and fees, accounting for 20 percent of university output, according to Universities UK.
"One of the things that the government and the prime minister hasn't seemed to understand, is that higher education is a major global export. She sees it as non-UK people coming in," Julie Smith, Baroness of Newnham and previously a Cambridge city councilor, said in an interview. "If the United Kingdom is to remain world-leading, it needs to demonstrate that it's open for business," she told the House of Lords on Thursday. "Maybe the plan is to have a visa-free regime for free movement of academics. Maybe the requirement is to expand Tier-2 visas [for skilled workers]. But my Lords, at present, we have no idea."
Though Thursday's ruling could allow parliament to put the brakes on Brexit, it does little to secure the fate of European workers in the UK. And it may, in fact, legitimize Brexit. After all, it was only several weeks ago that the House of Commons voted down a measure that would protect the rights of EU passport holders to live and work in a post-Brexit UK, potentially clearing the path for Brexit legislation that would revoke that right.
Even if parliament succeeds in slowing Brexit, the fiscal, cultural, and intellectual future of British universities will remain in jeopardy. "People from abroad won't necessarily want to come here, because they think we're racist and xenophobic," Anand Menon, professor of European politics at King's, said. His own family members in India have shown a strong preference for settling in America. "Rhetorical initiatives carry reputational costs," Menon said, pointing to a 2013 plan put forward by then-Home Secretary May that would have required visitors to Britain from a number of African and Asian countries to post a £3,000-security bond upon entry, to deter them from overstaying their visas. "That never became official policy, but it certainly shaped perceptions profoundly," he said. Hate crimes in Britain have already spiked since the Brexit vote.
For Joey Ayoub, a Lebanese-Argentinian graduate student, Britain's increasingly unwelcoming environment is one of many reasons to leave. He had been set to enroll in a doctorate program at the University of London this fall, but was unable to secure funding for tuition and fees. Even if he stays in Britain for another three years, he's not sure he would be able to remain upon graduation. "There's no sense of security, and no intention on the part of government to provide that security. They're actively trying to kick you out in a sense," Ayoub said. "I quite got used to the UK … It didn't feel like I was visiting a foreign country." The university, he said, became his home.
Ayoub is looking to move to Germany, and has begun applying to doctorate programs in Berlin. He's not the only one. "It's not just internationals. I know a lot of British students who are considering going to Berlin. They see that things are getting harder and harder here, whereas in Berlin it's the opposite. There's freedom and time to do things," he said. "If I were them, I'd leave too."
* * *
British universities have always prided themselves on their exclusiveness. "Oxford is a little aristocracy in itself, numerous and dignified enough to rank with other estates in the realm," Ralph Waldo Emerson wrote, noting that the same dedication to higher study seemed to him absent in America. Today, Emerson would be impressed: All five of the UK's 2016 Nobel laureates decamped for positions in America, where funding and facilities can sometimes be easier to get. Brexit threatens to make British academia more exclusive in all the wrong ways.
In an ominous sign, British institutions of higher learning fell in the world rankings this year, as did applications to British universities from Europe—and this in a country that boasts about how many foreign leaders have passed through its universities.
Mark Shiel, who teaches film studies and urbanism at King's, came to Britain from Ireland in the 1990s for graduate school, and stuck around. "A lot of people like me were looking for universities to challenge the Leave campaign more, as we're supposed to be especially tolerant, especially diverse, especially forward-looking, especially international," Shiel said. "It's supposed to be what we do, not just organizationally, because it's good for our bottom line, [and] good for our revenues, but because it's intellectually, ethically, and morally supposed to be what we do. We were looking for universities to step up to the plate, and I think we all dropped the ball."
"We're part of the same story of European culture, of Beethoven, of Immanuel Kant. It's all one great culture," A.C. Grayling said. "To cut ourselves off from it, to be closing off opportunities for debate and discussion across the whole culture, seems to be very bad idea. European culture is literature. It is music. It doesn't respect rational boundaries, and it doesn't respect linguistic differences. We're all part of it."