Five Years in a Cuban Prison
Alan Gross reflects on Fidel Castro's legacy.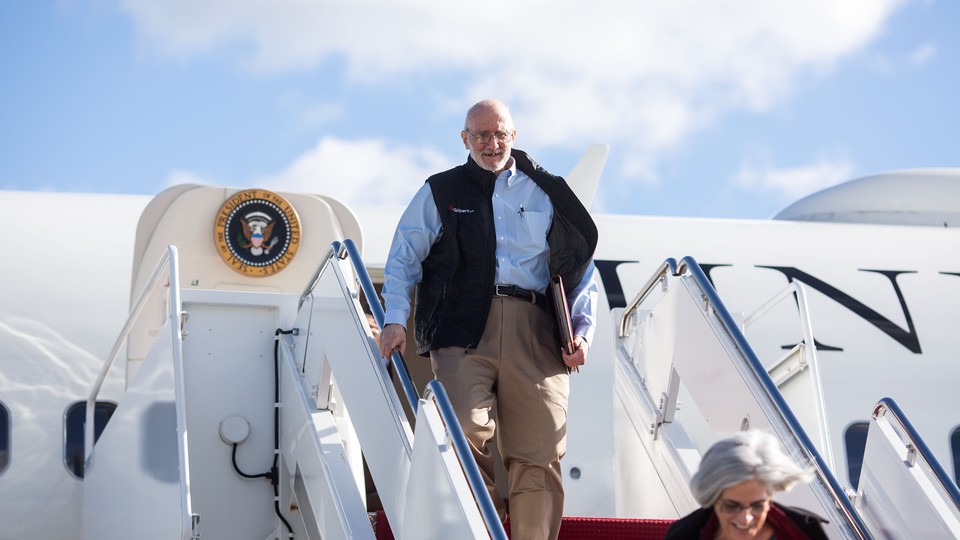 Alan Gross was arrested in Cuba in 2009 while working as a subcontractor for the U.S. government, having set up a handful of wi-fi hot spots in a country with some of the world's most severe internet restrictions. Some reports said he was charged with espionage; in fact he was not charged with anything at all until 14 months into his detention. (He would ultimately spend five years in prison.) When the charge came, Gross now says, "I was accused of being a threat to the integrity and/or independence of the state. Which," he adds, "is impossible because the state has no integrity."
Gross's project was funded through the United States Agency for International Development, which cites democracy promotion as part of its mission. But he says he didn't go to Cuba with any ideological goal in mind—that his own aim wasn't to promote democracy or capitalism or "anything other than communications." In a conviction that brought a prison sentence of 15 years, Cuban authorities called this same activity "a subversive project of the U.S. government that aimed to destroy the revolution through the use of communications systems out of the government control."
Government control was the key point, and the way in which Gross's case, though centered on an American, was emblematic of the regime imposed on Cubans by Fidel Castro. Fidel officially ceded power to his brother the year before Gross's arrest, but continued to loom over the country's politics up to and beyond his death last Friday. Raul Castro largely maintains that system of control over the island of roughly 11 million people—from the pervasive surveillance to the arbitrary detentions to restrictions on the internet and much of the economy.
This, Gross told me when I spoke to him and his wife Judy recently, was exactly why the government found his work objectionable. "Information flows only in an upward direction toward the highest echelons of government. It never flows down. The government wants to keep its people ignorant of current affairs, of world affairs." Gross had been working with the island's small Jewish community; he recalls that one witness said of him at his trial: "He showed me the world." Gross had in fact shown him Google Earth. "I showed him a spot in Jerusalem, in the Old City, called the Western Wall. He'd never seen it before."
Gross was released in 2014 as President Barack Obama launched a rapprochement with the Cuban government. Announcing the reasons for abandoning five decades of U.S. hostility to Cuba, Obama said, "We are taking steps to increase travel, commerce, and the flow of information to and from Cuba. This is fundamentally about freedom and openness. … But I'm under no illusion about the continued barriers to freedom that remain for ordinary Cubans." Human Rights Watch detailed some of those barriers two years later, in a 2016 report on Cuba:
The government continues to rely on arbitrary detentions to harass and intimidate people who exercise their fundamental rights. The Cuban Commission for Human Rights and National Reconciliation, an independent human rights group that the government views as illegal, received more than 6,200 reports of arbitrary detentions from January through October 2015. While this represented a decrease from the number of detentions during the same 10-month period in 2014, it was still significantly higher than the number of yearly detentions prior to 2012. ...

Despite the release of the 53 political prisoners in conjunction with the agreement to normalize relations with the US, dozens more remain in Cuban prisons, according to local human rights groups. The government prevents independent human rights groups from accessing its prisons, and the groups believe there are additional political prisoners whose cases they cannot document.
Cuba has one of the highest incarceration rates in the world. Raul Castro has denied that Cuba has any political prisoners, though in addition to the jailed dissidents documented by rights groups, Gross classifies most of his former cellmates as effectively "political prisoners" too; the country's draconian laws give the government latitude to prosecute a wide variety of mundane activities, including accepting money from a foreign national as one of Gross's cellmates had, deemed "contra Cuba."
Gross says these were the people who, along with their families, helped him through his imprisonment. He generally lived with two other prisoners at a time, which added up to about 18 different people over the years—years that included a period of daily interrogations, and during which Judy had to negotiate with Cuban officials for months just to get the guards to turn the lights off at night. Judy was able to see him about once every seven months. But he recalls that his cellmates were allowed weekly family visitations. "And what did they do? The families would bring food! … Despite the per capita income of $20 a month, despite the fact that there really isn't a lot of food available, because productivity is so low. … The families still helped to sustain me for five years. I'll never forget that."
The lack of food is another part of Fidel's legacy of state control. His system of centralized farming has resisted Raul's recent efforts at market reforms since, despite allowing more private ownership of land and stores, the government restricts the imports of the agricultural supplies that could boost productivity. Similarly, internet access for the public, the very thing that landed Gross in prison, has expanded under Raul from virtually nil to the point that there are more than 100 wifi hotspots around the country—all of them also under state control.
In the days since Fidel's death, Gross has been both a vocal critic of Cuba's late strongman—"he was a brutal, brutal dictator who enslaved the Cuban people for his own personal enrichment"—and an advocate for continued engagement with Cuba. Raul has said he will step down in 2018; after that, the country could, for the first time in 60 years, be run by someone who is not a Castro and didn't fight in the revolution. (Judy is less convinced that the older generation will cede power after Raul steps down.) As to whether members of the next generation will govern the island better than their predecessors if given the chance, the Grosses don't know.
Regardless, Gross doesn't think America can help ordinary Cubans, including political prisoners, by isolating the government. "I know what it's like to lose everything through a—believe or not—innocent action on my part. … I know what they went through. I went through it, too." He has his good reasons to want the U.S. and Cuba to talk to each other; it was, after all, high-level negotiations between the two governments that helped bring him home. "Had we constructively engaged with Cuba ... at the time I was arrested, I might not have had to forfeit five years of my life."