Graffiti in Rome and Hacks From Russia: The Week in Global-Affairs Writing
The highlights from seven days of reading about the world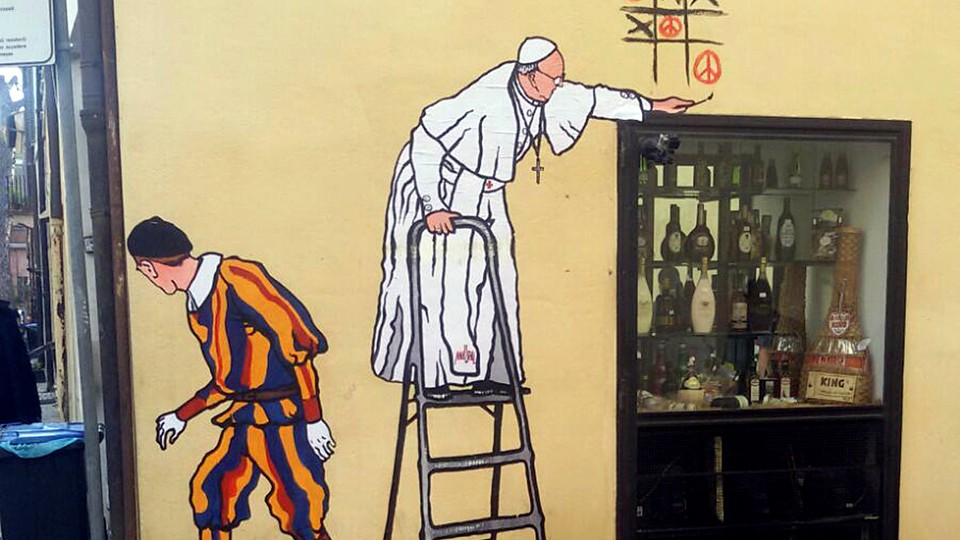 How Russia Pulled Off the Biggest Election Hack in U.S. History
Thomas Rid | Esquire
"As soon as Guccifer's files hit the open Internet, an army of investigators—including old-school hackers, former spooks, security consultants, and journalists—descended on the hastily leaked data. Informal, self-organized groups of sleuths discussed their discoveries over encrypted messaging apps such as Signal. Many of the self-appointed analysts had never met in person, and sometimes they didn't know one another's real names, but they were united in their curiosity and outrage. The result was an unprecedented open-source counterintelligence operation: Never in history was intelligence analysis done so fast, so publicly, and by so many."
* * *
Surviving the Fall of ISIS
James Verini and Moises Saman | National Geographic
"The Kurdish soldiers stood on a berm, next to a gunner's dugout, in a corner of their position. It was one of several forward positions on a front line that ran along the crest of a mountainside and faced west onto the Tigris River Valley. The sun had set on a late summer day—the driest season in Iraq, when land and sky seem to merge. Still, through the thickening dark the soldiers could make out, on the river's near bank, the lights of the city of Mosul. Though this was a vista they could have described in their sleep—for months these soldiers, who were with the peshmerga, the army of Iraqi Kurdistan, had surveilled and mapped and discussed every inch—its fascination and menace never dimmed. Everything they looked at belonged to the Islamic State.
The battle for Mosul, long rumored, was finally at hand. An international invasion force had assembled. The Iraqi military had beaten ISIS out of Fallujah and was now fighting its way north toward Mosul. The peshmerga was pushing in from this mountain. U.S. troops were massing, as were Iraqi militias and foreign fighters from Turkey, Iran, and elsewhere."
* * *
How Israel Became a Hub for Surveillance Technology
Alex Kane | The Intercept
"Gordon said there are two other reasons why Israel plays such an outsize role in the global surveillance industry. One is that there are 'hardly any' legal limits on veterans 'taking certain research ideas they worked on in the military and developing them' in the private sector. In addition, said Gordon, Israel's decades-long occupation of the West Bank, Gaza, and East Jerusalem, along with its periodic wars, 'provides a laboratory for testing and fine tuning different commodities that are created, or different technologies.'
Those technologies are then exported around the world."
* * *
'Band-Aid on a Bullet Wound': What America's New War Looks Like in Afghanistan's Most Violent Province
Thomas Gibbons-Neff | The Washington Post
"The Oct. 3 battle is a microcosm of what is happening across Afghanistan: Taliban fighters that show enormous resilience despite being on the wrong side of a 15-year, $800 billion war; an Afghan army that still struggles with leadership, equipment, tactics and, in some units, an unwillingness to fight; and the world's most sophisticated military reduced at times to pounding fields with its feared armaments.
The future of the U.S. role in Afghanistan after a decade and a half of war has received little attention in the presidential campaign and debates. But the next administration will be bequeathed a strategy that is doing 'just enough to lose slowly,' said Douglas Ollivant, a senior national-security-studies fellow at the New America Foundation."
* * *
Rome 'Decorum Cops' Remove Mural Depicting Pope as Graffiti Artist
Reuters
"A larger-than-life mural showing Pope Francis as a sneaky graffiti artist painting peace signs on a wall near the Vatican was taken down by Rome's 'decorum cops' just hours after it went up.
The mural showed the pope on a stepladder playing noughts and crosses by painting circular peace signs in place of zeros while a Swiss guard in a billowing uniform acts as a lookout."
* * *
Why It Makes Perfect Sense for Ecuador to (Kind of) Turn Its Back on Assange
Elias Groll | Foreign Policy
"Denying Assange internet access amounted to something of a slap on the wrist of Ecuador's moody boarder. But it also represents Quito's acknowledgement that a shifting political and economic environment in Ecuador has turned Assange into a serious liability.
In a time of high oil prices, protecting Assange represented a convenient way for the anti-American government in Quito to poke at Uncle Sam. But amid collapsing commodity prices and an implosion of the Latin American left, Ecuador is confronted with an unappetizing future: A potential Donald Trump presidency, ushered in by Assange, that may damage Quito's interests."