Rehab in Manila and Biking in Tel Aviv: The Week in Global-Affairs Writing
The highlights from seven days of reading about the world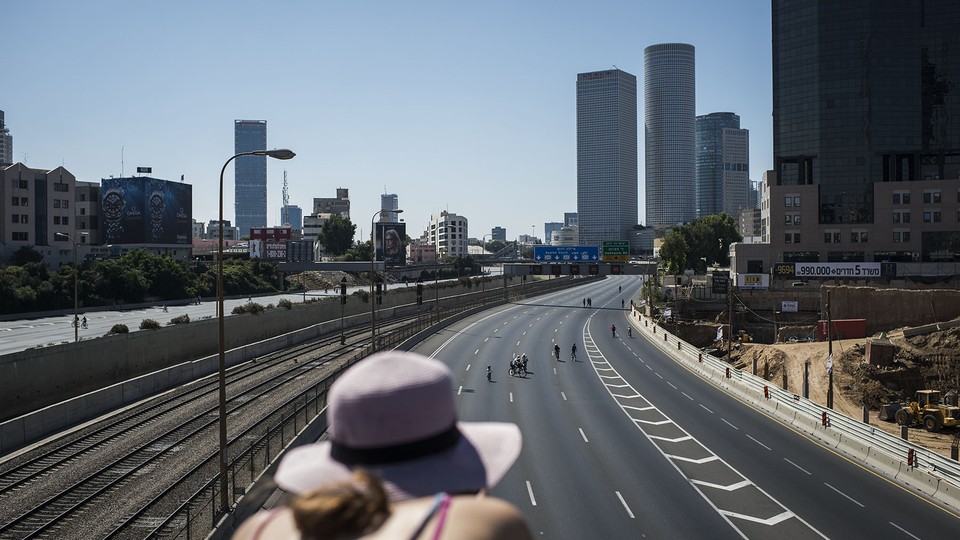 Turkey's Thirty-Year Coup
Dexter Filkins | The New Yorker
"Erdoğan declared a national emergency and, in the weeks that followed, made a series of appearances to remind the nation of the cost of the coup. Some of the plotters had brutally shot demonstrators and comrades who opposed them. One rebel major, faced with resistance, had texted his soldiers, "Crush them, burn them, no compromise." More than two hundred and sixty people were killed and thousands wounded. The F-16s had bombed the parliament building, blasting holes in the façade and scattering chunks of concrete in the hallways.
In Erdoğan's telling, the coup was not a legitimate sign of civic unrest. In fact, it did not even originate in Turkey; the rebels 'were being told what to do from Pennsylvania.' For Turks, the coded message was clear: Erdoğan meant that the mastermind of the coup was Fethullah Gülen, a seventy-eight-year-old cleric, who had been living in exile for two decades in the Poconos, between Allentown and Scranton."
* * *
Snooping in the Bathroom to Assess Credit Risk in China
Neil Gough | The New York Times
"Getting credit right is crucial to China's economic plans. The government is trying to bolster consumer spending to help offset the sharp decline in the smokestack industries that previously helped power the country's ascent. China will need to increase the use of credit to make it easier to spend, while at the same time avoiding the pitfalls that come with too much debt.
Shifting generational dynamics will play a big role, as China's millennials are much more likely to use credit than their scrimping and saving parents. But lenders will also need to put the right products in their hands."
* * *
On the Holiest Day in the Jewish Calendar, Bicycles Take Over Tel Aviv
Joshua Mitnick | Los Angeles Times
"Israel has no law banning driving on Yom Kippur, but the only vehicles on the roads are ambulances and police cars. That turns the city into an enormous playground for bicycle riders, skateboarders, pedestrians and dogs.
'It's a voluntary thing that no one drives on Yom Kippur,' says Avishai Amir, a retiree strolling up a tree-lined boulevard with his purebred Akita. 'It's a spark of Jewish solidarity with the ultra-Orthodox. If they passed a ban, all of the secular people would drive.'"
* * *
Innocents: Where Pregnant Women Have More to Fear Than Zika
Rachel Nolan | Harper's
"There are six countries in the world that prohibit abortion under all circumstances, without exceptions for victims of rape or incest or for cases in which the pregnancy threatens the life of the mother: El Salvador, the Dominican Republic, Chile, Nicaragua, Malta, and Vatican City. In the United States, even the most fervent antiabortion groups maintain that women who have abortions are victims, instead directing their attacks at doctors. Earlier this year, when Donald Trump suggested that if Roe v. Wade were reversed, women who choose to terminate a pregnancy should be subject to 'some form of punishment,' he was denounced across the political spectrum.
That scenario already exists in El Salvador, a country of 6.3 million, where an active medical and law-enforcement system finds and tries women who are suspected of having had abortions. Public prosecutors visit hospitals to train gynecologists and obstetricians to detect and report patients who show 'symptoms of abortion.' Doctors are legally obligated to be informants for the police."
* * *
When Half a Million Drug Users Surrendered in the Philippines, Authorities Sent Some of Them to Zumba
Aurora Almendral | PRI's the World
"During his first week in office, Philippines President Rodrigo Duterte called on drug addicts to turn themselves in. Authorities were overwhelmed by the response. Over 600,000 admitted drug users flooded government offices and police stations to register their names.
The government was unprepared. There are only 14 small public rehab centers in all of the Philippines, and a handful of private ones. Most were filled to capacity even before the half million drug users turned themselves in. So local officials have gotten creative—like when they sent meth addicts to compulsory Zumba classes."
* * *
Seven Reasons the New Russian Hack Announcement Is a Big Deal
Julia Ioffe | Politico
"It's been buried under news of Donald Trump bragging about his ability to grab women by their genitals, but Friday afternoon's news dump included a stunning declaration by the Department of Homeland Security: the first direct accusation from the Obama administration that Russia is trying to interfere with our elections.
'The U.S. Intelligence Community is confident that the Russian Government directed the recent compromises of e-mails from US persons and institutions, including from US political organizations,' the statement said, concluding that 'these thefts and disclosures are intended to interfere with the US election process.' After the Democratic National Committee hack and the scattered hacks of voting machines, and months of talk in the press and on Capitol Hill, the Obama administration has openly called out the Kremlin for meddling in the election."