Mining in Misery and Mexico's Least-Popular Gringo: The Week in Global-Affairs Writing
The highlights from seven days of reading about the world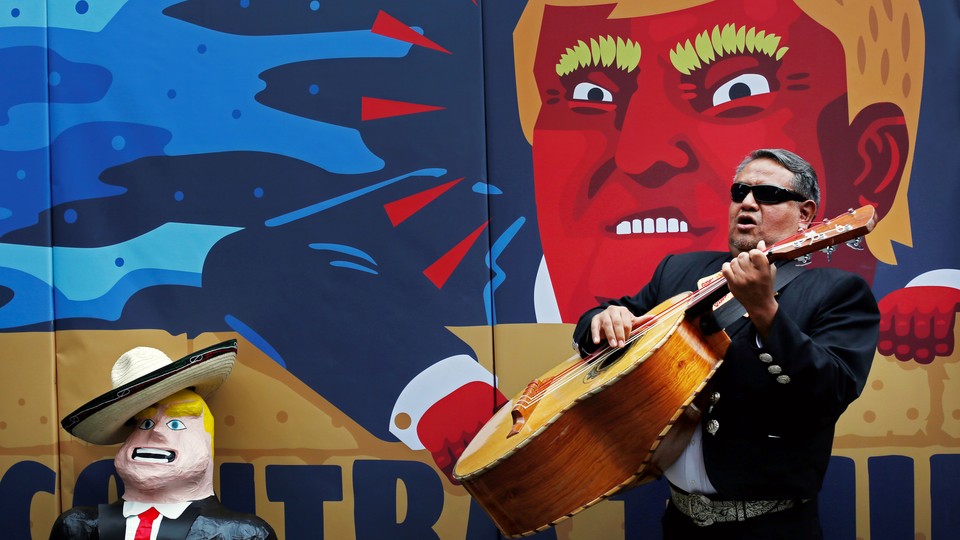 The Cobalt Pipeline
Todd C. Frankel | The Washington Post
"This remote landscape in southern Africa lies at the heart of the world's mad scramble for cheap cobalt, a mineral essential to the rechargeable lithium-ion batteries that power smartphones, laptops and electric vehicles made by companies such as Apple, Samsung and major automakers.
But Mayamba, 35, knew nothing about his role in this sprawling global supply chain. He grabbed his metal shovel and broken-headed hammer from a corner of the room he shares with his wife and child. He pulled on a dust-stained jacket. A proud man, he likes to wear a button-down shirt even to mine. And he planned to mine by hand all day and through the night. He would nap in the underground tunnels. No industrial tools. Not even a hard hat. The risk of a cave-in is constant."
* * *
At a Loss for Meds, Venezuela's Mentally Ill Spiral Downward
Nicholas Casey | The New York Times
"Venezuela's economic collapse has already decimated its health system, leaving hospitals without antibiotics, surgeons without gloves and patients dying on emergency room tables.
Now, thousands of mental health patients—many of whom had been living relatively normal lives under medication—are drifting into despair and psychosis because the country has run out of the vast majority of psychiatric medicines, leaving families and doctors powerless to help them, medical experts say."
* * *
One Night in El Pinche Gringo
Michael Snyder | Roads & Kingdoms
"In Mexico, Trump's rise has been received with much the same mixture of amusement, followed by consternation, followed by horror, as it has in large swaths of the United States. But while Americans seem, above all, disheartened by the choice facing them in November, Mexicans have been galvanized.
Rarely before has Mexico played such a central role in the U.S. election cycle; never has a candidate essentially announced his candidacy by accusing the entire country of criminality, nor built the better part of his campaign on the premise that Mexico had stolen America's prosperity through a trade deal that he classifies only as 'a disaster.' Speaking on background the afternoon before the debate, another American reporter told me, 'You will struggle mightily to find anyone who's ambivalent.'"
* * *
My Bloody Valentine
Monica Mark | Buzzfeed News
"On April 29, 1992, Valentine Esegragbo Melvin Strasser accidentally seized power in Sierra Leone, a small, diamond-rich country tucked into Africa's western coast. Until that day, Strasser had been an unknown army captain whose closest brush with fame came when he won a couple of dance-offs in a nightclub in Allen Town, a Freetown slum. At the age of 25, he found himself newly installed as the leader of a nation of 4 million people, and the commander-in-chief of a fractious, impoverished army.
After more than two decades of corrupt governments, most Sierra Leoneans welcomed the coup-makers, and Strasser was catapulted to messiah status. Print shops churned out calendars embossed with his childlike face. Graffiti artists splashed Freetown with his portrait and those of his fellow junta members, who called themselves the National Provisional Ruling Council."
* * *
'Hanoi Hannah,' Whose Broadcasts Taunted And Entertained American GIs, Dies
Anthony Kuhn | NPR
"Trinh broadcast under the pseudonym Thu Huong, or Autumn Fragrance. At the height of the war the Voice of Vietnam aired three 30-minute segments of hers a day.
The North Vietnamese Defense Ministry's propaganda department wrote her scripts, she told the Voice of Vietnam. Their aim was to degrade U.S. troops's will to fight, and convince them that their cause was unjust.
'Defect, GI. It is a very good idea to leave a sinking ship,' she advised her U.S. listeners in one broadcast. 'You know you cannot win this war.'"
* * *
A Visit to Ground Zero of Refugee Anxiety
Takis Würger and Sven Döring | Der Spiegel
"On February 18, a bus carrying 20 refugees followed this route to Clausnitz. The passengers were to move into apartments in three different buildings in town.
When the bus rolled in, Michael Funke, the mayor of Clausnitz, was sitting down for an evening meal. Later that evening, he learned that residents of Clausnitz had gathered and unfurled sheets daubed with slogans. One read: 'Resistance.'
Thomas Hetze, the hostel director, was waiting in his office in one of the three buildings for the refugees to finally arrive. At the time, hardly anyone was interested in the fact that he is a member of the right-wing populist Alternative for Germany (AfD), a party with an anti-refugee message that has been gaining ground recently in polls and elections. Later, he would hear local residents shout, 'We are the people!' a term used in protests against the East German regime in the run-up to the fall of the Berlin Wall."