A Tattoo for the King
Thais find ways to grieve the only monarch most have ever known, from black pants to body art.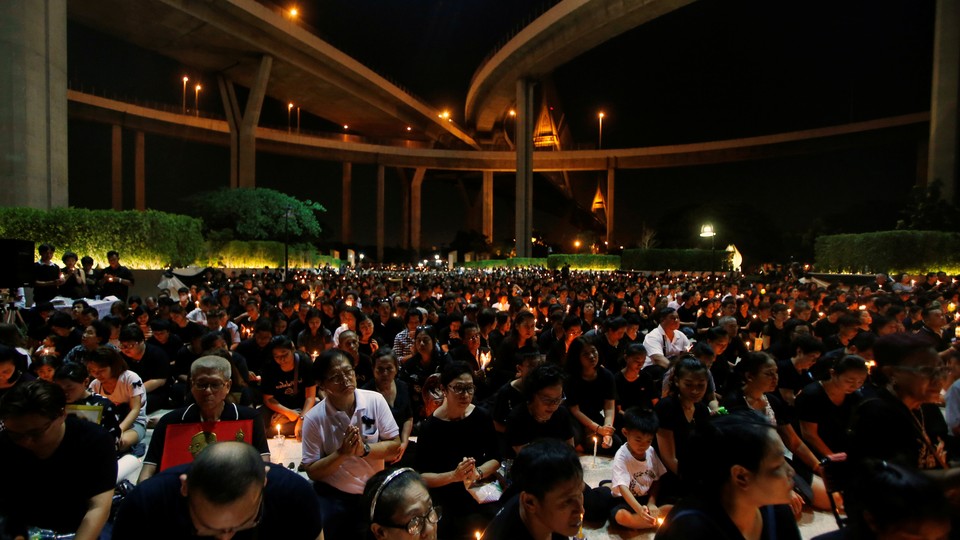 In the waiting room of the Sak Lai tattoo studio in central Bangkok, the owner, who goes by the name Leck New York, showed me his latest design: the numeral "9," sketched in Thai several times on drafting paper. It's a popular choice among clients looking to pay tribute to the late King Bhumibol Adulyadej, the ninth monarch of the Chakri dynasty, and a widely revered figure in fractious Thailand. More than 10 clients have been inked with a royal motif at Sak Lai since the 88-year-old king died last week, ending his 70-year reign as the world's longest-serving monarch. For some, it's the words "Long Live The King." Others get a tattoo of Bhumibol's signature glasses, twisted into a 9. Still other popular choices include a well-known saying that translates to "Let me serve under his Majesty the king in every life." And some ask for a portrait of Bhumibol.
Leck, 55, owns the 20-year-old shop with his tattoo artist wife, who worked away in the adjacent room. While royal tattoos are not unheard of, their frequency has increased since the king's death, he noted. Thais do it out of "love and respect," he said, adding that "this is not a normal thing." As we spoke, the buzz of a handheld tattoo gun could be heard from next door—another number 9.
Thailand now enters a year-long mourning period for Bhumibol, who, for many, embodied the one constant amid constant instability. Though he ascended the throne in 1946 only after the mysterious death of his brother, Bhumibol was no mere figurehead. Relative to other monarchs in the modern era, he came to play an outsized role in politics, even as his ability to control the military governments that came and went waxed and waned over the years. Since 1932, there have been 12 successful and an estimated seven attempted coups in Thailand, most of which occurred under Bhumibol. The most recent, launched by the junta in control of the country today, occurred in 2014.
Lese majeste laws, or legislation that punishes those who insult the monarchy, make it almost impossible to glean the more nuanced views that Thais from different backgrounds may have of Bhumibol's legacy, or of their anxieties over his son and chosen successor, the jet-setting Crown Prince Maha Vajiralongkorn. The government has also increased scrutiny of the internet to watch for any content deemed inappropriate. But for many here, offending the king's legacy hardly seems like a priority.
Across genders and generational divides, Thais in Bangkok are wearing funereal black or gray clothing, as stipulated by the government. Bars, clubs and restaurants, are notably subdued. Shrines to the king's legacy have popped up at major businesses, shopping malls, and banks. Website homepages have gone gray and white. Television channels play archival footage while the broadcasters and even the sign-language interpreter delivers news in full black dress. Electronic billboards featuring the king's visage line the streets. Pedestrians can purchase black memorial ribbons to pin to their shirts from the occasional sidewalk vendor. In the cabins on airplanes servicing Thai airports, flight attendants wear black armbands. During general announcements about exit rows and flight times, they remind passengers that Bhumibol will "always be loved."
In a video making the rounds on social media, Thai rocker Sek Loso strums an acoustic guitar under a portrait for the king while singing a paean to his greatness. He sings that his heart is completely broken, the sun that once shined is now dimmed, and that his only wish is for "our father" to hear that he loves him.
Bhumibol is the only king that most Thais have ever known, as Paul Chambers, a lecturer at the Institute for South East Asian Affairs in Thailand's northern city of Chiang Mai, explained. The government has helped bolster his image. "Since 1957, the state has used print media, telecommunications, and educational slogans to connect this king to the minds of all Thai citizens. ... This king has made an extremely positive impression on Thai people. As a result, we see a diversity of tribute to his memory across ages," Chambers said.
Chambers described the king as a "socio-cultural stabilizer" despite the numerous coups that took place during his reign. Beginning in 1980, no coup could succeed without the king's endorsement, he added. Famously, in 1992 he used his status to end a deadly crackdown on peaceful protests and pave the way for the then-prime minister Suchinda Kraprayoon's resignation. In The King Never Smiles, an unauthorized biography of the ruler, Paul Handley writes that the last-minute intervention in 1992 was carried out with "masterly aplomb." Bhumibol's "words and actions were adored by the people while divisions among politicians and military men were muffled to appease him," Chambers said.
More inconvenient elements of the story, such as the fact that dozens of people had already been killed and the leader of the crackdown, Suchinda, had himself seized power the year before, have been glossed over in official memory. A video of the intervention, however, shows the leaders of the two sides on their knees before the king as he scolds them. For years, the scene "was regularly reproduced on television, in movie theaters, and in books as a reminder to 60 million Thais that the sole source of the kingdom's harmony and democratic spirit is the Chakri throne," Handley wrote.
In recent days, the sense of devotion to the king's legacy has been apparent, even in the least likely places. Inside Siam Paragon, one of the largest malls in Bangkok, commerce carried on as usual, but with a few major changes. Designer clothing stores have put black outfits on manikins while turning off or softening music in the stores. Pirasuth Muenniam, the area and operations manager for Siam Paragon's Dolce & Gabbana outlet, said the changes went into effect on the evening of October 13, soon after the announcement of the king's death. That night, he texted and called his boss. Alterations were made. "Right away, we changed something that evening, whatever we could," he said at the store on Wednesday. "I mean it happened very fast. We took action." While nothing could be done about the store's velvet-colored furniture, the expensive dresses swapped into the display were all dark in tone.
Though the mourning period runs for a year, it's unclear how long the dress code will be embraced by Thais; Pirasuth speculated several months, at least. "It's going to be quite some time before we get over it," he said.
Most shoppers went to more affordable stores like Uniqlo, which was teeming with customers the same afternoon this week that I visited the Dolce & Gabbana manager. After the king died and the mourning period began, retiree Kittiya Amatayakul went to look in her wardrobe. She had some acceptable clothing though the quality wasn't quite sufficient. "I'm here to buy more," she said, holding up a pair of black pants.
Meanwhile, far from the clothing racks and malls, the grief has at times slipped into outrage. A video circulating this week showed a woman dressed in black slapping an elderly woman for allegedly defaming the king while talking on a bus in Bangkok. In a handful of cases, mobs have gathered to demand the arrests of those suspected of violating the lese majeste laws. The government has also encouraged citizens to report violations on social media, and is monitoring foreign media coverage.
Leck's tattoo shop felt distant from the debates over free speech and politics. Customers were eager to discuss why they were getting inked (which is probably why the shop had attracted so much media attention. During my short visit, a camera crew from the Associated Press arrived, and Leck had another card from the Australian Broadcasting Corporation on his desk).
Like other business owners, Leck was offering discounts. "Mostly people who come in are adults," he said, a few minutes before 42-year-old Supreeda Sorapak entered the shop for his appointment. The businessman, dressed in black slacks and a button-up black shirt, had a few other tattoos, but they were "not serious." This time it was different.
"Everything that he has taught us is about how to live life and do good deeds," he said. He was going to get the number 9 on his chest, he said, placing his hand over his heart. "This is why I want it, to remind myself and continue to do good according to his teachings."