The Black Market Kings of Damascus
The war in Syria has devastated its economy. But some people have found ways to get rich.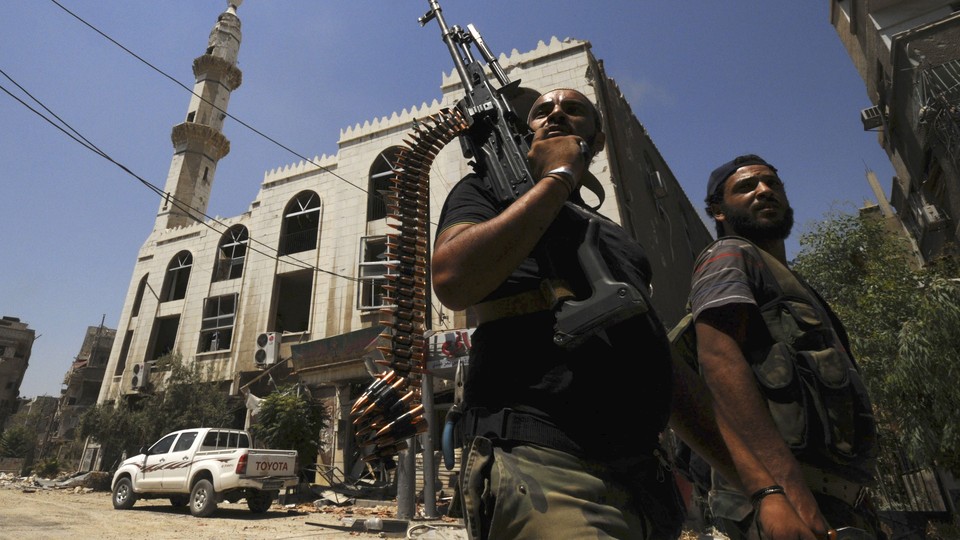 DAMASCUS—On a weekday in mid-August, traffic clogs the streets of downtown Damascus. Cafes and restaurants are overflowing with customers, relaxing as they smoke narguiles with friends. The souks are packed with shoppers almost every day, and the services industry is booming. In Bab Sharqi, a neighborhood in the old city, at least a dozen bars have opened over the last eight months. Every weekend they are packed with punters, enjoying a few drinks with their food as they listen to the latest Taylor Swift hit, interrupted by the occasional mortar explosion. Less than a kilometer away, the Syrian army and pro-government militias are fighting elements of Islamist and al-Qaeda linked armed groups in a war that will determine the country's future.
While on first glance Damascus appears isolated from the conflict currently engulfing much of the country, it's that very conflict that enables this illusion of normalcy. "It is possible to open such places … because fewer people are traveling abroad, or even around the country. But they still want to go out. So they go to restaurants and bars in their own cities," one bar owner in Bab Sharqi said. "They have money to spend, and they don't want to be sitting at home anymore."
Syria is enduring its sixth year of war, and most people living in government-controlled areas like Damascus continue to suffer from a crippling economic crisis likely to linger long after the guns fall silent. A report released by The United Nations Economic and Social Commission for West Asia (ESCWA)  in 2015 estimated cumulative losses between 2011 and 2015 at about $260 billion, approximately 55 percent of what it was in 2011. By the end of this year, Syria's economy will have shrunk 10-fold since the conflict began, according to people in Damascus.
There simply isn't much coming into or going out of Syria; the imposition of crippling sanctions by the United States and European Union in 2011 prevented the import of even basic goods. The sanctions, along with the destruction of the war-torn country's industrial hub, centered in Aleppo, have led to an almost 90 percent decrease in exports, according to ESCWA. Syria's oil and gas infrastructure has been largely destroyed. To adapt to this new reality, some have taken desperate measures: selling their possessions, taking on other jobs, even stealing.
Others, however, smell opportunity amid the chaos. War profiteers have carved out a thriving black market by circumventing the sanctions regime, making millions by importing and selling much-desired goods ranging from Kit Kat bars to Cuban cigars. By amassing such profit and power, they've come to exact an immense degree of control over the lives of Syrians living in government-controlled areas.
The rise of the black-market kings began soon after April 2011, a month into the Syrian uprising, when President Barack Obama imposed, via executive order, the first of four sets of economic sanctions on Syria. According to the Obama administration, these measures were aimed at punishing President Bashar al-Assad's human-rights abuses by suffocating the Syrian economy, sundering its access to essential goods like medications and fuel, and blocking bank transfers. They set off a destructive ripple throughout Syria, further distorting an economy that would soon be ravaged by the escalating conflict.
These distortions have hit everything from the energy sector to the salaries of ordinary people. According to the World Bank, oil exports have declined from $4.7 billion in 2011 to $0.14 billion by 2015. Every day, dozens of cars queue up for hours outside gas stations, where fuel prices have shot up 15-fold since 2011 due to shortages. As Syria's foreign reserves dwindled, its currency began to depreciate, falling from 47 liras to the dollar before the war began in 2011 to about 520 liras to the dollar today.
To put all this into context: In 2010, the average worker in Damascus received a minimum of 11,000 liras a month—approximately $220. Today, if he's lucky, he may receive up to 26,500 liras, approximately $53. The average monthly cost of living for a Syrian family of five, meanwhile, is 196,000 liras, or about $380; in Damascus it is around 220,000 liras, roughly the equivalent of $425.
To subsidize their meager paychecks, some receive remittances from relatives abroad. Some travel to Beirut to pick up their money after having it wired to the city; other countries still allow direct wire transfers to Syria. Others have been forced to take on second jobs. "I earn $50 a month"—a rate available to  soldiers who complete 18 months of compulsory service—"which goes straight to covering my rent. I'm lucky because I have a side company, which allows me to live relatively comfortably, but others are not so lucky," a senior government employee said.
Abu Youssef, a soldier in the Syrian army, has spent the last two years on a tour in Deir Ezzor, one of the most active front-lines against ISIS. When he's not fighting, he, like many of his fellow soldiers, moonlights as a cab driver in Damascus. "I have a new baby and a wife to take care of," he said. "My salary in the army is $50 a month. That's not enough to take care of my family. So when I get time off, I drive a taxi." Over the past year, he's seen his family for a total of five days, he said. The rest of the time, he drives around Damascus trying to make money through his second job.
Refaat, a musician, used to perform at parties and festivals before the war. After witnessing six years of war where friends and family have been killed, he no longer feels motivated to leave the country to secure his future. "Why should I leave? I am dead inside," he said. "Now I just wake up, do what I need to do, go home and go to sleep. This is my life every day." To make ends meet, he performs odd jobs around Damascus, from manual labor to driving a taxi.
As a convoy of blacked-out SUVs roared past him, Refaat smirked. "I got offered a job with one of the 'new bosses,'" he said—referring to the commanders of the pro-government militias now enjoying extravagant lifestyles thanks to their side gigs as war profiteers. They asked him to work with them and play at their parties. "I said no. If I work for them, then they own me, and I can't work anywhere else. At least let me be free in my own self."
Refaat's story illustrates another reality of Syria's brutalized economy. George Saghir, a Syrian economist based in New York, explained that people in both the public and private sectors have found ways to profit from it, with the aid of a sanctions regime designed for precisely the opposite effect. "They were some of the most punitive sanctions ever … not a single person abroad can do business inside Syria," Saghir said. "The way the sanctions were written were certain to hurt the country's economy and turn its business elites against the government."
One of the more popular ways to make money is monopolizing the sale of things like mobile phones, cigarettes, or "luxury goods," including brand-name clothes and foreign food products like candy, cheese, and Johnny Walker. While the government attempts to save foreign currency to import only necessary food products and medicine, including things like cancer medication and wheat, markets in government-controlled areas do not seem to be lacking in luxury imports. Prior to the war, Syria used to get about 95 percent of its medicine from local factories, most of which have now been destroyed.
This summer, Syrians on social media circulated a picture of 1.25-liter bottles of French Evian water, considered a luxury item, priced at 1,925 liras ($3.70)—more than double a conscript's basic salary. The latest models of mobile phones, like the Samsung Note 7 and the iPhone 7, seem to reach Syrian markets just days after they are released internationally; those importing these and other such luxury goods "tend to be the 'new crowd,' the ones who are not named in the sanctions and have connections outside in order to bring in produce like rice, sugar, tea," Saghir said.
"Syria has become the cave of gold, and everyone here wants to be Ali Baba," one Damascene said. "It's disgusting, but everyone is trying to get a share."
Some military checkpoints, too, generate huge profits for those in charge. Damascus's so-called "Million Checkpoint" is notorious for raking in millions of liras a day in profits. Other soldiers demand petty bribes in exchange for use of the "military lane," usually reserved for military vehicles, to bypass the long queues. Merchants pay bribes to allow their trucks, heavy with goods, to pass through quicker as long waiting hours on the many checkpoints might damage produce.
Others have established private security companies, which provide armed escorts through government-controlled areas. In August 2013, Assad issued a decree allowing them to operate in Syria; many are owned by businessmen close to the president's inner circle. Truck drivers and businessmen shipping large convoys end up having to hire them as escorts through the checkpoints. According to one source familiar with these companies, "it is understood that these armed escorts will not engage with the militants or terrorists, but they will prevent other loyal militias from extorting money from those convoys or even looting them." He added, "Those who are still doing business in Syria understand that they need to keep many influential people on their payrolls."
Another popular method of profiting off the war is looting recently recaptured neighborhoods. Last month, when the army and pro-government forces recaptured Ramouseh industrial neighborhood in Aleppo, hundreds of factories and workshops were looted. Fares al-Shihabi, a member of parliament and head of Aleppo's Chamber of Industrialists, even complained about the incident on his Facebook page. "What happened in Ramouseh was very wrong, shameful … either we live in the jungle with no laws, or we live in a nation that respects itself and its laws," he wrote. "No one is above the law, do not waste your victory, nor disrespect the blood of your martyrs." As one pro-government fighter in the Hama city of Salamiyeh said, "most citizens are very wary of the pro-government militias because they are known to come in and 'clean' the neighborhoods."
And they leave little behind. On a trip to Mahin, a city in Homs that was deserted in 2015 after ISIS took over and then withdrew following fierce clashes with the government, entire window and door frames were removed, and all the furniture and appliances inside the rooms were taken. Copper pipes are often removed from the kitchen and bathrooms, and later turn up in local souks.
This has been a source of contention between Syrian army soldiers and the pro-government fighters, as the soldiers, who pay the heavier price in battles and casualties, tend not to participate in looting. They tend to look with disdain on those militias who only turn up at the end with trucks to load them with furniture from recently recaptured positions. Meanwhile, several commanders within the National Defense Forces have developed reputations for accumulating enormous fortunes; one commander from Latakia's countryside recently celebrated making his nine-billionth lira.
The profits made from the underground wartime economy by these individuals are likely to provide more of an incentive to allow the war to continue than encourage it to stop, which will only further widen the socio-economic gap between the very rich, and those who are sinking below the poverty line. At the same time, these same people are also likely to be better positioned to benefit from the reconstruction projects that will come after the end of the war, and this will direct the reconstruction process in favor of vested interests rather than the interests of the general populace. While there is expected to be a legitimate economy after the war eventually ends, the illegitimate profits will linger.
As Saghir pointed out, there is no incentive on either side for the war to stop: "What is happening now is going to be an absolute nightmare for years to come, as it is precisely this war economy that is driving the war."