Ranked: The World's Most Awkward Power Couples
Hillary and Bill, Melania and Donald—in marriage and politics, sometimes it's complicated.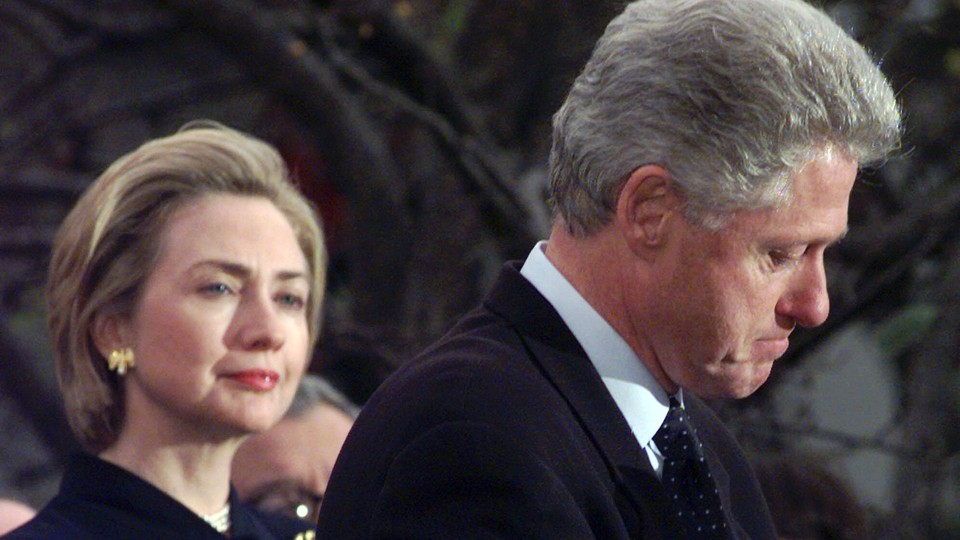 After almost eight years of relative normalcy in marital relations between the Obamas, Americans are about to see a whole new level of weirdness in the White House. Either the U.S. gets the first First Dude in Bill Clinton. Or it gets the first first lady to have posed nude in Melania Trump. And this is leaving aside lapses in monogamy, both admitted and alleged. But America is hardly the only country to have a slightly unusual relationship at the top. Here are five countries where it got complicated for the first couple.
5. Nigeria. President Muhammadu Buhari chose the worst possible moment to escalate a fight with his wife, Aisha Buhari, last week. Standing next to the German chancellor, who happens to be a woman as well as one of the most powerful humans on the planet, Buhari informed reporters that his wife "belongs to my kitchen and my living room and the other room." The comment, which a spokesman later protested was only a joke, was a reaction to an interview the Nigerian first lady had given to the BBC, claiming she might not vote for her husband if he ran again in 2019. Her point was about institutional capture by narrow interests—she claimed the vast majority of cabinet ministers didn't win their jobs through merit—but after her husband's statement, no one is talking about corruption. Instead, maybe they'll talk about the fact that none of Nigeria's 36 states has ever elected a female governor.
4. Guatemala. Often, political scandal precedes divorce. In the case of Guatemala, it was the divorce that led to the scandal. In 2011, First Lady Sandra Torres tried to run to succeed her husband, President Alvaro Colom, only to be stopped by a clause in the constitution that prevents the president's close family from running for that job. Her solution? Dissolve the marriage. "I am getting married to the people," she declared. That marriage didn't work out any better than the old one. She lost to an outsider candidate, comedian Jimmy Morales, in a landslide last year.
3. Nicaragua. President Daniel Ortega and First Lady Rosario Murillo have gone the opposite direction from Colom and Torres, choosing to bring the people into their union with each other. Murillo, who has long wielded informal power alongside her husband, is taking the unprecedented step of running for vice president on the ticket with Ortega. If they win in November, as expected, their marriage with the nation may last until death do they part; they had term limits scrapped in 2014.
2. South Africa. Nkosazana Dlamini-Zuma was an anti-apartheid activist who went on to serve in Nelson Mandela's cabinet, became minister of foreign affairs and eventually chairperson of the African Union. And along the way she married and ultimately divorced Jacob Zuma, South Africa's current scandal-scarred president. Her decision not to seek another term at the African Union—her tenure got mixed reviews—was widely seen as setting her up to take a run at succeeding her ex-husband as president. South Africa's presidency is largely decided in the back rooms of the African National Congress; the leader of the party is highly likely to become president in the 2019 election. It's hard to say whether the Zuma connection will help more than it hurts. It could set her up to succeed her ex, but given the state in which he's leaving the party—the ANC had its worst election result since the end of apartheid this year—she may find herself wishing she could divorce him all over again.
1. France. Francois Hollande appears to be leading the French left to a political disaster in next year's election that would be rivaled only by the scale of the mess in his love life. Never married, Hollande was the longtime partner of another French political force, Segolene Royal, who herself ran for president in 2007. Royal did not initially join Hollande's administration, but along with the nation watched the president go through a series of embarrassing revelations about his mistresses, including one incident where the press caught him sneaking into an apparent girlfriend's apartment disguised in a moped helmet. Now Royal has taken on an official cabinet role and is being called the nation's unofficial vice president. Twice as popular as Hollande, she refuses to say publicly whether she's trying to help re-elect him. At least one French leader knows how to be discreet.
---
This article has been adapted from Matt Peterson's weekly newsletter for Eurasia Group, Signal.