Between ISIS and Airstrikes
Mosul's civilians amid the battle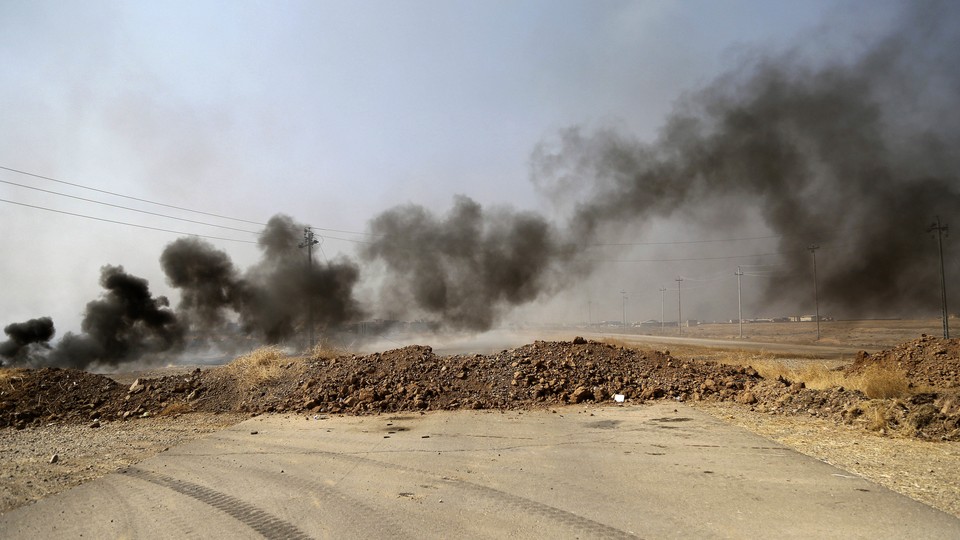 The start Monday of Iraqi military operations to wrest Mosul from ISIS kicks off one of the last major battles in the fight against the terror group, which declared its "caliphate" from Iraq's then second-largest city in 2014. But if ISIS's fate depends on the confrontation that will unfold in Mosul over the next few weeks or months, so will that of perhaps a million civilians left in the city, caught between ISIS and the government advance.
"I am extremely concerned for the safety of up to 1.5 million people living in Mosul who may be impacted by military operations to retake the city from ISIL," Stephen O'Brien, the UN's under-secretary for humanitarian affairs and emergency-relief coordinator, said in a statement, using another name for ISIS. "Tens of thousands of Iraqi girls, boys, women and men may be under siege or held as human shields. Thousands may be forcibly expelled or trapped between the fighting lines. Children, women, the elderly and disabled will be particularly vulnerable."
He added that as many as 1 million people may be forced to flee their homes. Yet humanitarian groups haven't been able to gauge in detail how the city has fared under ISIS since mid-2014.
Before ISIS captured the city, Mosul had a population of approximately 1.6 million. Now, said Thomas Weiss, the chief of mission in Iraq for the International Organization for Migration (IOM), the estimates vary. "There might still be 1 million people living in there, perhaps a little bit more, perhaps a little bit less," he said in an interview.
Weiss said that the lack of access has led to a situation "where we, as humanitarian organizations, only have a very sketchy picture of what's going on in ISIS-controlled territories, or the number of people affected, on their specific needs, etc. That, of course, makes planning, in terms of humanitarian response, extremely difficult."
What is known, however, is that the Iraqi military, Kurdish fighters, and their allies—backed by U.S. airstrikes—began their march on Nineveh Province, of which Mosul is the capital, six months ago. The province was one of three Iraqi regions ISIS captured—Salah al-Din and Anbar being the other two—in its then-seemingly unstoppable march in 2014. At one point, the group controlled a third of Iraq, as well as large parts of neighboring Syria. But since then, airstrikes and ground operations have pushed ISIS back. The group has mostly been cleared from Salah al-Din and Anbar (and from large parts of Syria), and if the current operation goes as planned, ISIS will be defeated in Mosul, its prized Iraqi capital.
Weiss said the ongoing military operations have given groups like IOM an idea of what to expect next. Since June, he said, at least 110,000 people have been forcibly displaced following Iraqi military operations in the southeastern part of Nineveh. In that time, he said, 10,000 non-food item kits have been delivered; 10,000 people were transported to safety in neighboring areas with camps; and primary health-care consultations were given to nearly 30,000 civilians.
"So the emergency related to Mosul is already going on," Weiss said, "and we have already started to work on provisional assistance to people who are directly affected by the different corridors that are going toward Mosul."
Patrick Osgood, the Kurdistan bureau chief of Iraq Oil Report, a news organization that has reporters in all of Iraq's provinces and contacts in all its major cities, said in an interview that "a lot of people have managed to get out" of Mosul. But "the vast majority simply cannot."
Osgood said the "left bank [of Mosul] is mostly depopulated," referring to the area east of the Tigris River that has traditionally been more ethnically diverse, comprising Sunnis, Kurds, Turkmens, and others. "The right bank has a very, very high proportion" of people left. This area is mostly Sunni, and the population, angry at the Shia-dominated government in Baghdad, initially welcomed ISIS. Consequently, the Islamic State is focusing its attention on defending the right bank and has "largely abandoned the left bank," Osgood said.
In the right bank, he said, ISIS is "sending younger and younger kids to go out and maintain law and order" and spy on the local population, and there has been "a record ramp-up in mass arrests and executions." But, Osgood said, there is also increased disorder and public disagreements—often deadly—among ISIS militants on whether to flee the city or fight until the end.
It is this scenario that Iraqi forces—and humanitarian groups—will face as the fighting intensifies. As in all conflicts, it's the civilians who will suffer the most.