The New Culture War in Israel
How politics infects the country's art scene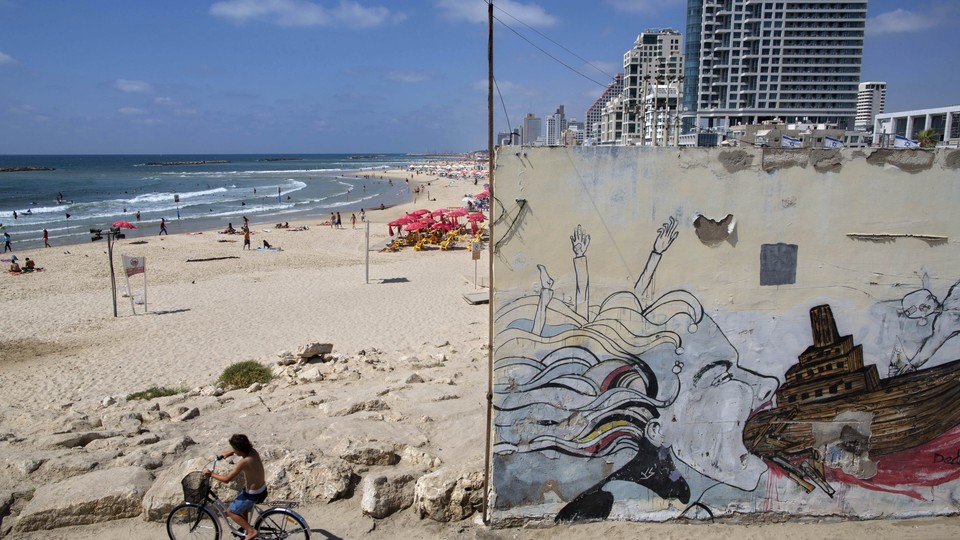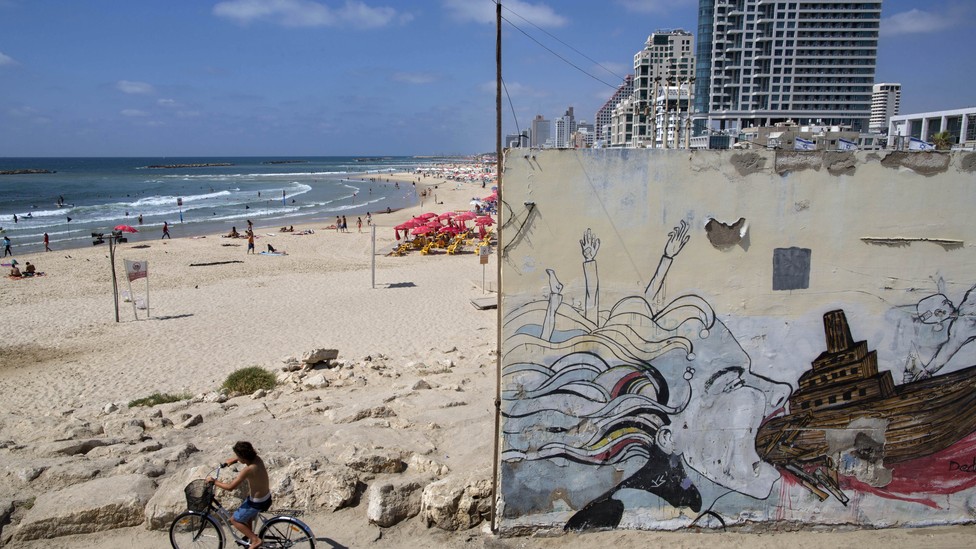 TEL AVIV—By August it had become a familiar scene: A woman standing on a Mediterranean beach is stopped by authorities, who proceed to ask her to change her clothes lest she offend her fellow beachgoers. Except this wasn't France, where several municipalities recently tried to ban the burkini, a full-body swimsuit worn by some conservative Muslim women, but Israel. And the woman, singer and former reality-show star Hanna Goor, who was in town for a music festival in nearby Ashdod, wasn't being asked by authorities to remove a burkini. Quite the opposite.
The festival organizers wanted Goor, who was wearing a bikini, to cover her upper torso to avoid offending religious visitors at the event. Days later, the incident prompted the Israeli culture ministry to begin drafting "modesty guidelines" for performers. These guidelines would bar similarly revealing dress at future events. While they have yet to be issued, they're already making an impact: On September 10, a Tel Aviv dance troupe decided to remove a topless scene from their latest act, a "modern folk dance" performance, just one day before its premiere. Brief nudity would have been uncontroversial in liberal Tel Aviv, but the theater feared running afoul of the culture ministry, which provides it with funding.
All this is happening in seeming defiance of the 62 percent of Israelis who, according to a recent poll by the Israel Democracy Institute (IDI), a non-partisan think tank, believe that democracies should not dictate how a woman dresses. Now, their own state seems to be doing exactly that. For their part, however, the culture ministry maintained in an emailed statement that "the policy of the ministry … states that festivals and events paid for with public funds will respect the public at large, which belongs to various communities and sectors."
The guidelines are the latest salvo in a long-running, now-escalating war over expression in Israel. Prime Minister Benjamin Netanyahu's government has clashed repeatedly with artists, excluding a book from the school curriculum for promoting interracial relationships, defunding a theater for showing provocative performances, and, now seeking to dictate dress codes.
Amir Fuchs, a researcher at IDI, explained that Netanyahu's ministers represent a changing Israel, one that has become broadly more religious and conservative. "It's part of a bigger picture of nationalism—trying to beat the left and the Arabs as much as you can," Fuchs said. "It's populism, which is a popular thing right now, and not only in Israel."
On the other side of the ledger are the artists, actors, and authors who constitute a key stronghold of the diminished Israeli left—a group that has come unmoored by the failure of the peace process with the Palestinians, and subsequently exiled to the political margins. Polls consistently find that Israelis, particularly teens and millennials, have moved to the right. Just 12 percent of young Israelis described themselves as "left-wing" in 2010, down from 32 percent in 1998. Another survey released in April found that 59 percent of 11th and 12th graders identify as "right-wing."
Art, then, has become one of few arenas in which the old Israeli left retains influence. Now it finds itself on the defensive again, as everything from bikinis to music become symbols of a changing country.
The public face of the modesty campaign is the center-right Likud party's Miri Regev, a former army spokeswoman who entered the Knesset in 2009. She is an acrimonious populist, who occasionally draws comparisons to Donald Trump: She made a name for herself protesting against Sudanese and Eritrean asylum-seekers, who she once called a "cancer in our body," warning that they were part of a left-wing plot to destroy Israel's Jewish identity.
In 2015, Regev was named culture minister, charged with overseeing a small department with a roughly $119-million budget in 2016, one-tenth of a percent of total state spending. The ministry distributes some of that money to hundreds of cultural institutions and art schools, which cover the rest of their budget through private donations, tuition, and ticket sales. One of Regev's first acts in her new post was to temporarily defund the Midan Theater in Haifa, which had put on a play about a Palestinian prisoner who killed an Israeli soldier. Regev accused the theater of trying to "undermine the state." But then-Attorney General Yehuda Weinstein eventually reversed Regev's decision, on the grounds that it would limit freedom of expression.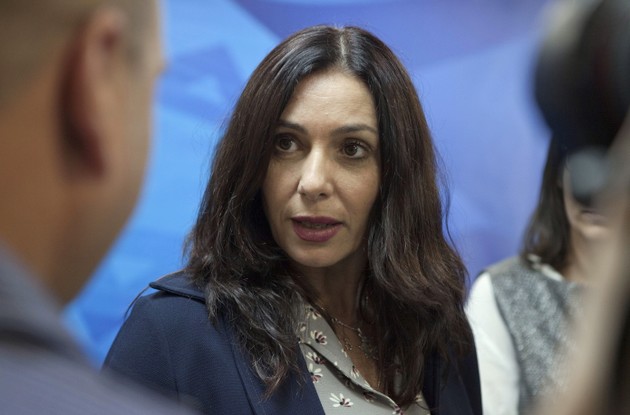 So in January, Regev tried to create a legal basis for future funding cuts, drafting a "loyalty bill" that would allow her ministry to defund artists who acted "against the principles of the state." That provision would apply to performers who incited violence, as well as those who desecrated the Israeli flag, or commemorated the nakba, the mass displacement of Palestinians that accompanied the founding of Israel. (Like many of the right-wing bills drafted by Netanyahu's government, it has not yet been passed into law.)
The provisions in Regev's loyalty bill tied to the plight of the Palestinians highlight the prominent role that Israeli artists once played in the peace camp. Amos Oz, one of the country's most illustrious writers, was an outspoken supporter of both the Oslo Accords, which established the Palestinian Authority and granted limited self-governance in the occupied territories, and the Labor party, the main vehicle for the Israeli left. But after the failure of U.S.-brokered peace talks, followed by the Second Intifada, the peace camp collapsed. Oz now supports the tiny Meretz party, the only one still touting an unambiguously pro-peace platform; while he is still well-received by foreign audiences, he is frequently criticized for his views in Israel.
A failed rapper known as The Shadow, meanwhile, offers a contrasting example, boasting songs on his debut album filled with nationalist lyrics. One of its best-known tracks, "Biladi," features the chorus this is my land, this is my country, sung in Arabic, as a "message" to Palestinians. The album sold well, but The Shadow's career quickly stalled, leading him to declare bankruptcy in 2011. So The Shadow, whose real name is Yoav Eliasi, reinvented himself as a right-wing activist, building a fan base through his Facebook posts (in one, he suggested castrating Palestinian attackers to spoil their plans for meeting virgins in heaven). In 2014, at the height of the Gaza war, he gathered supporters to attack an anti-war rally in Tel Aviv, where they beat protesters with sticks and clubs. In August, Eliasi joined Likud, and hinted that he might one day run for office.
If Oz represents Israel's old, Labor-dominated past, then Eliasi, perhaps, offers a glimpse of its future. Regev's campaign against Oz's contemporaries is a reflection of this generational and cultural divide.
In June, Regev's office sent a questionnaire to cultural institutions, asking whether they perform in the Negev and the Galilee—underdeveloped regions of Israel, known in Hebrew as the "periphery"—or in Jewish settlements in the West Bank. Under current law, she argued, artists who do not perform in these places should lose a third of their funding, while those who do so in the occupied territories would receive a small "bonus." Regev, who has previously proposed annexing the settlements, wanted to push artists to perform there—and to punish those who refused for political reasons.
Regev, for her part, has called Israeli artists "tight-assed, hypocritical and ungrateful." She has insisted that the culture debate is merely about funding. Artists will retain their freedom of speech, she argues, but the state "won't be an ATM for these organizations."
But sympathy for the Palestinians is only one of Regev's objections. The other touches on the long legacy of discrimination and ridicule of Israel's Mizrahi, or Middle Eastern, Jews by its European-descended Ashkenazi Jewish community. Forced by the government to settle in Israel's least-developed areas, the Mizrahis' history has been virtually omitted from textbooks; they have been mocked for being uneducated and "backwards."
To this day, major gaps remain between Ashkenazi and Mizrahi Jews. A 2012 analysis by a Mizrahi activist group found, for example, that groups teaching Western styles of dance receive more than 95 percent of the state funding allocated for dance programs. The orchestras in Tel Aviv and Haifa, whose programs heavily feature European classical music, receive millions of shekels each year; a symphony that performs ancient Middle Eastern music characteristic of the Mizrahim receives about 70,000. "People on the periphery don't get money for promoting or creating their own cultural events, on the basis of their own cultural heritage," which tends to be Mizrahi, said Yossi Dahan, a professor and analyst who writes frequently about inequality in Israel.
The daughter of Moroccan Jewish immigrants, Regev draws some of her appeal from this ethnic resentment. She often describes herself as "Miri Regev from Kiryat Gat," a largely Mizrahi town in the south, and proudly denounces Ashkenazi culture. "I never read Chekhov," she told an interviewer last year. "I listened to Jo Amar [a Moroccan-Israeli singer] and Sephardic songs, and I'm no less cultured than all the consumers of Western culture."
Regev's critics on the left haven't done much to endear themselves or their cause to Israelis. At a pre-election, anti-Netanyahu rally in central Tel Aviv in March 2015, Yair Garbuz, a painter and art professor, delivered the protest's most memorable lines: a rant against the "amulet kissers [and] idol worshippers," a thinly veiled reference to Mizrahim. They had taken over the country, he warned, and the coming election offered a last chance to take it back from the "freaks" and the "destroyers of democracy." His insults were soon blasted out to supporters of Likud, which feared a low voter turnout. On election day, not a few Netanyahu voters cited Garbuz as a reason for going to the polls. "Garbuz's speech hurt us, without a shadow of a doubt," Isaac Herzog, the leader of the Labor party and Netanyahu's main challenger, acknowledged a few days after the election.
Herzog's loss hastened the rise of what is perhaps Israel's most right-wing government in decades, and with it, a sudden tightening on the limits of what was deemed acceptable artistic expression. In December, the education ministry banned a novel featuring an Arab-Jewish romance, calling it a threat to Jewish identity. Avigdor Lieberman, the defense minister, was furious after Army Radio, a station run by the Israeli Defense Forces, broadcast work by Mahmoud Darwish, the Palestinian national poet, during an educational segment. "By the same logic," he argued, "[it could] broadcast a glorification of the literary marvels of Adolf Hitler's Mein Kampf." A leading Labor politician called his comments "characteristic of fascist regimes."
Netanyahu and his ministers, however, stayed silent. "A liberal state is supposed to be neutral concerning the content of literature, of culture," Dahan said. "When this distinction is made, it's basically used to censor, to intimidate actors and writers."
There was a prelude of sorts to the modesty guidelines in July, when the Shenkar art and design college outside Tel Aviv hosted an exhibition. One of its paintings featured a nude woman; while the artist, Yam Amrani, did not identify the subject, she bore an unmistakable resemblance to Justice Minister Ayelet Shaked, a member of the right-wing Jewish Home party. Yuli Tamir, the president of the college, quickly ordered the painting removed.
Amrani could not explain the painting's artistic value, beyond saying that he hoped to "induce discomfort that conveys nihilism." The editorial board at the liberal newspaper Ha'aretz defended him, but many at the paper were unconvinced. One of the paper's former correspondents called the painting an instance of "cheap and old chauvinism." In a critical op-ed, Orit Kamir, a law professor at Hebrew University, called it an "act of shaming." But Larry Abramson, the head of the art school, resigned in protest. "Who's to judge? You have to allow art to be seen, even if you don't like it personally," he said. "It's always dangerous when a politician with a vested interest conducts cultural criticism."
That criticism is likely to continue, certainly as long as Regev remains in office.
She staged another protest on September 22, when two Israeli artists—one Jewish, the other Arab—performed a Darwish poem at the Ophir Awards, the Israeli equivalent of the Oscars. She walked out of the ceremony, and later condemned the reading as "disgraceful," calling Darwish the "leader of the Palestinian industry of lies." Even if her loyalty bill never passes into law, Israeli artists say the pressure to cover up—both their bikinis and their beliefs—has already cast a pall over the country's cultural scene. Im Tirtzu, a far-right group that has campaigned mercilessly against liberal NGOs, released a poster earlier this year that called Amos Oz, David Grossman, and other celebrated Israeli icons, "moles in culture," suggesting that they were foreign agents.
"The discussion, the public discourse, is damaging democracy and democratic values," Fuchs said. "Even the fact that these bills are being discussed … they were something extreme in the past, and now they're seen as legitimate."