There Is No Plan B for the FARC Deal
Colombia grapples with the fallout from a vote against the agreement—while trying to keep the peace.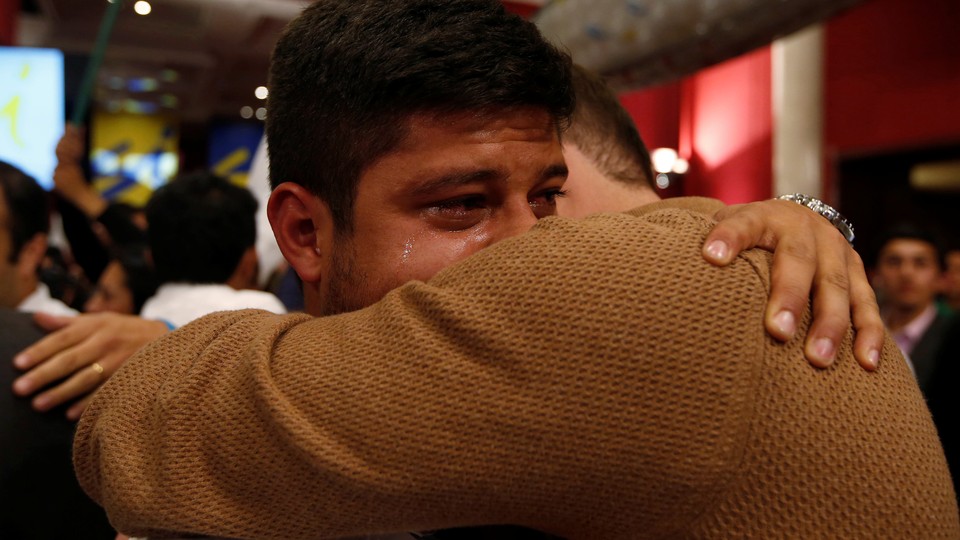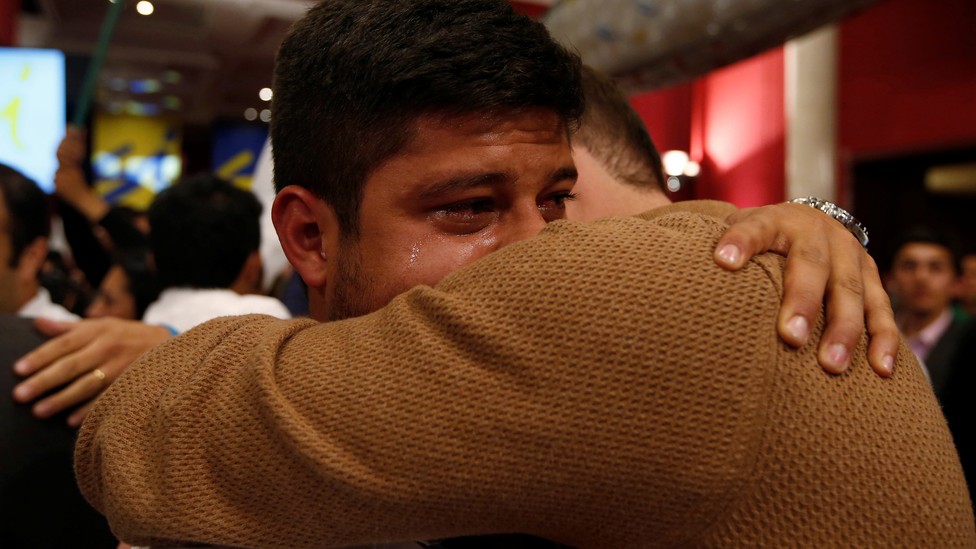 On Monday morning, Colombians awoke to widespread uncertainty after voting down a historic peace deal between the government and the nation's largest rebel group, the Revolutionary Armed Forces of Colombia (FARC). The deal, four years in the making, would not only have ended more than 50 years of war; it also included provisions for land reform, rural development, and, most contentiously, transitional justice. The Colombian government, the FARC, and the United Nations, had all seemed to expect the deal to pass easily, but a narrow victory for "No" has thrown everything into question. While President Juan Manuel Santos was not legally required to hold a plebiscite on the deal, it is almost unfathomable that the accords will now proceed as written without a clear mandate from the population. Perhaps most troubling, in the lead-up to the vote, the FARC and the government said repeatedly that there was no plan B.
The opposition was led by former president Alvaro Uribe, who split with Santos, his erstwhile ally, and formed his own party largely to oppose the peace deal. Uribe and his followers have insisted that a no vote was still a vote for peace because the deal could be renegotiated. His party, the right-wing Centro Democratico, has hammered Santos's government on almost every aspect of the deal, especially its provisions for transitional justice, which would have given amnesty to drug traffickers and allow those who committed crimes against humanity to avoid jail. The group has taken issue with a provision that would allow FARC commanders to run for office, which has been particularly contentious given the widespread anger at the FARC for its crimes, including kidnapping, drug trafficking, and massacres.
With UN officials already on the ground to oversee a planned disarmament of the FARC that is now unlikely to proceed, and with rebel soldiers presumably paused on their way to the zones where they were to disarm, it's back to the drawing board for all parties involved. "It's very difficult to start a new negotiation after four years," said Pilar Rueda, an advisor to the peace process's gender subcommittee. Rueda, like many of the deal's backers, was in shock on Sunday night. There was a "very emotional attitude" leading up to the vote which "was very difficult to change with reasonable arguments, including reading and presenting the accords," Rueda said. But she was determined to be hopeful. "This could be the opportunity for a wider debate," she added optimistically. She noted, as other supporters of the deal have, that the many of the areas hit hardest by the conflict voted overwhelmingly in favor of the accord.
Santos, whose approval ratings have reached historic lows this year, will leave office in 2018. If he is unable to secure a final peace deal, that failure will overshadow his legacy and could affect the rest of his party. Legislatively, there are a few options for how to proceed. They include allowing the Colombian population to vote for new negotiators with the power to create a deal not subject to a vote, or mandating a complete renegotiation of the deal, which could take years. Perhaps the biggest question now is what role the Centro Democratico party and Uribe, now a senator, will play. Uribe, whose party has campaigned vociferously against the deal, called on Sunday night for a "great national pact."
"If the FARC really want peace, they should be willing to renegotiate the deal," Samuel Hoyos, a Centro Democratico congressman from Bogota, said in a phone interview Sunday night. Those who had committed crimes against humanity, he added, "should be ready to submit themselves to punishment, even if it is a reduced punishment … [of] at least four to eight years in jail." Under the current agreement, those who committed such crimes would face no jail time if they confessed. But stiff restrictions would be placed on their movement. They would also have to participate in peace-building activities, such as landmine clearing. So-called "political crimes," including drug trafficking, would not be punished, which Hoyos sees as unacceptable.
Hoyos expected his party to play a major role in the new negotiations. "We have to seek out a great national consensus, of course, under the direction of the opposition … the leaders of the campaign for no," he said. Through the plebiscite, the Centro Democratico, which holds a minority of seats in Colombia's congress and senate, showed its political muscle.
It is unclear, however, how hard the Centro Democratico can push before the deal falls apart and the FARC simply abandons negotiations. Roddy Brett, a professor of international relations at Universidad del Rosario, has worked as an advisor to the United Nations in Colombia on peace, reconciliation, and development. He said that giving in to the Centro Democratico's demands to strip away amnesty provisions and FARC political participation would have derailed the deal. "Those conditions were utterly fundamental for the negotiation and for the peace accords to be signed ... you don't lay down your arms to go to prison," Brett said.
Brett added that the idea that the Centro Democratico would sit down at the negotiating table was problematic at best. "This is a negotiation between the government and a rebel group. It shouldn't be a negotiation between the government, a rebel group, the former president, and all his supporters," he said. Brett felt strongly that holding the plebiscite was a major misstep by Santos.
Now, with no way backward, it is unclear what the FARC might agree to. Michael Weintraub, a government professor at the Universidad de los Andes, told me that a fundamental part of peace accords was to "burn bridges behind you," so that each negotiating party is unable to back out. The FARC in recent days have agreed to provide an accounting of their assets—one of the Centro Democratico's demands—and allow those assets to be used as reparations for the victims, a major concession. They have also apologized to the Colombian people, as well as to victims of specific massacres. Weintraub said that after having come this far, and with international infrastructure already in place, "it would be harder for them to walk away so they may be willing to accept more."
Immediately after the vote, the FARC leadership reaffirmed its commitment not to take up arms again. And at this stage, Brett said, it seems to be well in control of its rank and file. However, both Brett and Weintraub acknowledged the possibility that a new negotiation could chip away at this control. "If the FARC start saying we're going to send our midlevel commanders to jail, you better believe the midlevel commanders are not going to agree to the deal, and they may remain in the field participating illegal economies, and retreating into mountains," Weintraub said.
Potential violence against the FARC rank and file has long been thought to be a major threat to the peace deal. Emily Wright, a reporter who has embedded with several FARC camps, said the group's members are keenly aware that a previous peace process ended with the murder of thousands of members of the FARC's one-time political party, the Patriotic Union, by paramilitary and government forces. A key aspect of the deal voted down on Sunday would have been guarantees of security for FARC members who disarmed.
Santos was quick to assure the nation on Sunday night that the bilateral ceasefire remained in effect. But the danger of violence does not only come from the FARC. Right-wing militias, known as paramilitaries, whose crimes have equaled and often surpassed those of the FARC in terms of brutality, officially disbanded and demobilized in 2006 during Uribe's presidency. But many returned to criminal violence, forming what are now known as neo-paramilitary groups. These groups still attack civilians, especially labor leaders, indigenous activists, and human rights defenders. In 2015, Colombia ranked in the top three countries with the highest rate of killings of environmental defenders according to a Global Witness report.
These attacks have also targeted those advocating for the peace process, especially, Brett said, those working on the land-reform provisions. The question now is whether the plebiscite result will increase violence against them, as well as against labor leaders, indigenous activists, and human-rights defenders. "Even during the peace process there have been very high levels of killings of and threats," Brett said. "I think [the plebiscite] clearly increases the possibility for crimes against human rights defenders, those supporting the peace process, [and] those working on land redistribution." Uribe has also been accused of working in tandem with paramilitaries during his time as governor of Antioquia.
By late Monday, Santos was scrambling to save what remains of the deal, designing a special commission to engage in dialogue with the Centro Democraticos. Amid the uncertainty, one thing was clear: Uribe and the Centro Democraticos achieved a political victory. Santos convened a meeting with members of all of Colombia's political parties on Monday morning, with the notable absence of the Centro Democraticos, who chose not to attend. Top members of the party, Oscar Ivan Zuluaga, Ivan Duqe, and Carlos Holmes Trujillo, instead issued a statement demanding a meeting with delegates from the national government with the goal of "identifying adequate steps" towards a national pact.
The Centro Democraticos have insisted repeatedly that what they really want is peace. In the coming days and weeks, they may be called upon to prove it.