Europe's Other Refugees
"Germany does not face Afghans in the same way they face Syrians or Iraqis. The authorities give us the feeling that we are not welcomed here."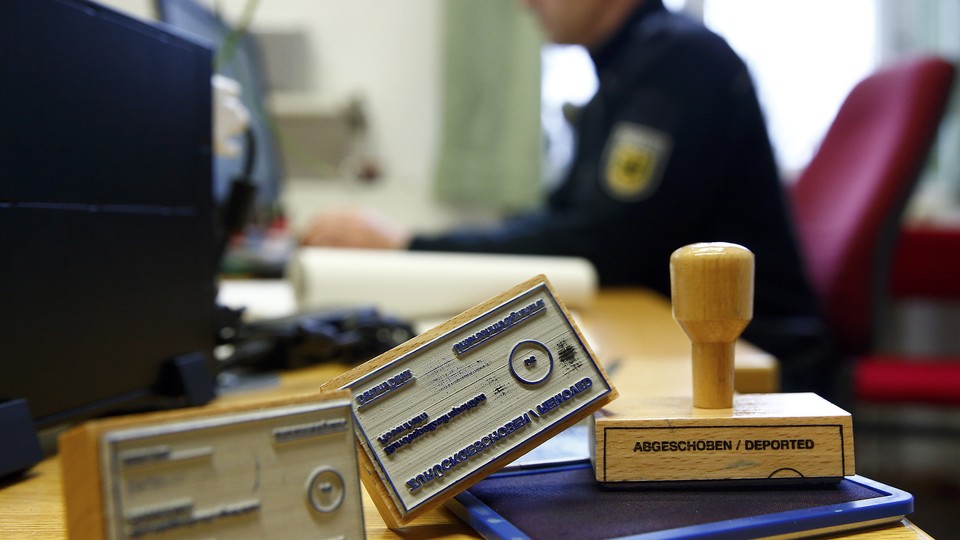 On the day before Eid al-Adha, the high Islamic holiday, several dozen Afghans stood in the blistering heat to try to obtain one of their government's modernized, biometrics-based passports. The updated travel documents are intended to meet international standards for identification, and are aimed at preventing fraud. But many doubt the Afghan government's good intentions: Last year, their old passports were rendered invalid and the new ones compulsory, leading some to assume they're simply a money-making scheme.
One of those standing in line, 27-year-old Ajmal, hoped to first make it to Turkey and then on to Europe. "I'll leave this country. Every time when I go out of my house, I'm not sure if I will see my mother again. There is always the possibility to get killed by a bomb," he said.
Such fears are particularly acute for members of religious and ethnic minorities in Afghanistan like the Shia Hazaras. Reza, a 26-year-old Hazara, was also waiting for his documents at the passport office that day. His preferred destinations are Europe or Australia, where his relatives are waiting for him. "Many people have a reason to leave. ... [R]ecent events in Kabul"—including suicide attacks and shootings—"proved that especially Shia Muslims have become a target. Sectarianism and hatred have increased," he said.
The corridors of escape, however, are swiftly narrowing. At October's Brussels Conference on Afghanistan, the European Union agreed to support the effort to rebuild the war-torn country with $15 billion in aid over the next four years, in exchange for promises by the government to address corruption, political reform, and human rights. At the same time, the Kabul government also agreed to "Joint Way Forward," a deal that will allow EU states to deport Afghan asylum-seekers. It also requires Afghanistan to readmit any of its citizens who have not received asylum in Europe and have not agreed to go back to their country voluntarily. Although the agreement did not stipulate exact numbers, tens of thousands of Afghan asylum-seekers could be deported in the near future. To speed the mass deportations, the Afghan government promised to expedite the relevant bureaucratic processes. Rejected asylum-seekers, for example, will receive their Afghan passports faster. In addition, the Afghan government plans to build a special terminal at the airport in Kabul for those who have been forced to return.
But the deal seems to ignore the obvious. For those seeking to leave Afghanistan, rebuilt bridges, roads, and power plants have little bearing on their calculation. Many are simply trying to avoid death. According to the United Nations Assistance Mission in Afghanistan (UNAMA), civilian casualties have reached a new peak since the organization began publishing reports on civilian casualties in 2009. Between January 1 and September 30 of 2016, at least 2,562 civilians have been killed, while an additional 5,835 have been injured.
Fifteen years after NATO's mission in Afghanistan began, the West is trying everything it can to turn its war into a success. Several European countries, like Germany and Austria, even started their own "information campaigns" aimed at persuading Afghans not to leave their country. But such desperate attempts do not affect realities on the ground.
In recent months, the Afghan Taliban have won back significant territory from government forces. Those forces are losing as many as 5,000 people each month through casualties and desertion, according to Afghan government officials. The past several weeks have seen heavy clashes between the insurgents and the Afghan National Army in several provinces, including Kunduz in the north and Uruzgan and Helmand in the south, where Taliban fighters ambushed and killed around 100 policemen and soldiers last Thursday. On Ashura, a sacred day for Shia Muslims, an Islamic State gunman killed at least 18 people at a Shia shrine in Kabul. Several additional attacks on Afghanistan's capital have also taken place in recent weeks, killing or injuring dozens of civilians.
Since ISIS cells began appearing in Afghanistan, those living in rural areas and members of minority groups, especially Hazaras, have become targets of suicide attacks. At the end of July, two ISIS suicide bombers killed at least 80 people and wounded more than 230 during a demonstration organized by Hazaras in Kabul. In late September, a U.S. drone strike killed at least 15 people in a village in Nangarhar province. While Afghan government officials insisted that the victims were ISIS militants, locals claimed they were civilians. According to several reports, dozens of people had gathered to celebrate the return of a prominent elder from his hajj pilgrimage when Hellfire missiles targeted them.
In several European cities this past weekend, Afghan refugees held protests against the EU's deal with the Afghan government, including one in Stuttgart, a town in southern Germany. One of the demonstrators was 27-year-old Kareem, a resident of Stuttgart for the past three years. German authorities have rejected his application for asylum once. Now, he fears deportation. "Germany does not face Afghan refugees in the same way they face Syrians or Iraqis. The authorities give us the feeling that we are not welcomed here," Kareem said.
The German government, for instance, has repeatedly insisted that some areas in Afghanistan can be considered "safe" and has already begun sending Afghans back, starting with 125 Afghan refugees back in February. In response, German human-rights organizations accused the government of restricting the right to asylum. According to Thomas de Maiziere, the country's Interior Minister, the return was "voluntary."
For Kareem, the minister's words sound like pure propaganda. "The authorities … often reject your asylum requests and let you stay hopeless. You are not allowed to work or do anything else. [In the end], you think that your war-torn home is still better than living in a country which simply doesn't want you," he said.
Like many Afghans both in and outside their country, Kareem is angry at Kabul's political elite. To him, it is clear that, aside from the EU, Afghanistan's corrupt and super-rich political elite is the chief beneficiary of the recent agreement. For those fed up with the government, it's obvious that most of the money will vanish, like all the other billions of dollars which should have been invested in schools or hospitals. Afghanistan still ranks among the most corrupt countries in the world, with Transparency International repeatedly accusing Afghan politicians of stealing millions of dollars of aid money. In fact, much of the money is visible on the streets of Kabul, or Dubai, or other foreign places where corrupt politicians and warlords have built ostentatious mansions and purchased luxury cars.
Since last year, many members of Kabul's political elite have called on young people not to leave the country. In an interview with the BBC, President Ashraf Ghani himself said that he had no sympathy for those who are looking for refuge somewhere else. "They have made a choice to leave. When they leave, they break the social contract. This needs to be understood," Ghani said. Former president Hamid Karzai seemed to echo Ghani's sentiment. "Every country is facing hard times once. Afghanistan needs its younger generation," Karzai told me. Unlike other politicians, Karzai's close family members still live with him in Kabul—a fact that he acknowledges proudly. "Those who already brought their families abroad shouldn't talk about this issue. It's wrong. But my family is here!"
Nevertheless, like many other young Afghans abroad, Kareem cannot take such words seriously. "Karzai and his family are living in a fortress. They have dozens of guards and are secured 24 hours [a day]. Their life and the one of average Afghans are poles apart. … For that reason, his words are just hypocritical."