At the Center of the Devastation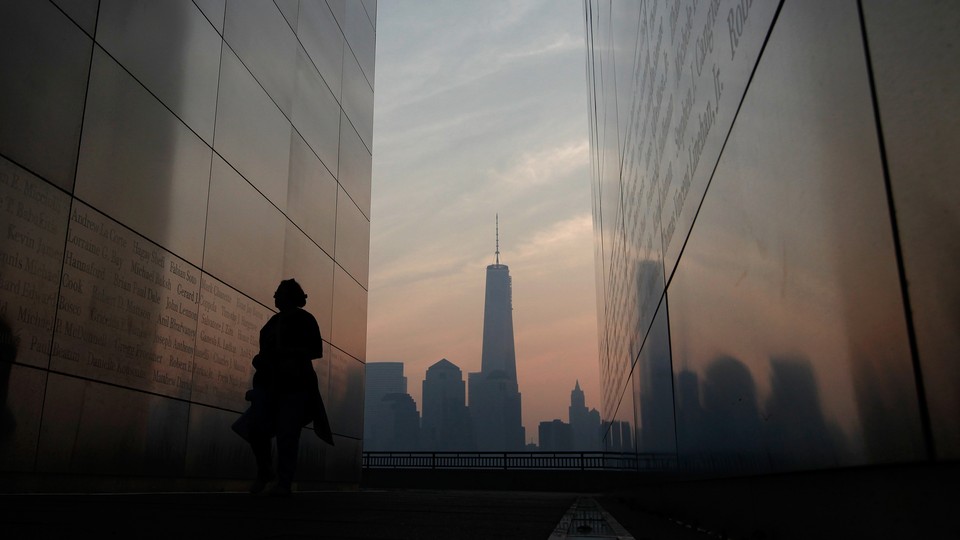 Editor's Note:
This article previously appeared in a different format as part of The Atlantic's Notes section, retired in 2021.
Everyone seems have their own story of the 9/11 attacks, and I recently asked readers to share theirs to mark the 15th anniversary. I got responses from people who on that day were all over the world: in New York and nearby, in DC, elsewhere in the U.S., and in other countries. This first set of responses comes from people who were near the geographic epicenter of 9/11's most devastating strike, on the World Trade Center.
One reader had an office on the 14th floor of the World Trade Center, but he happened not to be in the office that day:
Our firm had a telephone system which allowed people to call your office number and have it immediately connected to any number you desired. This allowed most of the staff to work remotely, whether from home or on the road. So, this particular day, none of the senior staff members were in the office, whether at home or traveling.

September 11 was the first day of school for some schools in the area. Our office manager was taking her daughter to school that morning, so she was not in the office that morning either.

While we suffered no casualties in the attack on the WTC, I have friends who died in the attack.
My older daughter was away at college, and my younger daughter was a senior in high school. When the news reports started circulating, the high school administration determined which students had parents who worked at the WTC, gathered them together, and gave them the news. My daughter had seen me at home when she left for school, so she was pretty confident that I was okay. However, my older daughter didn't know, and she was desperately trying to get in contact with me. The cell phone system was overwhelmed with the demand, and she was unable to get through for hours. But she ultimately did, much to her relief. Since there was still a fear that there might be further attacks, she said that she wanted to come home from school so she could die with us.

We were scheduled to take my younger daughter on some college visits at the end of the week. It was a great relief for all of us to get out of the New York area. It was difficult for me to talk with anyone about what happened, both because it could have been much different for me, and also because of the friends I lost.

It's gotten easier over the years, although I can still become emotional about it, whether talking about it or writing this e-mail.
Another reader, Kate Achille, recalls chaos in her high school in suburban New Jersey, in a "commuter town" where many of the residents worked in the city. "As a family, we were lucky," she writes. "Many in our area were not. I can still remember passing by train-station parking lots full of cars whose drivers weren't coming back."
Kids were desperately trying to reach their parents. The phone lines were jammed. The school kept telling us to stay inside and keep calm. I couldn't get through to either parent. At this point I made the decision to go home as quickly as I could, walking next door to pull my sister from the middle school. The school administrators had tried to set up a barricade to keep us on the school grounds.

A neighbor came to take us home. After it rained that night, a friend of mine told me her family of first responders were in need of socks and supplies. We spent the next week collecting anything and everything we could from all over the country. Socks, head lamps, respirators, flashlights. I visited the city a few days later but didn't dare to go downtown. I saw the posters of the missing, breathed the dust still lingering in the air.

Even 15 years later I can remember every minute of that week. Fully aware of what was happening in the world, my childhood privilege was gone and everything became much more apparent. Even now, it feels that to some extent the attacks created a dividing line in my brain of before and after, as if the whole structure of my world changed that day.
A reader in Kansas City relays his Uncle Todd's experience of sitting at on a plane at New York's La Guardia airport, waiting to take off on the morning of September 11th. Todd, he writes, passed away last year. The reader's own memories of the day include:
1. Watching the Today Show live when the second plane hit. (Watching from our home here in Kansas City)

2. Driving to work and seeing an airplane's U-turn-contrail. (All the planes were being forced to land ASAP.)

3. After the second building fell, calling my Mom (in Lincoln, NE). I started crying when I heard her voice. But she knew why I was calling, and said, "Toddy's OK. We heard from him." (My Uncle Todd had lived in NYC for over 50 years.)

4. Later, hearing Uncle Todd's story: He was in a plane on a LaGuardia tarmac. The pilot came over the PA and said something like: "Uh, we're all being told to move back to the gate. Apparently there was an incident … uh … (pause) … Whoa!" Todd had to walk all the way from LaGuardia to the Upper West Side.
Finally, the recollections of Agnieszka Lech-Nunenkamp, a reader who grew up in Jersey City, right across the Hudson River from where the towers once stood.* "I still see the Towers in my mind's eye when I look at lower Manhattan," she writes. "They used to be my guide whenever I was lost in New York and needed to orient myself." On that day, Agnieszka was on the Rutgers University campus, but her mother was in Manhattan:
My mom ran to work from Christopher Street, and opened the restaurant where she worked. Soon, groups of people in shock came from way downtown. The restaurant gave away free alcohol to everyone.

The rest of the day was shock; clear, silent skies; and trying to donate blood for what we assumed would be many survivors. The Turnpike was closed, as was NJ Transit. People couldn't get home. My mom waited hours to get on a ferry back to Jersey, and then walked from Weehawken to downtown Jersey City. A professor stayed in my studio, she couldn't get home to her husband in Manhattan. We sat in an Indian restaurant, and then in a Dunkin Donuts in Highland Park for hours, with several friends of mine, too stunned to talk.

I couldn't get to my parents until Wednesday, the day after. We went to the waterfront at Exchange Place, a walk of maybe 10 minutes. The ruins were still burning, and the smell hit us from across the river.
---
* This post originally stated that Jersey City is across the East River from Manhattan. We regret the error.