9/11 in the Nation's Capital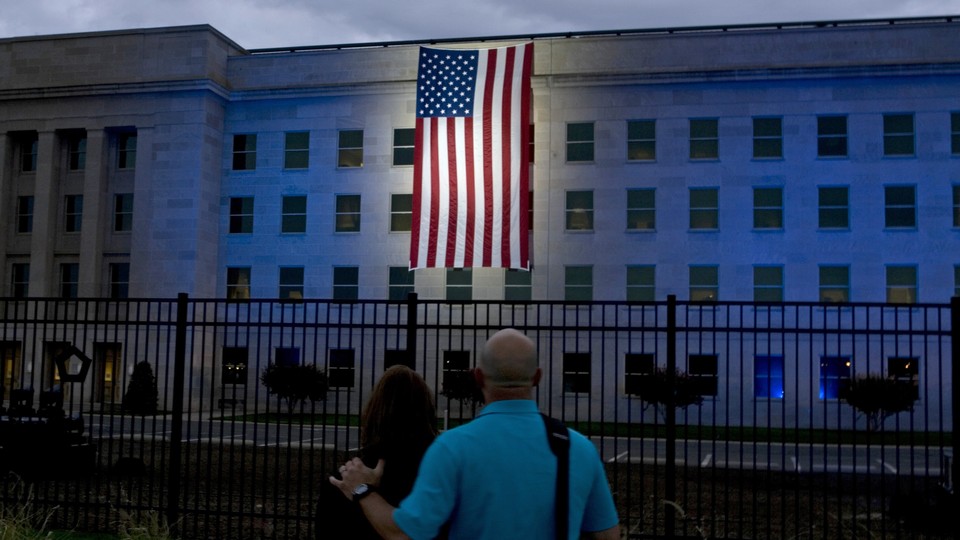 Editor's Note:
This article previously appeared in a different format as part of The Atlantic's Notes section, retired in 2021.
"People remember the Twin Towers," writes Stephen, a reader in Illinois. "But I remember the Pentagon." Update from Stephen: "I lived in Pentagon City between September, 1967, and November, 1968. On September 11, 2001, our daughter was back at the University of Arizona, having just completed her internship at MSNBC near the Capitol Building. [After the attacks, we] quickly returned to D.C., together, and went back to Pentagon City to visit the memorials":
I took my college-age daughter, at night, to visit the shrines that had been erected by ordinary people in the traffic turnarounds and witnessed the enormous canvas shroud that was hung over the west wall to hide the devastation as clean-up and recovery proceeded. It disgusted me that our country had been so ill-prepared despite ample warnings. And that there was no accountability for failure to protect our nation's commercial and political capital cities.

In our own small industrial marketing business, we did not put a single check through our company's checking account for 90 days. Customers stopped paying, in panic over uncertainty gripping businesses like ours. When business came back, it was down 40 percent. That is my memory of September 11—personal and professional disaster.  And loss of faith in our government and its leaders.
Another reader was an intern on Capitol Hill:
I stood in my congressman's office and watched the TV as the plane hit the second tower and then shortly after, out the window, I saw the thick black smoke billowing out of the Pentagon. It dawned on me in ever-worsening waves, the severity of the situation.

I evacuated the city on foot, to the sound of scrambling fighter jets and loud booms, which some said were the fuel tanks of the plane exploding, and others said were the sonic booms of the jets reaching the speed of sound. I never found out what they were for sure.

I picked up the Metro, the yellow line into VA, once I was past the Pentagon and we rolled silently by Reagan Int'l Airport, which was by that time, an evacuated ghost town. It was a jarring sight.

By the time I got to my apartment, both towers had fallen. …

It wasn't until many days later that it occurred to me that the heroes who brought down Flight 93 may have saved my life. It's likely that plane was headed right for us on Capitol Hill and I think of them often and thank them for their unbelievable courage and ultimate sacrifice.
Sonali Nigam, a student from India, had just arrived in the United States for the first time on September 9, 2001, and was visiting relatives in D.C. before starting college on the West coast. Today, she lives in New York City, "for a woman … the best city in the world to live":
On the morning of September 11, my aunt and uncle planned to take me to visit the Washington Monument and the National Mall. A bit jet lagged, I was up early and by 8:30 am we were ready to go. As we got our things together someone turned on the TV to catch a bit of news. We were stunned.

I had grown up in New Delhi so terrorism was not an unknown. But this was a growing up moment that defined my coming to America. It's hard to forget the pain and confusion I saw in the faces of my relatives and their neighbors, and I remember my aunt hugging a stranger who suddenly burst into tears at the grocery store the next day.
Reader Tish Wells has one more recollection from the District, where "it had started as such a lovely day":
[On the street] it was beautiful and empty of debris. Steam rose from the grates into the sunlight. There were lines of people for the phones because no one could use a cell—the wireless was overwhelmed. An elderly man and his wife sat on a park bench, he clutching his chest. They told us to move on when we tried to help. A man went by, crossing himself, then disappeared around a corner. The federal workers' childcares were closed, and the attendants and the kids were out near the Mall in wooden carts, puzzled as to what to do next. The kids thought it was a grand way to spend the day.

My other main memory of 2001 was that the Feds tried to cancel Halloween. Fear, you know. People in masks roaming around.

I went out after dark and met one couple coming out of a restaurant, both of them wearing the smallest of Mardi Gras masks. We exchanged knowing smiles, then went our ways.

Reaching Lafayette Square, I saw, in the light of a street lamp in front of the White House, a group of costumed Rollerbladers gliding back and forth. Later, as I walked up Connecticut Ave to the metro, I looked around and saw them gliding up the street, a snake of colorful reflective costumes and masks, through the green lights, then away.

Washingtonians don't give up Halloween easily.