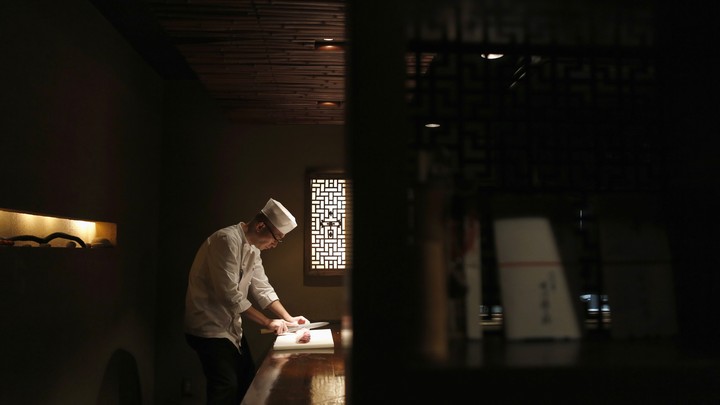 War Can Change What We Eat. Just Ask Hiroshima.
Julie Makinen | Los Angeles Times
"Before the war, the savory crepes—whose lineage can be traced to Chinese pancakes known as jianbing—were sold as kids' snacks throughout Hiroshima. Then, after 1945, war widows anxious to make ends meet started opening okonomiyaki stalls and some converted rooms in their homes into small restaurants.
They threw in whatever ingredients they could get their hands on, such as oysters and squid and soba noodles cooked by their fellow stall owners, along with ration ingredients provided by the U.S. occupiers. The elaboration was all well and good, because okonomiyaki literally means "whatever you like—grilled," and in the lean years after the war, cheap one-dish meals were all many Hiroshimans could afford."
* * *
Google's Clever Plan to Stop Aspiring ISIS Recruits
Andy Greenberg | WIRED
"Jigsaw, the Google-owned tech incubator and think tank—until recently known as Google Ideas—has been working over the past year to develop a new program it hopes can use a combination of Google's search advertising algorithms and YouTube's video platform to target aspiring ISIS recruits and ultimately dissuade them from joining the group's cult of apocalyptic violence. The program, which Jigsaw calls the Redirect Method and plans to launch in a new phase this month, places advertising alongside results for any keywords and phrases that Jigsaw has determined people attracted to ISIS commonly search for. Those ads link to Arabic- and English-language YouTube channels that pull together preexisting videos Jigsaw believes can effectively undo ISIS's brainwashing—clips like testimonials from former extremists, imams denouncing ISIS's corruption of Islam, and surreptitiously filmed clips inside the group's dysfunctional caliphate in Northern Syria and Iraq."
* * *
Reforming Ukraine After the Revolutions
Joshua Yaffa | The New Yorker
"Wen Sergii Leshchenko was at university, in Ukraine, he dreamed of working in television news. He is the son of two Soviet-trained engineers, and grew up in Kiev, where he studied journalism. He aspired to become an on-air correspondent, but his speech was mumbly and imprecise. After an unsuccessful summer internship at a local news channel, in 2000, he heard that a new online publication, Ukrayinska Pravda, was desperately looking for reporters; in recent weeks, nearly all the staff had quit, fed up with low pay and worn down by pressure from authorities. His interview took place in a cramped and sparsely furnished three-room apartment, where he was met by the site's founder and editor-in-chief, Georgiy Gongadze, a thirty-one-year-old reporter. Gongadze regularly received threats from Ukrainian officials because of his muckraking investigations. The power was out in the apartment, so Leshchenko and Gongadze sat in darkness. After a few minutes, Gongadze told him that he could start right away."
* * *
Human Rights in Colombia's City of Women
Kary Stewart | Pacific Standard
"At that time the Colombian government had no strategy in place to deal with this influx of emigrant women. They were left to live in slums, building shelters from scraps they found and doing whatever work they could to feed their children. There was no water, sanitation, or any other basic facilities.
'We lived in subhuman conditions,' Mejía recalls. 'Our homes were built on dirt and our children walked about barefoot. All we could do was cling to the hope that we had arrived with.'"
* * *
Trapped in Homs, Architect Imagines a New Future for Syrian Cities
Stephen Heyman | The New York Times
"Did Syria's urban architecture help fuel the civil war that has shattered the country and claimed the lives of hundreds of thousands of people? This is the provocative theory proposed by Marwa al-Sabouni, a young architect from Homs who spent two years confined to her apartment with her husband and two children as the city's historic heart was reduced to rubble.
In a Ted talk (now viewed over 500,000 times) and a recent book, "The Battle for Home," Ms. Sabouni, 34, performs a kind of architectural autopsy on her native city, cataloging failings of design and infrastructure that she said paved the way for its eventual destruction."
* * *
The Shipping Noose
Joshua Keating | Slate
"You probably didn't notice it while running errands last weekend, but the vast global network that moves foreign-made boxer shorts and Bluetooth headsets to your neighborhood store is experiencing a major malfunction. Last week, South Korean shipping company Hanjin, the world's seventh-largest container line, filed for bankruptcy after failing to reach an agreement with its creditors to alleviate its $5.37 billion in debt. This has left 85 of the 97 container ships the company operates literally stranded at sea, as ports refused to admit them for fear that stevedores and tugboat crews won't be paid. Even if the situation is resolved soon, the unprecedented mess is an ominous indicator about the state of global trade."
We want to hear what you think about this article. Submit a letter to the editor or write to letters@theatlantic.com.