An Amusement Park in Kathmandu and Outdated Anthems Abroad: The Week in Global-Affairs Writing
The highlights from seven days of reading about the world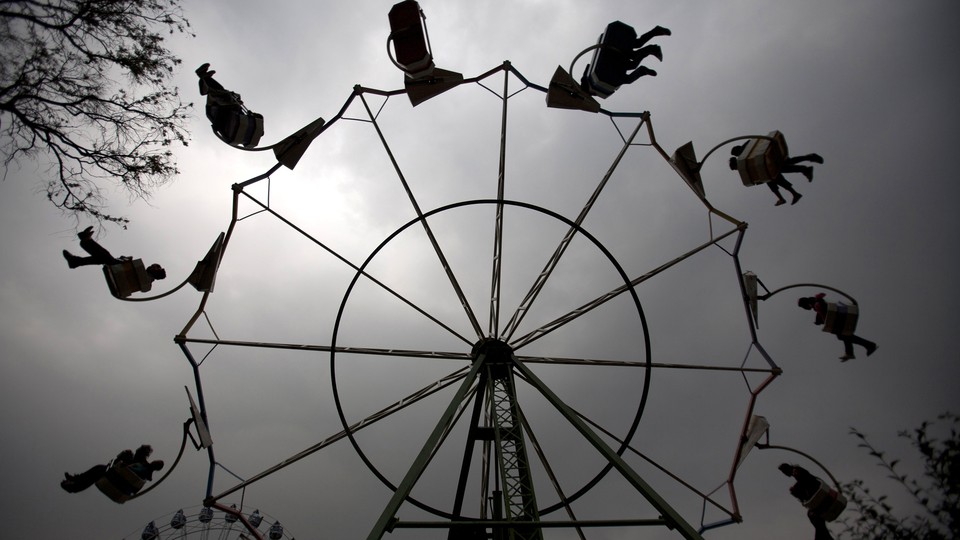 Once a Bucknell Professor, Now the Commander of an Ethiopian Rebel Army
Joshua Hammer | The New York Times Magazine
"On a hot July afternoon in 2015, Nega packed a suitcase, bade his wife farewell and was driven by comrades to John F. Kennedy International Airport. He carried a laissez-passer from the Eritrean government, allowing him a one-time entry into the country. Nega was heading for a new life inside a destitute dictatorship sometimes referred to as the North Korea of Africa; the regime was notorious for having supported the Shabab, an Islamist terrorist group in Somalia, and for a military conscription program that condemns many citizens over age 18 to unlimited servitude. Nega also believes he has drawn the scrutiny of the Obama administration and was worried about being stopped and turned around by Homeland Security. It wasn't until the wheels on the EgyptAir jet were up and he was settling into his seat over the Atlantic Ocean, bound for one of the most isolated and repressive nations on Earth, that he was able to relax."
* * *
A Brief History of Nations Deciding There's Something Wrong With Their Anthem
Ishaan Tharoor | The Washington Post
"Of course, no one with any political clout—not least Kaepernick—is suggesting that the anthem, or even those particular lyrics, be changed. But national anthems are symbols for a country's identity. And, in some instances, they can embody a nation's reckoning with its past and desire for change.
Take the case of South Africa. After the end of decades of apartheid rule, the country's Afrikaans anthem—'Die Stem van Suid-Afrika'—was phased out and replaced in 1997 by a hybrid anthem sung in the country's five most spoken languages. It stitched together 'Nkosi Sikelel' iAfrika,' a church hymn sung for decades in opposition to apartheid, with a verse in Afrikaans from 'Die Stem'—a gesture at the time to show unity with whites nervous about their place in a post-apartheid society."
* * *
Welcome to Whoopee Land
Stephen Groves | Roads & Kingdoms
"Outside of the joyful commercialism of Whoopee Land, tension across Nepal is apparent. The divide between the capital and the country is growing. Victims of the 2015 earthquakes struggle to rebuild, and those who reside in the south of the country are protesting their under-representation in a new constitution passed last year. Accusations abound against the 'upper-caste elite' of Kathmandu. While conversation in the city is filled with rumors of political corruption and backroom deals, the rest of the nation feels like an afterthought. More than half of the population live on about $2 a day.
Whoopee Land is located at the junction of these societies, just outside the city. Subsistence farmers peer from their mud huts over the park's fences into a land of seemingly endless delight. They're largely welcoming of their new neighbors and the cash it brings to the community. Most of the hired staff are local, and some entrepreneurs are setting up tin shops selling chips and momos, a favorite Nepali snack. For the locals and Kathmandu residents alike, the white, all-capital letters of Whoopee Land, mimicking the iconic Hollywood sign, promise entry to another world."
* * *
Philippines Drugs War: The Woman Who Kills Dealers for a Living
BBC News
"Maria and her husband come from an impoverished neighborhood of Manila and had no regular income before agreeing to become contract killers. They earn up to 20,000 Philippines pesos ($430; £327) per hit, which is shared between three or four of them. That is a fortune for low-income Filipinos, but now it looks as if Maria has no way out.
Contract killing is nothing new in the Philippines. But the hit squads have never been as busy as they are now. President Duterte has sent out an unambiguous message.
Ahead of his election, he promised to kill 100,000 criminals in his first six months in office.
And he has warned drug dealers in particular: 'Do not destroy my country, because I will kill you.'"
* * *
Capitalism and Democracy: The Strain is Showing
Martin Wolf | Financial Times
"Historically, the rise of capitalism and the pressure for an ever-broader suffrage went together. This is why the richest countries are liberal democracies with, more or less, capitalist economies. Widely shared increases in real incomes played a vital part in legitimizing capitalism and stabilizing democracy. Today, however, capitalism is finding it far more difficult to generate such improvements in prosperity. On the contrary, the evidence is of growing inequality and slowing productivity growth. This poisonous brew makes democracy intolerant and capitalism illegitimate."
* * *
"Hybrid Warfare" at Home: Asymmetric Tactics Are Not Just Used in Ukraine, They Are Employed Against the United States, and Have Been for Quite Some Time
Darren Tromblay | Lawfare
"Hybrid warfare" is no longer simply a term to describe Russian aggression in Ukraine and actions in the former Soviet space. With the hack and subsequent leak of the Democratic National Committee's emails—activities that a number of credible voices have attributed to Moscow—the threat that tactics of "hybrid warfare" pose to the United States is clear. What they are not, is new. Foreign governments have targeted the United States through "hybrid warfare" even before the term came into vogue. Throughout the Cold War—and even before—the Soviet Union (which established the intelligence apparatus that Russia inherited) and China as well as smaller states such as Cuba all skirted direct conflict and instead employed covert attacks on U.S. sovereignty."