A Tour of Berlin, Guided by Refugees
"We need to speak to Germans face-to-face. After that, they can decide if we can build together a future or not."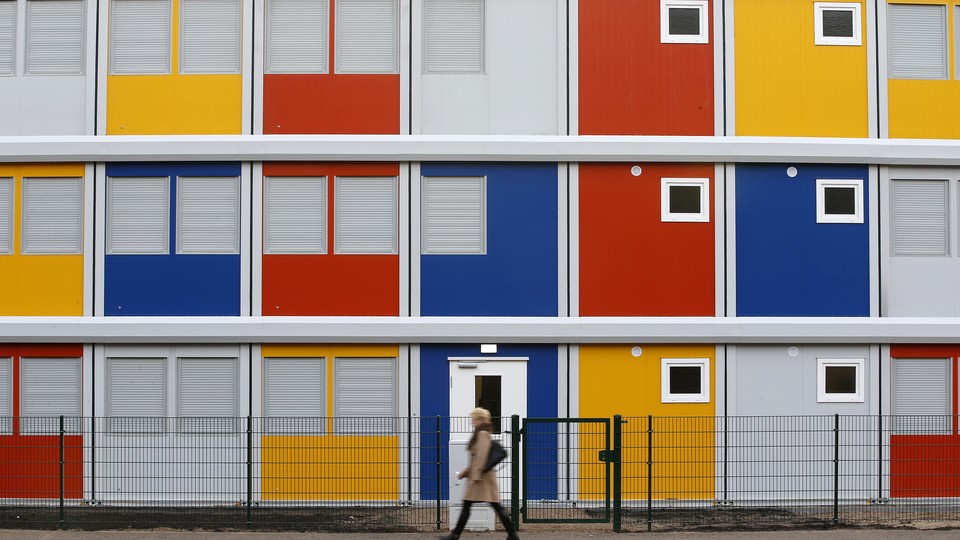 Samer Serawan was in pain. A fall in a Berlin subway station had injured his left leg one recent Saturday, and a doctor had ordered him to rest. "But I don't listen," he said, chuckling.
Serawan is a refugee from Syria. He is also a tour guide here in the German capital, where he has lived for only 10 months and barely speaks the language. But on the Sunday right after his fall, 12 people had gathered at a corner in the neighborhood of Neukölln to see Berlin through his eyes, including me. Injury notwithstanding, he had work to do.
So for two hours, he hobbled around the city on a crutch, wincing and wiping sweat from his brow, telling his story, and trying to forge some kind of connection to people that have suddenly become his neighbors in a new land.
Serawan, 37, works for Querstadtein, a Berlin nonprofit that specializes in unconventional trips through the city. The group formed three years ago, offering tours given by people who had experienced homelessness. In April, it started offering tours from refugee guides, at a cost of 13 euros per person. Sally Ollech, the founder of Querstadtein, explained the rationale of literally walking alongside the homeless and refugees: "Suddenly you're on equal footing, in motion. ... The guide relates his story, experiences, and perspectives directly in the cityscape, where we usually encounter one another without actually talking." The idea, Ollech said, was "to not always talk about homeless people and refugees, but to talk with them."
The conversation is especially relevant in Germany, where more than a million asylum-seekers arrived last year, and which is now adjusting to the enormity of the task it has taken on. One study estimated that the price tag for housing, feeding, and processing the migrants could reach 50 billion euros for 2016 and 2017. Those granted asylum often need language training, skills certifications, and jobs. A chaotic New Year's Eve in Cologne, when large groups of foreign men were accused of harassing and assaulting scores of women, as well as two apparent terror attacks in July involving asylum-seekers, have stoked security fears. Angela Merkel's declaration last year that "we can do this" has been criticized in the media as flippant. Meanwhile, the populist, anti-immigrant Alternative for Germany party came out ahead of Merkel's Christian Democrats in a state election earlier this month—one of many indicators of popular disapproval of her decision to welcome so many newcomers to the country.
But meanwhile, people like Serawan have arrived, and they're trying to settle in. "We need to speak to Germans face-to-face," Serawan told me. "After that, they can decide if we can build together a future or not."
Serawan has red cheeks over a graying beard and a merry, high-pitched laugh that spills easily from his pudgy frame. His wife, Arij Oudeh, who guides tours along with him, is more reserved: She speaks deliberately and looks on with an expression at times bemused, at times strained, as her husband does most of the talking. The couple's tour covers only a small radius—they're new arrivals, after all—within Neukölln, a neighborhood that has long had a large migrant population and now hosts several refugee shelters. (German authorities are scrambling to find apartments for asylum-seekers, but more than 350,000 people still are housed in group environments ranging from gymnasiums to hotels, according to a recent survey by the newspaper Die Zeit. The conditions can be rough. Serawan and Oudeh, for example, spent months living in Germany's largest emergency shelter, the retired Tempelhof airport in Berlin.  There, tarps and screens served as makeshift walls, showers were accessible only with a bus ride, and brawls broke out sporadically.) Their German is still patchy, so they showed us around in English.
At a restaurant called Shaam, which is popular with Syrian refugees, they described the place's role as a hub of the community—it's "like an embassy for us," Oudeh said—and recounted bumping into friends from Syria there after having lost touch with them during the war. "It is a mixture of feelings between happiness for this meeting and sadness for how this war forced us away from our land," Serawan told me later. A few blocks further on, Serawan and Oudeh stopped the group at a quiet corner to explain why they left.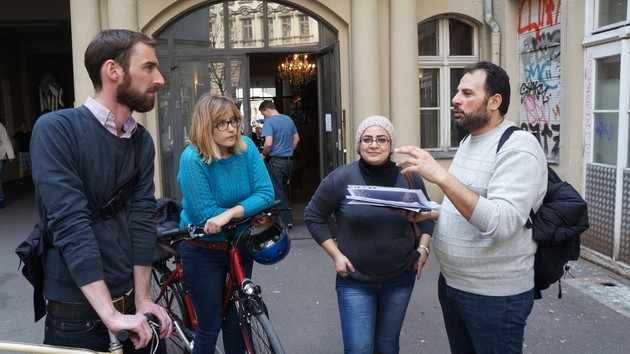 Serawan began by asking those of us on the tour to describe what came to mind when we heard the word "refugee." Participants offered up sympathetic words—"home," "war," "sorry." But Serawan was looking for something else. "I need negative," he insisted.
"Terrorism," someone offered.
"Good, good!" Serawan replied. He turned to a tall, young man. "Say something. Negative!"
"Islamicization," the man mumbled.
The word "refugee," in Serawan's view, had come to encompass all of these concepts in Germany, as well as the perception—and its attendant resentment—that the newcomers wanted handouts. (Serawan himself, he told me later, had not personally encountered any discrimination. But another Syrian asylum-seeker who was tagging along on the tour told me he had been assaulted and had a bottle thrown at him.)
Nobody, Serawan declared, would go on the journey that he and Oudeh had undertaken unless they were forced to do so. They had a good life in Damascus. He had worked in management at a business; she had been a lawyer. For years, as Serawan put it, the couple watched the war dance around them like a fire. But then it started closing in. They had to evacuate their home; it was later destroyed in the fighting. In a different incident, a bomb fell about 100 yards away from Serawan, but he wasn't hurt. Then he had his car stolen at gunpoint. "I don't know why he didn't kill me," Serawan said of the thief. "So I thought, 'This is the last sign from [the] sky, from God.'"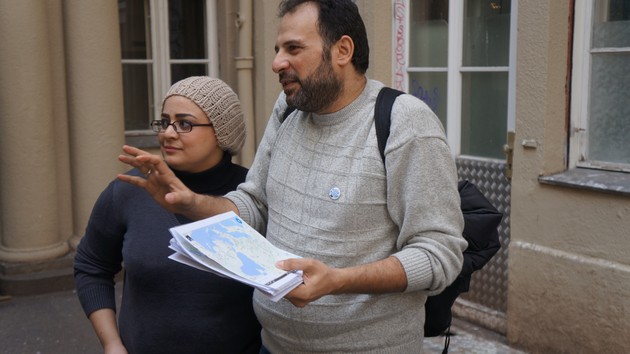 The couple made their way to Turkey and finally found themselves packed onto a rubber boat, watching the coast drop beyond the horizon. Serawan started to tell us we could probably imagine how it felt, but stopped himself. "No, you cannot feel that," he said. "Only we can feel that." Oudeh looked on with a thin smile.
Another stop was a branch of Germany's Sparkasse bank, where Oudeh announced that the couple had a funny story. German officials had told refugees in Berlin to open accounts at the bank where we stood, because that particular branch had hired an Arabic translator. Serawan described showing up earlier and earlier on three successive days to beat the lines, finally succeeding with a 3:30 a.m. arrival. The story was really only funny to Oudeh, he said—because she stayed back at their dormitory, sleeping.
On Sonnenallee, a street divided by the Berlin Wall during the Cold War, Serawan pointed out the Arab shops and said the place was known among refugees simply as "Arab Street." He noted the importance places like Sonnenallee held for immigrants. Yet in a sense they held a danger, too. "If we don't cancel and delete the distance between the refugees and the locals," Serawan said, "we will get two communities, one within another one. And this is not good for any country."
Many Germans and refugees are working hard to make sure it doesn't happen. Integration initiatives have popped up across the country, including language exchanges, intramural sports, and even joint workshops where locals and newcomers work side-by-side to make donated bicycles roadworthy again. Querstadtein itself has its office inside a building where migrants live and work together with Germans on joint projects, including a rooftop café.
It's not yet clear what all these tiny interventions will add up to—or how far they can go to mitigate broader German concerns about the recent migrant influx. After all, our tour was a self-selecting group of people who had paid to be there, and thus were likely to be sympathetic to refugees already, though Ollech said Querstadtein also books many tours with schools and businesses or professional organizations that can require attendance. Jeff Jurgens, a Bard College anthropologist who has been studying Germany's migration wave and accompanied the tour I attended, noted that even in settings like this one, local-migrant encounters often focus more on what the different groups don't share in common than what they do.
"To my mind, the dialogues that Germans also need to be having are those that don't inevitably emphasize 'difference,'" he wrote to me in an email. "It's important, I think, for locals and asylum-seekers to be engaging with one another in areas of common concern, like education and work, that at least partially cut across 'cultural' lines. These kinds of conversations will become more likely and frequent as asylum-seekers are increasingly incorporated into local schools and labor markets. But this process will take time."
And what of the possibility that tours like Serawan and Oudeh's amount to little more than what the Germans call Elendstourismus—misery tourism? Franziska Schreiber, an urban planner who attended the tour along with my group, responded in a way that implied it wasn't tourism at all, misery-related or otherwise. Given the reality that large numbers of refugees have already settled in Berlin, "They're as much a part of the city as we are."
Serawan, too, told me he feels Germany is his society now. I asked if he envisions a return to Syria someday. He responded:  "I cannot think now about that. I am 37. I need to build a future again."