Ranked: The World's Least Effective International Organizations
The UN is a paragon of high-functioning efficiency compared to some other groupings.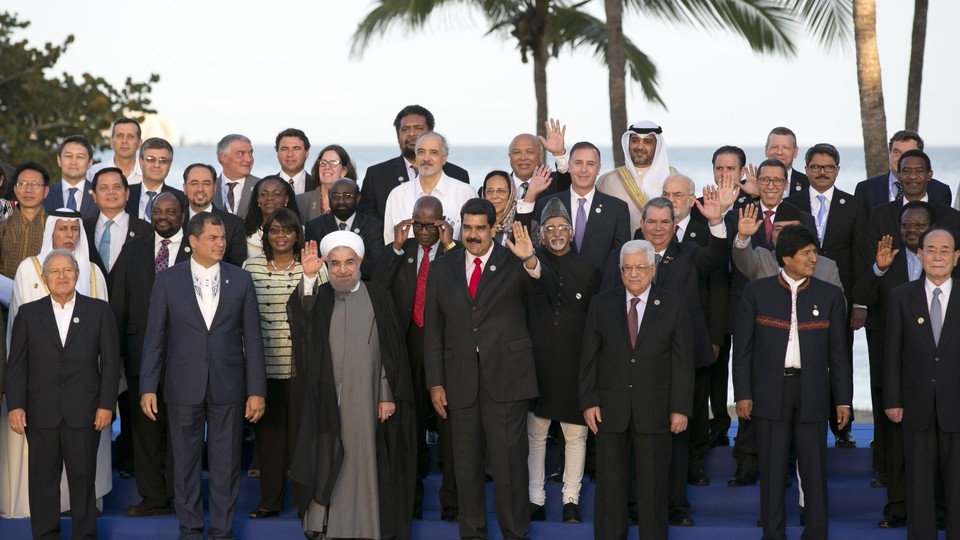 The world's leaders gathered in New York this week for the UN General Assembly, a meeting that was characterized more by its failures than its successes. Many kind words were said about refugees, but action was delayed for at least two years. Syria's cease-fire took a hit as Russia apparently bombed a UN aid convoy, and the Syrian army has launched a new offensive on Aleppo. Even the UN secretary-general, Ban Ki-moon, could barely conceal his scorn for the world's leaders.
Nonetheless, the UN, for all its faults, is a paragon of high-functioning efficiency compared to some other international institutions. Here, in honor of UN week, are the top five least effective international organizations.
5. The Eurasian Economic Union. One sign of the European Union's enduring value is that, as Brussels has stumbled, its regional competitors have not risen to fill the vacuum. Chief in not rising is the Eurasian Economic Union, a pet project of Vladimir Putin's, which to date counts only four countries besides Russia as members. The primary consequence of membership has been to hitch those nation's economies to Russia's, which has been in near-term recession and long-term decline. When your greatest realistic hope is that Uzbekistan might join, it's probably time to reconsider your goals.
4. OPEC. In the era of the North American energy revolution, OPEC is little more than a brand name. Despite long-term low oil prices, its members have consistently failed to agree to restrict production, which would reduce supply and raise prices. So long as Saudi Arabia and Iran remain at odds—which is to say, probably forever—little will come out of any grouping that requires their mutual agreement. And there's enough oil being produced outside OPEC that any production cuts would just lose OPEC market share in any case. OPEC will not drink your milkshake.
3. BRICS. The problem with the BRICS is less what they are and more what they're not: a coherent organization. A version of the name was coined in 2001 to identify an emerging-markets investment opportunity, but even that label has become less meaningful in recent years, primarily because those countries and their economies fundamentally have little in common. In the interim, the original members—Brazil, Russia, India, and China—have added South Africa and started a development bank. But China has already moved on to bigger and better development banks. The group will continue to meet—a summit is planned for October in India—but don't expect it to do much.
2. Mercosur. Nominally a trade bloc, the Common Market of the South has been riven by politics. Brazil, Argentina, and Uruguay snuck Venezuela into the group in 2012 while Paraguay was temporarily suspended. It's been downhill for Venezuela, and Mercosur, ever since. Last week, the other four members moved to block Venezuela from taking the rotating presidency of the group, citing human-rights chaos. Venezuela says it's still in charge, but in the meantime, a proposed trade deal with the EU languishes—oh, and none of the members are allowed to negotiate their own trade deals while they're part of the group. These days, it's looking less like a trade pact and more like a suicide pact.
1. The Non-Aligned Movement. Founded in opposition to an East-versus-West struggle that has long since ended, it's no longer clear what these countries are refusing to align with. The NAM limped to its latest summit this past weekend in Venezuela. Of the more than 100 member countries, only a tiny handful sent their leaders. We don't know exactly who showed, since Venezuela hasn't released the attendee list. (They did take the opportunity to unveil a new statue of Hugo Chavez, however.) Cuba, Zimbabwe, and Palestine's leaders showed up, but India's very publicly did not, making Narendra Modi only the second Indian leader ever to miss a NAM summit. North Korea remains enthusiastic.
---
This article has been adapted from Matt Peterson's weekly newsletter for Eurasia Group, Signal.