Watching 9/11 From Around the World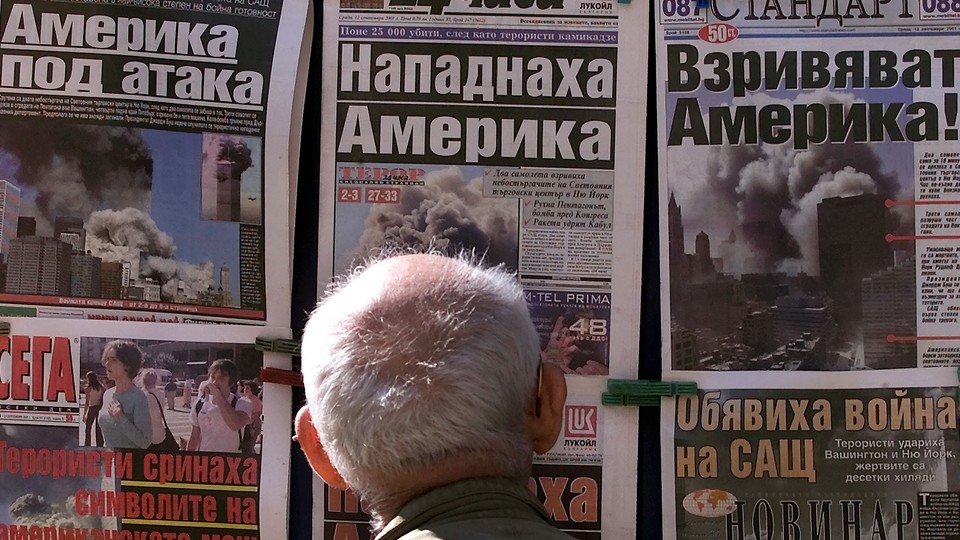 Editor's Note:
This article previously appeared in a different format as part of The Atlantic's Notes section, retired in 2021.
One reader, Teresa Poppelwell, was working with the UN in Herat, in western Afghanistan, on September 11, 2001, specifically "in a meeting with the Taliban discussing how the UN could assist drought-affected IDPs [internally displaced persons] from Ghor province." And then:
We returned to our guest house and watched CNN coverage of the plane that had flown into the first tower just minutes before. There were approximately 10 of us in the room. No one spoke. The sun was setting over the garden walls when the second plane hit. Shortly thereafter we were escorted to our UN offices to grab essential items like hard drives from our computers. We spent the night with Taliban guarding our guesthouse (sitting in the roof with AK47s) who then escorted us to the airport around 10 am the next morning. We waited for the UN plane to arrive.

We grieved with the poor souls in New York. We worried for the Afghans we were leaving behind. We knew things would never be the same.
Another reader was a student in Lebanon at the time of the attacks, dreaming of escaping to the West from a region that felt like "a big prison":
I, like thousands of Western-educated young people, had no other choice but to leave in order to live. 9/11 crashed our plans and hopes and future.
In one afternoon, after a short day at university, I prepared a meal of leftovers and sat to watch TV, happy to have made it home before sunset. Then and there, in live broadcast, like watching an asteroid descend on Earth, I saw the second plane smash into the second tower.

Disbelief was not an option. Anger was not enough. I remember well that one question burned in my mind: If the USA is not safe, where will I be safe? How was I to believe that one or a few could injure the mighty USA? It was like that scene from Indiana Jones, when a tribesman unwillingly and by mistake injured the King and caused him to bleed, so the myth of God-King vanished and the bleeding king became fair game and unworthy of worship. The mighty USA just lost the cap and became a man wearing tights. Who was to save us then? Where would we go? What life were we to build?

Downsizing was the next life strategy: Don't dream big, don't expect much, don't fight long, don't resist much … be a good boy and play along.
Jennifer Tope, an American reader who was traveling in Botswana, knew that 9/11/01 was going to be significant—because it was the date of her master's graduation. She didn't find out about the attacks until a day later and didn't get more details until a day after that:
On September 13, I was finally able to catch a little of the news coverage at a bar in Zimbabwe, mostly filled with locals. Everyone laughed when the reporter said that southern Manhattan still did not have hot water. We had no water at all that morning in Zimbabwe so this did not seem to us the catastrophe the American reporter seemed to think it was.

I rarely saw the news in the next few weeks so never learned very much about the attack, and as a result, I feel embarrassingly ignorant about what happened. I also got an outsiders view of the events and did not understand why people suddenly seemed to love Bush and were buying so many American flags. Why were they singing "God Bless America" at baseball games?
One more reader, Lisa Woerly, was on a plane on 9/11, heading from Paris to Omaha. Hers was one of 38 flights diverted to Gander International Airport in Newfoundland, Canada, when the U.S. closed its airspace in response to the attacks:
I remember being about 3 hours into our flight when I felt the plane change directions. Then the plane changed directions again. I remember looking at the person across the aisle from me, and we both had a look of confusion on our faces. Soon, the pilot came on the intercom, telling us only that there was a problem and we were going to land in Gander. I'd never even heard of Gander.

Once we finally landed, we still didn't know what was going on, just that we had attempted to fly back to Paris and were denied. Then we had headed to Greenland but were denied that entry as well. That explained the different directions we kept going in.

We spent all of Tuesday on the plane, surrounded by dozens of other planes on the tarmac. By then, the pilot had told us what had happened. We were all oddly silent for the rest of the day and night on the plane. I remember just trying to figure out where our world would now be headed.

On Wednesday morning, we were finally allowed off. Then we were bused to the Masonic Lodge. I slept on the floor that night. Cots were provided for the next night. The people of Gander rallied, feeding us three meals a day and opening their homes for us to shower.

I walked constantly, unable to sit still. I walked to and from Wal-Mart numerous times each day for something to do. I was alone, with no way to call anyone in the States to let them know I was alive. The local phone company got banks of phones together on Thursday morning, and I stood in line for my turn to make a five-minute call to my mother. Forty-eight hours had gone by before she knew I was alive.

There is rarely a day that goes by that I don't think of the people of Gander. They dropped their lives to take care of thousands of us who landed in their backyard that week.