Voices of Turkey's Purged
"I sent my son to serve the country and now he's in jail."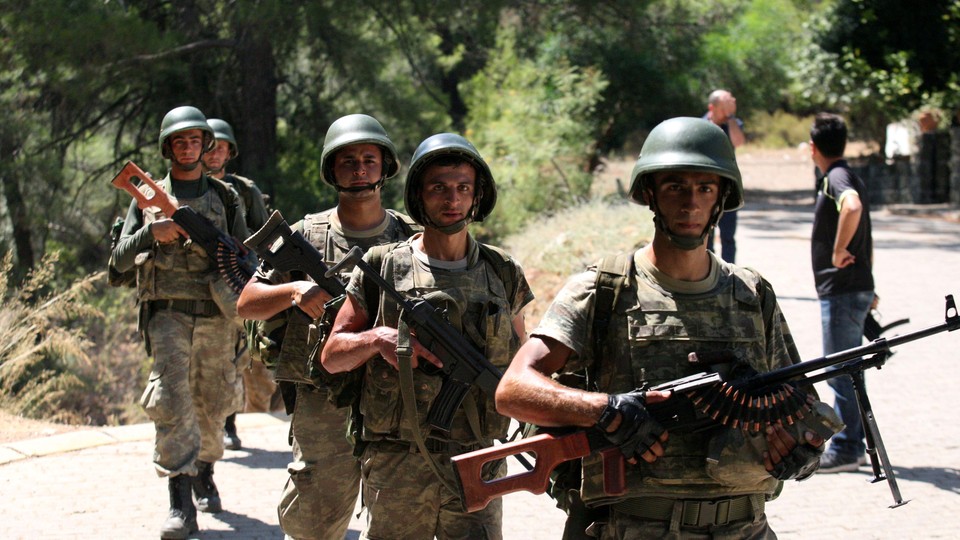 The night of July 15, Seda was at home in Erzurum, a town in eastern Turkey, when she got a call from her son, a student at a military academy in Ankara, the nation's capital. Turkey was under attack, and he was being deployed with his classmates. His unit had been given rifles but no ammunition, he told Seda from the back of an army truck bound for the city center. Then he hung up.
Five days passed before Seda heard from her son again. This time, his message was relayed through a lawyer. Her son, the lawyer told her, was in Sincan high-security prison, just outside the capital, along with hundreds of others who had allegedly attempted to seize power from President Recep Tayyip Erdogan in what would turn out to be a failed coup.
Seda told me this story as she stood among dozens of parents in a parking lot near the prison. Like her, they had come to visit their sons, who had been jailed for allegedly participating in the failed attempt to overthrow the government, and were now being held in a facility built for prisoners serving life sentences. "My son wouldn't participate in a coup," Seda said. "He was fooled and they are holding him without charge. It's not right. None of this is right."
The parents I spoke to at Sincan said they had been granted 30-minute visits with their children. They spoke anonymously—for fear of further endangering their sons—of ongoing interrogations, overcrowding, and abusive conditions like those that independent rights groups such as Amnesty International have also documented.
Since there wasn't enough room for everyone to lie down at the same time inside the prison, the detainees took turns sleeping on the floor, the parents told me. At the sports facilities and barns where they were held before arriving at the prison, many were denied food and forced to drink water out of a livestock trough. Detainees could do little more than wait for the skeleton-crew of prosecutors available to process their cases. Though Turkey has compulsory military service for men (with some exceptions), most attorneys have also declined to represent the alleged coup plotters, fearing guilt by association. Government representatives did not respond to multiple requests for comment on conditions inside the prison.
One father outside the prison said he had taken a 20-hour bus ride just to be there. "I sent my son to serve the country and now he's in jail," he said, holding out his hands, permanently rust-colored from a lifetime of farm labor. "With these hands, I've worked so my son could have better opportunities than I had," he continued. "I've been awake for 48 hours just thinking about what will happen. … Why can't they separate those who are guilty from those who are not? How can they put everyone in prison like this?" Once he finished talking, I watched as plain-clothes police officers swept in, asked for his identification, and dragged him away from the interview.
In the month since the coup attempt, Erdogan and his ruling Justice and Development Party (AKP) have launched the largest political purge in Turkey's recent history, with at least 35,000 people detained and 75,000 public servants dismissed, suspected of infiltrating state offices on the orders of exiled cleric Fethullah Gülen, whom government officials blame for masterminding the attempt.
When Erdogan came to power in 2003, he and Gülen, who operated schools in Turkey and abroad to teach his modernist strain of Islam and provide free education to impoverished areas, had a volatile but mutually beneficial alliance. Their aim was to create a Turkish society more aligned with its Muslim-majority base. Erdogan appointed graduates of Gülen schools to government positions, expanding the cleric's political influence while weakening the power of the historically secular military.
But by 2013, their partnership had soured as Gülen and Erdogan jockeyed for power. Evidence of widespread corruption within Erdogan's AKP soon appeared online, implicating dozens of government ministers. Allegations reached Erdogan's own family, and he quickly acted to purge Gülenists—whom he suspected of leaking the information—from the judiciary, police, and other state offices. That initial purge lasted through 2015; many of those not swept up by Erdogan's dragnet remained on the government's list of suspected Gülenists.
This list of the unpurged would come in handy the day after the failed coup, when Turkey's Higher Council of Judges and Prosecutors declared that 2,745 judges and prosecutors were to be suspended on suspicion of being part of what it called "the Fethullah Gülen Terrorist Group/Parallel state structure." Arrests followed; of those currently held in pre-trial detention, 1,684 are judges and prosecutors. The AKP has drawn international criticism for appearing to use arbitrary detention as its core purge strategy, said Emma Sinclair-Webb, director for Human Rights Watch in Turkey. "If evidence doesn't count, if there's no criteria, if people draw up lists of who they think is guilty, then why have trials?" Sinclair told me. "It becomes a travesty of justice. It becomes an empty process."
Yet as detentions continue, human-rights advocates I spoke to aren't just concerned about the treatment of inmates supposedly linked to the coup. They also fear the purge is widening in scope beyond suspected Gülen supporters, targeting the political opposition at large.
M. Selahattin Esmer, a member of Turkey's Human Rights Association, told me he had recently spoken on the phone to a friend, a judge who had been promoted during the period of friendly relations between Erdogan and Gülen. This alone, Esmer said, was apparently enough to raise the AKP's suspicions about the judge's loyalty; many others promoted in the same era are now being detained on a mass scale, Esmer said. He told me his friend reported being interrogated about the dormitories he'd lived in as a student—Gülen supporters are believed to get housed in specific dorms at specific schools—but was not asked directly whether he had taken part in the coup attempt. Despite denying connections to the Gülenists, the judge was dismissed from duty and detained twice. He is currently awaiting trial. "This is how they detain people," Esmer said. "He is one of many."
Esmer and I spoke in the Human Rights Association office in Ankara, where he displays a white door riddled with eight bullet holes, each one numbered and circled with black marker. The door had been shot up by a pair of unknown hit men in May 1998 during an attempt on the life of the association's former chairman, which he survived after being hit by seven bullets. Esmer keeps the door as a reminder of the risks faced by human-rights workers in Turkey.
Looking at the door, Esmer spoke about the state of emergency enacted by the Turkish parliament the week after the coup. It gives Erdogan the power to rule largely by decree, and allows government security forces to circumvent typical judicial authorization to search people. Under the state of emergency, all detainees can be held up to 30 days without charge; many spend the first five without access to an attorney. When detainees do get to meet with a lawyer, a government official is present to monitor their conversation and record everything using a video camera, Esmer said. Phone calls, he added, are out of the question (his friend, the judge, managed to call him between detentions).
The state of emergency, Esmer argued, has effectively legalized the intimidation of the president's long-time adversaries. "The purge has become a form of collective punishment," Esmer said. "It's not about getting coup plotters. It's about cleansing the country."
Among the rivals Erdogan may now be seeking to sideline, with or without explicit reference to the coup attempt, are members of the Kurdish minority. The pro-Kurdish People's Democratic Party (HDP) came out publicly against the attempt, and opposes the spread of Gülenist influence in the country; Turkish Kurds generally share few, if any, beliefs with Gülen, who urged Erdogan to be more aggressive in Turkey's decades-long battle with Kurdish separatists.
Yet Nihat Kiratli, a Kurdish teacher based in the city of Diyarbakir, and Fatma Yildizhan, a Kurdish health worker, were suspended after the coup attempt. Other Kurds have been implicated for attending Gülen-operated schools, which, in less-developed regions of Turkey, are often the only educational facilities available.
Both Kiratli and Yildizhan told their bosses that they had no links to the Gülen movement. Instead, they suspected they had been targeted for participating in a December 2015 protest against the Turkish military's occupation of Kurdish cities, an operation that began in mid-2015 when a two-year peace process between Erdogan's government and Kurdish militants broke down and violence erupted. Kiratli told me he hadn't taken part in other political activities, but had nevertheless been suspended from work after his boss found his name on a list of people who, according to the government, supported "terrorist activities." The accusation of being a Gülenist—a term that, in post-coup Turkey, increasingly seems to mean the same thing as terrorist—Kiratli said, was absurd. He despises Gülen. "I can't even stand to see him on TV. Gülen makes me sick," Kiratli said. "I never let my students go to [his] schools." Yildizhan has been allowed to return to her job at a Diyarbakir hospital, but Kiratli is still awaiting clearance, fearing his suspension will ban him from teaching positions in the future. Meanwhile, the HDP, which Erdogan considers the political wing of the outlawed Kurdish militant group the PKK, saw its offices raided in August and its co-leaders indicted for spreading "terrorist group propaganda" in a move against the political opposition, apparently unrelated to the coup attempt.
Throughout the turmoil, Erdogan's approval ratings have soared to 68 percent for the first time in his presidency. The thousands of now-vacant government positions are likely to be reassigned to AKP members or their families in a bid to ensure their loyalty, Sinclair-Webb said. Yet the coup has exposed the Turkish president, Esmer argued. "Erdogan realizes the day he is no longer in power, he will face trials for corruption and human rights violations in the [Kurdish] southeast," Esmer said. "He knows there are dark days ahead of him if he doesn't act fast. That's what we are seeing with this purge."
Meanwhile, mass detentions continue and occasional allegations of torture trickle into daily media coverage. Few are willing to risk talking about the treatment of suspected coup plotters, but long-time political prisoners at Sincan Prison have shared some details with Havva Ozcan, co-chair of Ankara's Tuhad-Fed, a well-known  prisoner's-rights organization that works primarily with political prisoners, jailed Kurds, and other minorities accused of terrorism.
The Sincan inmates told Ozcan they've heard detained soldiers repeatedly yell: "Please, stop!" "Don't do it!" and "Just kill us!" Detained soldiers have also been heard singing nationalist songs in unison, a common punishment forced on political dissidents accused of betraying the state, according to Ozcan. "We've seen reports and photo evidence of soldiers being stripped down to their boxers, dragged, and forced into makeshift holding areas," Ozcan said. "We're used to seeing this treatment for leftists, but not for people who were part of the government or military."
Standing in the parking lot outside Sincan, the parents of two detained soldiers lamented that their sons were only fulfilling their obligations. Not wanting to be named, the parents said they were making the 18-hour round trip from Balikesir, their hometown in western Turkey, once a week because their sons had been assigned different visiting days. "The journey itself is torture," the father said. "We can barely afford it."
"They tell us they are not being tortured, but maybe they say this to keep us from worrying," the mother said. "We are scared to death."
The father went on to say he had always voted for the AKP. He liked Erdogan, despite criticisms he heard about military operations in Kurdish areas. Now that his family was being targeted, he wished he could take back his votes. "I never thought they would do this to us," the father said. "Now we understand why Kurds rise up against the government. They are horrible. If this is what they do to people on their side, I can't imagine what they do to Kurds."