Busted in Brazil and Breaking Belfast's Barriers: The Week in Global-Affairs Writing
The highlights from seven days of reading about the world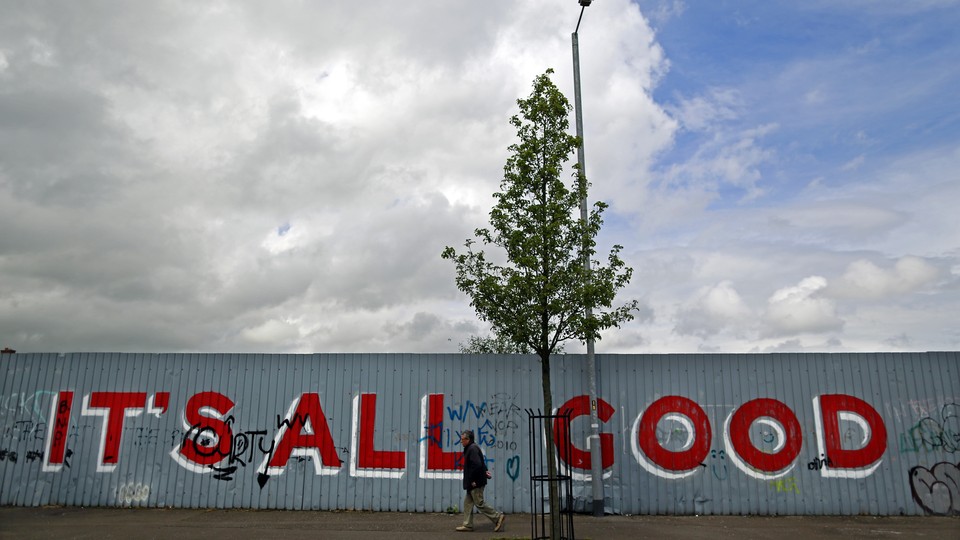 Inside the Real US Ground War On ISIS
Mike Giglio | Buzzfeed
"Wheeler hit the ground first, said the 29-year-old captain, the ranking CTU officer on the chopper. Gunshots and calls of 'Allahu Akbar' rang out as the militants tried to repel the commandos, firing with everything they had. The captain said he and Wheeler advanced together, 'fighting side by side.'
By the time the operation was over three hours later, around 20 ISIS militants had been killed and 69 prisoners had been saved. And Wheeler was dead, struck down by an ISIS bullet, making him the first US service member to lose his life in the ISIS fight."
* * *
Why Brazilians Are So Obsessed with the Ryan Lochte Story
Alex Cuadros | The New Yorker
"The news has captivated Brazilians, too. And, while many have brushed it off as a humorous episode, many others have not. On Twitter, one well-known Brazilian TV journalist called Lochte a liar, an idiot, and a coward. Some Brazilians, not unreasonably, accused the swimmers of undermining Brazil's international reputation. But the intensity of the reactions—both official and unofficial—also points to a larger cultural peculiarity. It has long been common for Brazilians to obsess over what the developed world thinks of them. Even when the Olympics aren't on, the local media constantly run stories about what U.S. and European outlets are saying about Brazil. Lochte unwittingly touched the third rail of Brazilian national identity."
* * *
Conakry Hairdressers Dispense Cut-and-Dried Contraceptive Advice to Women
Ruth Maclean | The Guardian
"At first, it is the usual hairdresser chatter. What rain we've been having, eh? Where are you from? What are you up to this weekend? This is the 20-year-old accountancy student's second visit to the salon in Guinea's capital, Conakry.
Soon Kamara's questions become more personal. Does Bah have a husband? A boyfriend? Then she goes in for the kill. Does she know there are ways of avoiding getting pregnant?
With every manicure, pedicure and hairdo at the Miskaa Salon, clients receive a free treatment: a great deal of contraceptive advice."
* * *
The Complex Process of Demolishing Belfast's 'Peace Walls'
Feargus O'Sullivan | CityLab
"While Catholic neighborhoods are typically more densely populated, Protestant ones possess a higher proportion of vacant properties, as younger, socially mobile people who grew up in these areas move to the city fringe. Catholics are more likely to be on the waiting list for public housing but cannot at present be housed on the wrong side of a peace wall. Demolishing these walls would indeed likely mean the spreading of Catholic residency across the former lines of demarcation.
Reducing such sharp divisions is—if violence is avoided—only going to improve the viability and cohesion of Belfast as a whole. It would, after all, only mean returning the city to the degree of inter-communal mixing it experienced before the Troubles erupted, and greatly reduce costs for a system obliged to maintain separate communal facilities."
* * *
Biking Toward Freedom With the Afghan Women's National Cycling Team
Deni Ellis Bechard | Pacific Standard
"In Afghanistan, the bicycle has long been taboo for women. Many men believe women lack the strength and intelligence to ride, that they shouldn't leave the home, and that the bike seat threatens their hymens (and hence their marriageability). But as Galpin explains, 'Freedom of movement is at the heart of cycling's controversy.' For many Afghans, women's biking —especially those without a male chaperone —conjures fears of promiscuity, and even more open-minded men recognize the danger of venturing out on such a provocative mode of transportation. According to Human Rights Watch, Afghans perceive women's cycling as worse than driving and only a step above morality crimes like adultery, for which they can be jailed."
* * *
China's Toad-Like 90-Year-Old Former President Has Become an Unlikely Idol for the Country's Millennials
Zheping Huang | Quartz
"While it all sounds like fun and games, there's more serious political yearning behind it. Jiang's unscripted goofiness makes him seem much more human than current president Xi Jinping, his young fans say. One 22-year-old college graduate from Beijing, who asked to be called Abner, said these videos have affected his generation, where future Chinese leaders will come from. Regardless of whether those future leaders are currently toad fans, he said, they will likely be closer to the people because of Jiang's videos."