South Koreans for Gastrodiplomacy and Immigrants for Brexit: The Week in Global-Affairs Writing
The highlights from seven days of reading about the world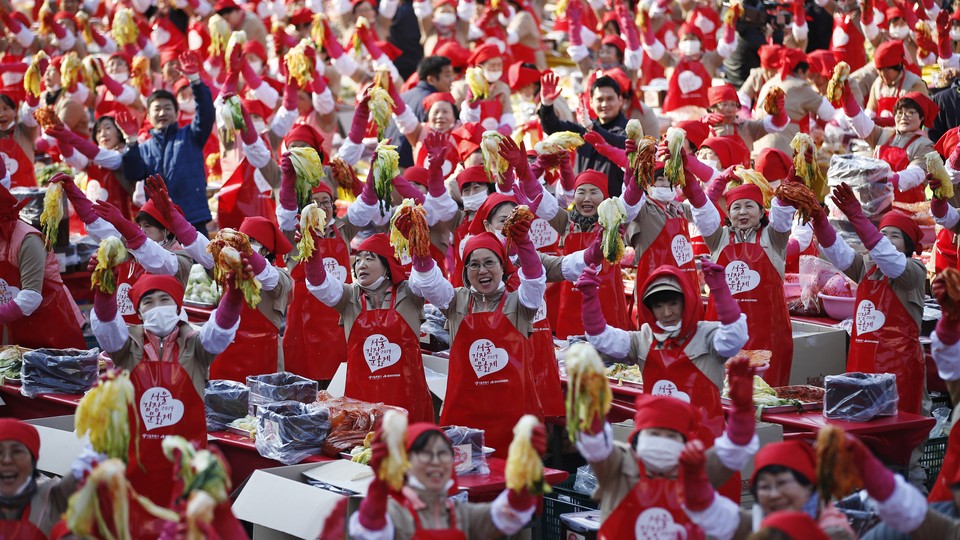 The Stolen War
Ken Silverstein | The New Republic
"The causes of America's devastating misadventure in Iraq remain an enduring source of debate. How could the United States, after spending an estimated $1.7 trillion in tax dollars and deploying more than 115,000 soldiers to topple Saddam Hussein and rebuild the country, wind up with a failed state that has given rise to a brutal new brand of terrorism? Was it a failure of military strategy, or of political will? Did we end the war too soon, or wait too long to get out? Did we spend too little on rebuilding the country's infrastructure, or target our aid in the wrong places?
The answer may be far simpler, and ultimately more humiliating: The men we placed in charge of Iraq robbed us blind. If American resources had been used as mandated, rather than pocketed by our allies, ISIS as we know it would not exist."
* * *
Paris Begins Construction of Urban Refugee Camps
Emma Jacobs | Marketplace
"The city of Paris has started construction on a pair of urban refugee camps, which will provide modular shelters for more than 1,000 people. The city hopes the project, announced by Mayor Anne Hidalgo in May, will help to eliminate tent cities that have emerged in public spaces throughout Paris.
The city's plans were news to Afghan refugee Sami Achakzai but he could attest to the need. He had come to Paris three weeks before, after confronting anti-immigrant sentiment in Germany. Since his arrival, he has slept under elevated metro tracks. He's struggled to access daily essentials, like a place to wash."
* * *
How South Korea Uses Kimchi to Connect to the World—And Beyond
The Kitchen Sisters | NPR
"Kimjang, the tradition of making kimchi, brought together entire villages and neighborhoods to turn hundreds of heads of cabbages into a source of food and nutrition for people who have historically borne long eras of deprivation and starvation. The kimchi was fermented and aged in underground pots or modern refrigerators.
The ritual of Kimjang is so vital to the country's identity that UNESCO added the tradition to its representative list of the intangible cultural heritage of humanity. But the tradition is also threatened, as modern life continues to separate families and make fast food more popular than slow, traditional home-cooking."
* * *
Nigeria's Economic Woes Hit Mass Weddings
Maggie Fick | Financial Times
"During the boom years when oil prices were above $100 per barrel, Kano's state government sponsored several mass weddings for nearly 2,500 couples. The state paid the requisite dowry for the families of the grooms and provided a raft of household items for the brides' families.
The programme was popular. In the predominantly Muslim state, marriage is seen as critical to maintaining the moral fabric of society. But many families battling to make ends meet cannot afford to marry off their children—a problem seen by many as contributing to concerning trends in Kano such as rising drug use among unmarried, unemployed women."
* * *
Meet the Immigrants Who Voted for Brexit
Samira Shackle | Politico
"[I]n Luton, class concerns—cutting across the town's disparate ethnic groups—may have played a more decisive role in driving the Leave vote. The vast majority of jobs on offer in Luton are low-skilled. Both white and Muslim Asian communities are worried by the wage depression caused by Eastern European migration.
'Since the Vauxhall plant closed down, there are fewer and fewer jobs around unless you work at the airport, or in retail,' says Safia Iqbal, who works in one of the many clothing stores selling salwar kameez on Bury Park's main thoroughfare.
'I actually voted Remain but my whole family voted Leave. They can't see that Europe's done anything for them. All they see is fewer jobs and more competition.'"
* * *
What the London Tube Looks Like Past Midnight
Orlando Gili and Joseph Fox | PRI
"Since its creation in the 19th century, the Tube has never been a 24-hour service. Most lines close around midnight.
That's left generations of Londoners ending their evenings in a mad dash—like Cinderella—to make it on to the last Tube heading home.
Documentary photographers Orlando Gili and Joseph Fox and spent Friday night riding the Tube, capturing the extended-hours mood. Here's what they saw."