When an Island's Lone Caretaker Leaves
Mauro Morandi is set to be evicted from the Mediterranean island he has called home for nearly 30 years. Can it remain a paradise without him?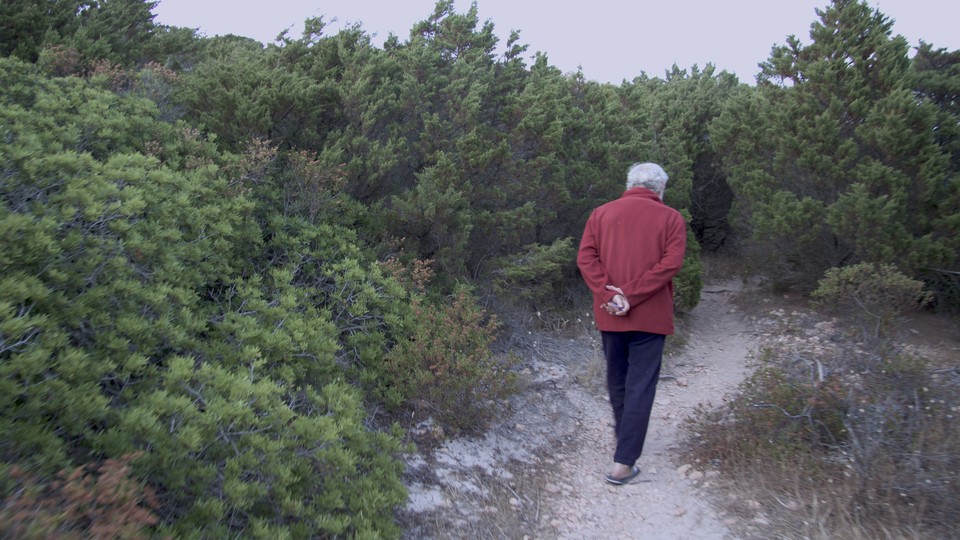 Sardinia, ITALY—On a sweltering day in July, the sole inhabitant of Budelli, a small Mediterranean island in Italy's Maddalena archipelago, glances up from his iPad just in time to observe a single wave crashing on the shore. He is Mauro Morandi, the frail, 77-year-old caretaker of this rugged paradise's wild ecosystem. Aside from weekends and the peak tourist season, when day-trippers peer into Morandi's ramshackle home, Budelli is silent, but for the lapping of the water, the calling of gulls, and the howling of the strong northwest wind. The winters here are long and brutal; once, Morandi endured a 20-day storm on the island, alone. He almost went mad.
Now, Morandi fears his possible eviction from Budelli, his home of 27 years. Granted the right to reside on and work as a caretaker of the island by its previous, private owners, Morandi's future became uncertain this past May when the Italian government reclaimed jurisdiction of Budelli. It is now part of La Maddalena National Park, which is contesting Morandi's right to remain on this one-mile stretch of sand.
Despite the solitary life Morandi has chosen, he is far from alone in his plight. For weeks, he has been obsessively pressing "refresh" on a change.org petition calling for his continued residency on Budelli. "Mauro has lived in Budelli for a quarter of a century, he knows every plant and every rock, every tree, and every animal species, he recognizes the colors and the smells when they change with the mutation of the wind and the seasons," the petition reads. "If Budelli remained a marvel of nature, it is also because of him … [its] caretaker has remained in the heart of every person that, over the last 25 years, walked on this unforgettable land." So far, the petition has 16,517 signatures.
In the sultry 95-degree heat, Morandi's glasses slide down his nose. Frowning, he pushes them back up with a calloused finger. "With this problem, I am always around the tablet," he sighs. "I see the news coming, read the comments, try to contact politicians, communicate what I know ... I want so much the preservation of this beach. But the law does not give a damn."
* * *
Over the years, ownership of Budelli has changed hands numerous times. A safe haven for Roman ships crossing the straits of Bonifacio during the 1st and 2nd centuries B.C., the island later became a strategic stronghold during World War II before coming under control of the Viggianis, a noble Italian family, who eventually sold it to Milanese entrepreneur Pierino Tizzoni. In 1984, Budelli was passed into the hands of Nuova Gallura SRL, a Swiss-Italian real estate company.
In 1989, the then-50-year-old Morandi set sail from his home in the central Italian city of Modena with plans to eventually reach Polynesia. Instead, he ended up mooring his failing catamaran on Budelli's Spiaggia Rosa, one of the few pink beaches in the world. At the time, thousands of beach-goers visited the island's coral-colored sands. Prohibited from spending the night on the unusual beach, they took its sand home as a memento, and inadvertently, in their shoes, slippers, and towels. "Now, of course, [the beach] is not so pink," Morandi says. By chance, the island's caretaker at the time was planning to leave soon after Morandi's arrival. So he took over, giving up on his boat repairs and moving into a former World War II shelter overlooking the bay. For the next 10 years, he was employed by Nuova Gallura.
Morandi's exact responsibilities were somewhat ambiguous. He took it upon himself to clear Budelli's footpaths, and learn the names of its shrubs, cacti, and sea creatures. To keep his mind occupied in the heat of the day, he read Emily Dickinson and Arthur Schopenhauer.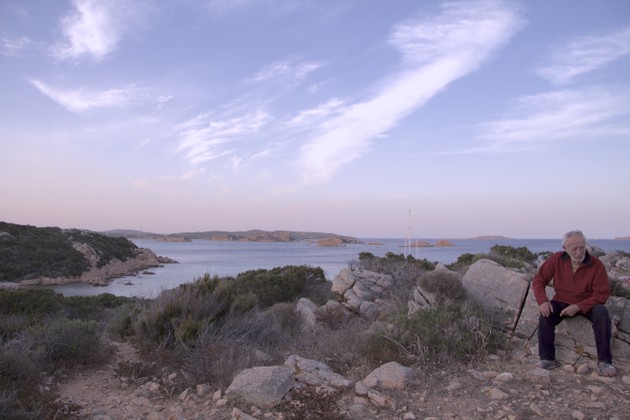 In 1991, Italy's ministry of environment declared Budelli's pink beach a place of "high natural value." By 1999, the beach was closed to visitors entirely. Tourists could still wander along a track behind the Spiaggia Rosa, but were no longer permitted to swim in the ocean or touch the sand. Morandi watched over the beach's fading coastline and took the opportunity to teach visitors—those interested, at least—about its ecosystem. "I welcome tourists who want to know the fool who lives in solitude," he says. "I speak to them of beauty, love for nature, the peculiarity of the Spiaggia Rosa." Once, he got into a fistfight with picnickers who came to Budelli armed with deckchairs and inflatable toys—garish metaphors for humanity's failure to respect the natural world, in his view. "We must get on our knees in front of this wonder of nature," he sighs. "We must safeguard it."
In 2013, financial troubles forced Nuova Gallura to put Budelli up for sale. New Zealand tech executive Michael Harte won the auction, offering 2.94 million Euros and pledging to conserve Budelli's ecosystem, while keeping Morandi on as the island's "official guardian" (Morandi recalls his "christening," when Harte placed two heavy stones on his feet). Continued private ownership of the island, however, raised concerns among Italian politicians, sparking a three-year dispute between Harte and the national park. In May of this year, a judge in Sardinia ruled that the Budelli should be given to La Maddalena National Park.
* * *
On Budelli, Morandi teaches visitors why they can't swim along its pink beach or sink their feet into its  protected sand. In the mornings, he collects rubbish and driftwood from the island's shores, and spends his afternoons crafting his discoveries into sculptures and furniture. One piece, which he dubbed La Maddalena Chair, looks out onto the Sardinian archipelago. Sometimes he sits in it to watch the moon rise over the sea. He sells his creations to visitors, collecting the money (which has little use on an all-but-deserted-island) in a plastic jar to donate to NGOs.
"Morandi symbolizes a man, enchanted by the elements, who decides to devote his life to contemplation and custody," Giuseppe Bonanno, the national park's president, says. "No one ignores [his] role in representing the historical memory of the place … But it's hard to find a contractual arrangement for a person in his position." Bonanno says there are "several legal problems" preventing Morandi from staying on Budelli, such as his diminishing capacity to remain alone on the island and his home's failure to meet standard safety requirements.
Bonanno wants to turn Budelli into a center for environmental and civil education. Part of that project will involve constructing  a "narrative path," using World War II-era trails, across the island to tell the story of a place that had "been subject to economic interests for the past 20 years"—a history that Morandi would seem uniquely suited to tell. So far, authorities have raised a third of the 600 million euros they expect the project to cost. It will include constructing floating piers for passengers to disembark from boats more easily, repairing paths, managing access to the island, and curing the island's diseased junipers. Bonanno says he is also in conversation with the World Wildlife Fund (WWF) and schoolchildren about their potential involvement.
Morandi, however, is dubious about the park's plans—just look at how the Italian government has neglected its other national treasures, he says. In recent years, Italy has come under fire for failing to protect sites like Pompeii, and its rich art history in Rome. In 2014, the WWF warned that Italy's national parks were in crisis, due to the fact that only three percent had operational management boards and presidents. Budelli needs an around-the-clock guardian to educate the hundreds of tourists who visit each year, and deter them from damaging its ecosystem, Morandi argues. "When thousands of people used to come a day, you would find bunches of flowers all withered because they had torn them and thrown [them] away," he says.
Once, Morandi met a little girl on the island who had torn a sea lily from the earth. He told her that a flower exposed to the heat will wilt quickly. "I said, 'These flowers are very weak and you will throw it away. If everyone does like you, there will be nothing left to admire.'" Human beings, he adds, must "see beyond" miracles of nature like Budelli; the privilege of glimpsing its marvels—rather than touching, exploiting, or destroying them—should be enough.
Morandi does acknowledge his own impact on the island: "I pick a few things, some wild food, some sea urchins, or a few fish. But it is minimal." He also recognizes the real limits of a solitary life. While his home is solar-powered, he doesn't live entirely off-the-grid; passing tour guides ask what supplies they can bring on their next visit. He usually requests only bread, fruit, or sometimes, the local digestif Mirto.
After spending his first decade on Budelli without the internet or even a phone line, Morandi now has high-speed wi-fi, and accounts on Instagram, Twitter, and Facebook, where he met his current partner. But the decision to connect himself to the world has come with downsides. In July, he replied to a competing change.org petition criticizing his campaign to stay on the beach as selfish. On Facebook, he posted: "All that glitters ain't gold … the winter here is really hard."
* * *
On an afternoon in July, we climb Budelli's eternal granite boulders with Morandi. Later, he captivates a tour group with the story of the island's untouchable pink sand. His eyes widen and his voice deepens as he describes the microscopic fragments of Myriapoda truncate and Miniacina miniacea marine species that give the beach its hue. "The island protects itself very well, if it is respected," he says. "The island knows what it is and what it wants. People must not turn it into what they think it should be." If people take care of Budelli properly, he adds, it could become a "global symbol of how to preserve nature."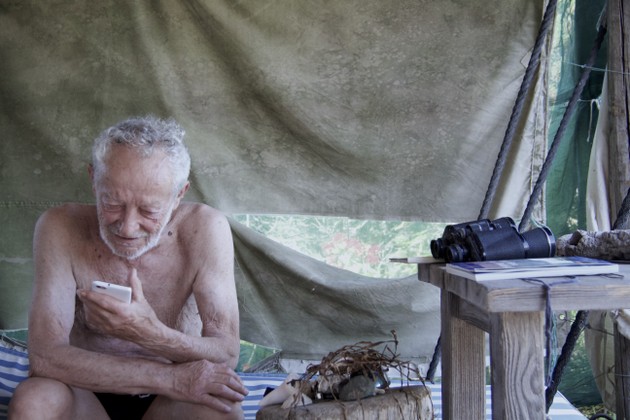 In Morandi's mesmerizing tales, you hear echoes of his former life as a schoolteacher in Modena. Perhaps, in his old age, he can no longer clear Budelli's pathways, but his inimitable capacity to speak for an island that is otherwise silent, becomes clear.
A few days later, we return to the ashen city of Milan, and follow the Morandi's plight on Facebook. One day, Morandi posts a photograph of three people whom he has confronted for illegally dragging their dinghy to the Spiaggia Rosa's shore. Within a couple of hours, the post already has 51 "angry" reactions. "And they want to send you away???? Thank god you're there!!" "I love you and I thank you for what you do. I'm rooting for you!" "Someone should understand the importance of your activity and presence there . . . instead of ignoring it!"
If this fight has taught Morandi anything, it is the myth of solitude—always difficult, but near impossible in 2016. Virtual hermitude, he admits, is an attempt to cast off greater responsibility. And yet, his time on Budelli has been defined by a sense of responsibility. Without the eviction battle, Morandi couldn't come to see just how much he needed to speak on behalf of the pink beach.
"My function is not to stand guard," he says. "My function is like yours: you, too, must be the guardians of the beach. Each citizen must be the guardian of the beach. Every person has an obligation to take a stand when he sees something wrong—even where there is no park, with certain laws, the laws of nature are worth the same."
---
Valerio Bassan contributed to this piece.