Germany's Radical, Pro-Refugee Urban-Planning Experiment
A look at the country's burgeoning "arrival cities"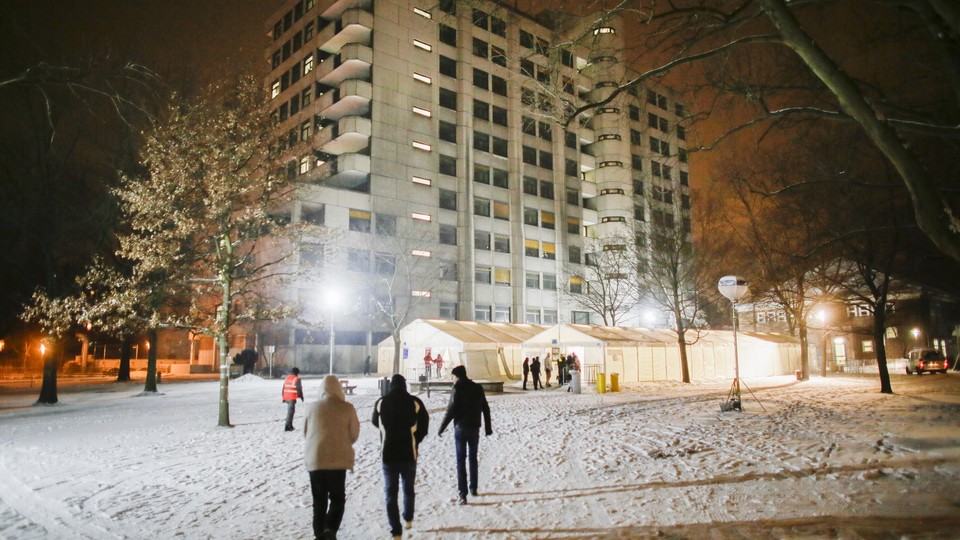 Heimat is a German word with no direct translation in English, like schadenfreude, or zeitgeist. It describes the relationship between a person and his built environment, somewhere between the feeling of home and homeland. Since August of 2015, Germany has become home to more than 1.1 million refugees, migrants, and asylum seekers. This influx has German architects and urban planners asking the question: "Do we have a refugee crisis on our hands? Or a housing crisis combined with huge challenges to the ability of cities, job markets, and schools to integrate the newcomers?"
Making Heimat: Germany, Arrival Country is Germany's publication for the starchitectural extravaganza that is the 2016 Venice Biennale. Featuring writing from prominent German architects, urban planners, and sociologists, Making Heimat examines how to create immigrant communities in today's Germany, and builds on the lessons from Doug Saunders's 2011 book, Arrival City. Published well before the current diaspora to Europe, Arrival City argues that the ad hoc, self-determined neighborhoods that emerge out of mass migrations, termed "arrival cities," are integral to integrating newcomers in their destination country.
Saunders contributes an essay to Making Heimat. In it, he cautions that arrival cities are "where the new creative and commercial class will be born, or where the next wave of tension and violence will erupt." The difference, he adds "depends on how we approach these districts both organizationally and politically, and, crucially, in terms of physical structures and built form."
The cities of Hamburg and Berlin have come up with two different approaches to designing arrival cities.
Arriving in Berlin
Chances are you've been to an arrival city before. The Lower East Side was once one. So was London's Bethnal Green. In these self-determined cities-within-cities, housing solutions are often organic and improvised—think tenement housing and cold-water flats, with smaller rooms and larger communal spaces. The cost of living is low, and it's located close to public transportation and economic opportunity. From market stalls to halal butchers to corner kiosks, ethnic entrepreneurship thrives in the arrival city, which becomes the primary point of entry for newly arrived immigrants.
Most of all, the arrival city is by immigrants, and for immigrants.
Berlin's Kreuzberg district was first established as an arrival city in the 1970s by Turkish men who had traveled to West Germany as part of its gastarbeiter (guest worker) program. Initially, these men lived in dormitories, until their employers realized that workers were more productive when they were happy. Guest workers' families then joined them, and the men moved out of the dorms and into Kreuzberg. Along the Berlin Wall in Kreuzberg, the rents were cheap. More importantly, landlords were willing to rent to Turks.
Today, Kreuzberg is a mix of first-and second-generation holdovers from the 1970s migration, arty Berliners, hipster tourists, and English-speaking expats from the U.S., U.K., and elsewhere. Shabby-chic bars and white cube art galleries push up against kebab houses and hookah lounges. Saunders describes it as having "gone from disreputable to fashionable in a generation."
But for all the cocktails and kebabs, Kreuzberg still plays host to new arrivals in Germany. Its become a ground zero for Berlin's refugee advocacy movement since asylum seekers occupied a disused school building in 2013. This past weekend, the refugee rights group Women in Exile held a rally there, seeking, among other things, more viable housing solutions for refugees and asylum seekers.
From Kreuzberg to Neukölln
In Berlin, the housing process for migrants goes something like this: First, newcomers register and declare their intent to seek asylum at the State Office for Health and Social Affairs, commonly called the LaGeSo. From there, they are assigned to large reception centers, or lagers, which house hundreds to thousands of asylum seekers at a time. The primary lager is located in a hangar at the former Tempelhof airport. (In response to record delays at the central LaGeSo location, the office has recently announced a second location will open on-site at Tempelhof itself.)
After these massive reception centers, refugees and asylum seekers are then relocated to smaller state heims or refugee hostels, while they wait for their claims to be processed.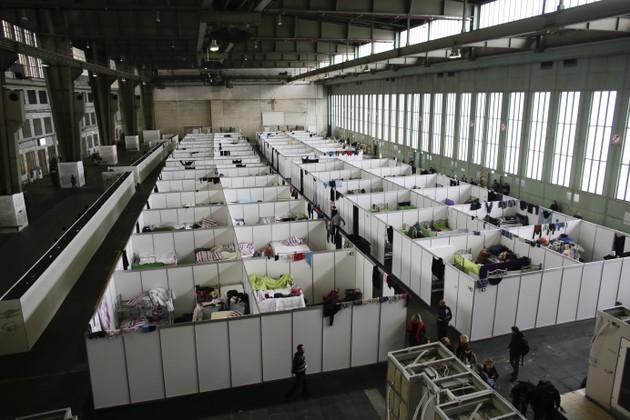 In an email, Barbara Caveng, a Swiss artist who works with asylum seekers, described life in the heims: "In this extraordinary living situation you don't have a ordinary 'day-by-day' life." Asylum seekers go to the doctor and meet with case workers, take language classes, and search for schooling options for their children. Most of all, Caveng says, "They search for permanent apartments. Everybody is waiting for the delivery of mails [sic]. A letter can decide about your destiny in one second."
Eventually, some asylum seekers do find a permanent apartment. But this lengthy process, combined with Berlin's already-crowded and extremely regulated housing market, presents challenges to the inherently organic nature of arrival cities.
Berlin's Neukölln neighborhood is just south of Kreuzberg and home to the Tempelhof lager. It's also host to a project that Making Heimat identifies as a possible housing solution for Berlin and its immigrants. Designed by Praeger Richter architecture and loosely inspired by the work of Chilean architect and Venice Biennale curator Alejandro Aravena, the Neukölln Ausbauhaus incorporates 24 units for living and working. Like Aravena's "incremental" housing plans, Ausbauhaus occupants can choose among different degrees of completion to their unit. The result is low-cost, high-density housing units that allow for mixed-use—exactly the kind of flexible housing that facilitates the growth of arrival cities. (The Ausbauhaus has since won the 2016 Architekturpreis.)
Finding Places in Hamburg
While Berlin is a city of neighborhoods, Hamburg is a canal city that is anchored by its central ("Mitte") borough, which boasts High Street and luxury shopping, museums and galleries, bars with 20-euro cocktails, and a Rolls-Royce dealership. It's also slated to accept 80,000 asylum seekers by the end of 2016.
As of April, Hamburg had accommodated 39,000 asylum seekers through a series of emergency measures, ranging from tent cities on its periphery to confiscating commercial property for refugee housing. But the city eventually wants to re-settle refugees evenly throughout its seven boroughs. In Making Heimat, German sociologist Walter Siebel cautions that "refugees in such specially constructed settlements would remain isolated both from Germans and from their integrated compatriots"—a scenario, he adds, "that might merit the label, 'a planned ghetto.'"
These concerns are also echoed by newcomers themselves. Anas Aboura, a Syrian activist and organizer who immigrated to Germany in October 2015, hopes for a collaborative approach to resettlement, incorporating mentorships and cultural exchanges. Never without his neon-yellow wayfarer sunglasses, Aboura works with a number of organizations within Hamburg to plan culturally inclusive events like advocacy conferences, refugee movie nights, Arabic karaoke parties, and demonstrations of Syrian urban-gardening techniques. In an interview conducted in his office at the performing arts center Kampnagel, Aboura emphasized the need for culturally sensitive approaches to integration. "One of the main aims is that I want to show to Germans that our culture is so rich, and people like it so much. Integration works both ways," Aboura said.
Hamburg's refugee resettlement approaches have met with criticism from the right, too. In April, residents of Hamburg's wealthy Blankenese district staged a protest that Der Spiegel described as "egoism with a racist side effect." Blankenese neighbors used their limousines and yachts to blockade the streets and prevent trees from being cut down to make room for refugee housing. (While protesters maintained that it was all about saving the trees, Speigel pointed out the carbon emissions of maintaining large town cars and even larger boats.)
A new partnership between Hamburg's HafenCity University (HfC) and MIT's CityScienceLab, called FindingPlaces, seeks to bridge these concerns through community input. Residents from each of Hamburg's seven districts meet for workshops at HfC to identify possible sites for additional housing using data visualization tools and 3-D models of the city. After residents identify potential locations, city officials review them for zoning considerations and environmental concerns.
MIT's Kent Larson noted that more than 30 such locations had been vetted and approved by Hamburg's city government, allowing for 7,000-8,000 out of a target 20,000 units. Larson suggests that FindingPlaces's collaborative approach allows for better problem-solving. "For most of these complex urban challenges, you either have well-structured, top-down processes or a bottom-up process, and you rarely have a workable bottom-up process. I believe that the people in the community have the best local knowledge," Larson said over the phone in July, adding that the workshops circumvent the social "echo chamber" that can emerge around immigration. "These workshops force people with different viewpoints to come together and meet face-to-face and hopefully develop a better understanding of the values and concerns that they may not have agreed with initially."
When asked if members of the community included refugees and asylum seekers, Larson concedes that they haven't been included—yet. But he adds that CityScienceLab hopes to incorporate input from newcomers to Hamburg as the project moves to its next phase, designing the communities themselves. "Ultimately what we're looking at with our tools is how to create healthy, high-performance communities, and how do we take advantage of all the systems related to how people live and work…to create places that are much more livable and healthy."
A community that collectively and efficiently uses its resources to facilitate growth and inclusion sounds like an arrival city. Through intuitive design, projects like Ausbauhaus and CityScienceLab are working to empower Germany's newcomers to feel heimat once more.
---
This post appears courtesy of CityLab.