The End of Colombian Exceptionalism
The advent of peace risks plunging the country into a new kind of conflict, different from any it has faced in its modern history.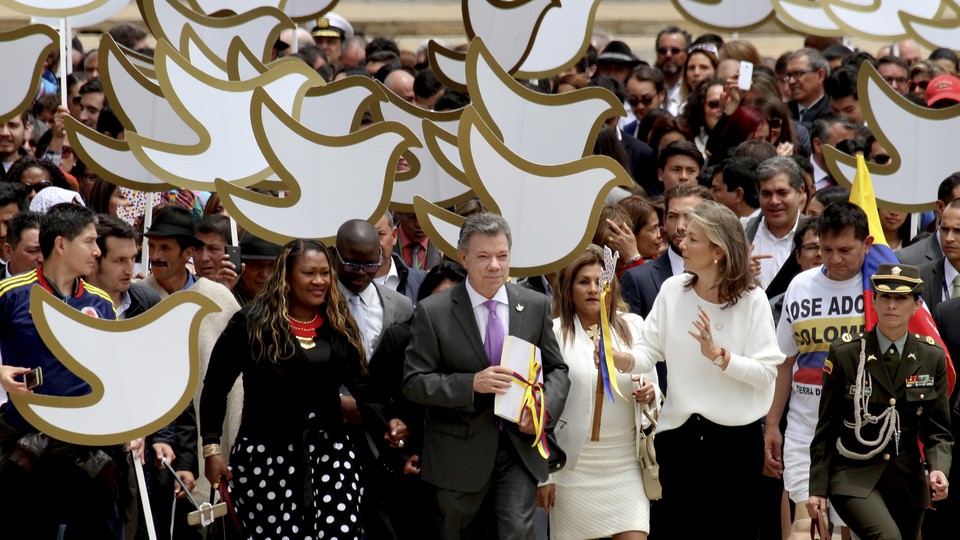 At one minute past midnight on August 29, the formal ceasefire between the Colombian government in Bogota and the Revolutionary Armed Forces of Colombia (FARC) came into effect—likely heralding the end of the longest conflict in the Western hemisphere after decades of fighting. There remain a few potential hurdles to lasting peace. Last week's agreement must still pass a public referendum on October 2 to be ratified, and polls vary widely regarding public support for the arrangement's terms. Even so, few foresee a return to arms following the recent accord. The referendum's format, which allows for passage even if there is minimal voter participation, broadly favors an affirmative outcome, and President Juan Manuel Santos has all but staked his presidency on the promise of peace. And while a smaller leftist insurrectionist army, the National Liberation Army (ELN), remains nominally in the fray for now, they, too, are largely expected to follow the FARC's lead in the near future.
Peace, then, seems at hand. It will surely transform Colombia. Kidnappings, murders, and large-scale displacement—long a way of life in some parts of the country—will become rarer. Already South America's investment darling, Colombia should further benefit economically from greater stability and the many infrastructure projects that will be necessary to develop the swaths of formerly FARC-held territory long off-limits to the government. Thousands of erstwhile revolutionary warriors, many of whom have criminal pasts (FARC has long straddled the line between guerrilla outfit and narco-trafficking syndicate) will be integrated into general society, in large part foregoing punishment. "All rivalries and grudges will remain in the past," FARC leader Rodrigo Londono recently promised.
Yet while there's reason for optimism, the advent of peace risks plunging Colombia into a new kind of conflict, different from any it has faced in living memory, waged in the marble corridors of Bogota rather than in the jungles of Nariño. With the FARC now on the way to full social integration, its former members will have to contend with their political enemies—lawmakers wary over whether the group can make the transition into lawmaking.
Since its days as the seat of a Spanish viceroyalty, and later the first capital of revolutionary leader Simon Bolívar's short-lived union of South American states, Bogota has for the most part remained a bastion of measured conservatism. A rare regional paragon of solid (if clientelistic) institutionalism, Colombia has been governed by traditional Conservative and Liberal parties that have, in practice, swapped turns at the helm for most of the country's history (an arrangement they went so far as to actually formalize, for a time, in 1957). While rebranded at various times, they have never truly transformed. On the types of issues that feature prominently within the region—free trade, private-property rights, social inclusion, cooperation with Washington—there is broad agreement, alongside an entrenched protectiveness of the national status quo. Somewhat uniquely for this part of the world, modern Colombia has never endured populist revolution; even its most recent military coup, back in 1953, was undertaken at the actual request of its (then-feuding) political parties.
Which is to say that, even amid Colombia's darkest days at the tail end of the 20th century, where political stability and orthodox economic policy are concerned, it has remained South America's champion. Through natural disasters, the merciless drug wars of the Escobar era, and multiple, simultaneous Marxist insurgencies, Colombia's political arena has remained remarkably unchanged in spite of, or indeed because of, such peril. Being perennially assailed by existential threats from beyond its civic arena, Colombia's political class has, until now, been spared much of the ideological polarization for which its neighborhood is justly famous. The economy, likewise, has exhibited remarkably low volatility: During the Latin American debt crisis of the 1980s, Colombia was the lone major economy in the region to neither default upon nor reschedule its external debt, despite the fact that this period coincided with the peak of its narco-anarchy.
While the upside of this system may be incontrovertible, so too are its costs. The de facto cordoning-off of the political space to outsiders has frozen the status quo, fomenting the frustrations of those looking in (to say nothing of the guerrillas themselves). While Colombia is arguably Latin America's most solid, resilient democracy, it is likewise among its least inclusive. Its economic inequality is the highest in South America. Its well-developed urban centers like Bogota, Cartagena, and Medellin stand in stark contrast to the harsh poverty of the countryside. The era of large-scale agrarian reforms elsewhere on the continent bypassed Colombia's rural hinterlands, and social spending is relatively low (albeit rising in recent years). Even while deep political polarization has long been absent, on the streets it remains robust: A 2014 Barometro poll found that a rising percentage of Colombians today identify as either strong left or strong right, crowding the tail ends of the political spectrum. The same study found that while a majority of Colombians considers politics "very important," only around one-quarter have faith in existing political parties—one of the lowest levels in Latin America.
It's unclear whether the political center can hold absent a unifying threat. Indeed, it already shows signs of fraying. Despite decades during which discussing politics often seemed to fall outside the confines of acceptable conversation, lately I have found Colombians to be talking about little else. And while, for now, the political class remains broadly in agreement over those deeper ideological flashpoints, dueling spinoffs of the conservative party—Santos's governing National Unity party and the Democratic Center party led by his one-time mentor, former president Alvaro Uribe Velez—have clashed on a deeply personal level.
Uribe was a wartime president, and, by most measures, a tremendously successful one. Under his no-nonsense breed of Caribbean conservatism—think Churchill with populist undertones—the FARC and other rebel groups were hammered mercilessly, surviving largely thanks to the assistance of friendly governments in neighboring Ecuador and Venezuela (who informally opened their borders), and an increasing reliance on the narcotics trade to replace flagging local support. As Uribe's defense minister, Santos was elected to the presidency in 2010 as the dauphin of Uribe, then one of the most popular presidents on the planet. But Santos spurned Uribe almost immediately after coming to power when he announced his intention to seek peace, and accepted assistance for the process from FARC-allied governments in Caracas and Havana that were anathema to his now ex-patron.
The subsequent cycle of recriminations between the two former allies has fomented considerable social discord and political polarization. Uribe confidants and even family members have been targeted in corruption and criminal probes, and increasingly distanced from key institutional roles. As institutional avenues for resistance have become less accessible to these "Uribistas," their populist and bellicose rhetoric has risen to unprecedented heights, helping bring Santos's approval rating down to around 21 percent. Claims by imprisoned Colombian hacker Andrés Sepúlveda that he engaged in cyber-attacks on the Santos reelection campaign at the request of Uribistas in 2012 has likewise done little to help matters.
In the coming weeks, the two factions will be scouring Colombia to rally support in advance of the upcoming plebiscite. With each passing day, the talking points on either side are becoming less objectively fact-based and more overtly ideological: Uribe has lambasted the agreement as a depraved capitulation, and Santos has likened his Uribista critics to neo-Nazis. While the peace process seems likely to pass the plebiscite, a close outcome could slow the process substantially, leaving it vulnerable to new management when Santos's final term ends in 2018. And, into this tropical tinderbox will enter the political successors of the former revolutionaries themselves, who will emerge as a new (ostensibly hard-left) political party. That worries the Uribistas, who believe that bringing the FARC in from the heat and into the political fray would prove the death knell of consensus rule. To assuage such fears, many among the pro-Santos wing offer precedent. When Colombia's M-19, a smaller and more urbanized rebel group than the FARC, sued for peace in 1990, it was subsequently incorporated into the political scene and has been largely irrelevant ever since.
To see how quickly consensus rule can atomize, look no further than Venezuela, Colombia's "Sister Republic." Unbelievable as it may seem to those familiar with its current "Bolivarian" circumstances, Venezuela was once the continent's other exception and, with its oil wealth, arguably the more successful of the two. Venezuela, too, overthrew a dictatorship in 1958, and set up a power-sharing arrangement before being assailed by Marxist insurgencies. By the early 1970s it had defeated these movements, allowing them to sue for peace and redefine themselves as fringe political parties. With the hard-left largely out of the picture, platforms that had previously been limited to the rebel's grand narratives—full employment, the nationalization of the oil industry—suddenly became mainstream. As policy differences dividing the ruling parties deepened, the energy spent by each party on discrediting the other resulted in a broken system. By the mid-1990s, this fractured political system became easy prey for the outsider populism of Hugo Chávez, who united the many dispersed pockets of the outsider left, with many formerly unelectable ex-guerrillas now serving as elder statesmen.
Colombians are now cautiously turning the page upon their half-century of Marxist insurgency. Success will require a propping-up of the old consensus, or else a rapid introduction of a new one. But it may seem natural for Colombia's political class to simply transfer the antipathies of war into the theater of politics.
Centuries ago when Bolívar, liberator of the Andes, outlined his vision for a union of South American states, he predicted that while Ecuador would be its convent and Venezuela its barracks, Colombia would be its university. As they move toward peace, Colombians will have much to learn, and quickly, if they hope for their country to remain exceptional.