What Does Enrique Peña Nieto Want From Trump's Visit?
The meeting between the president and the man who would be president will bring together two of the least popular men in Mexico.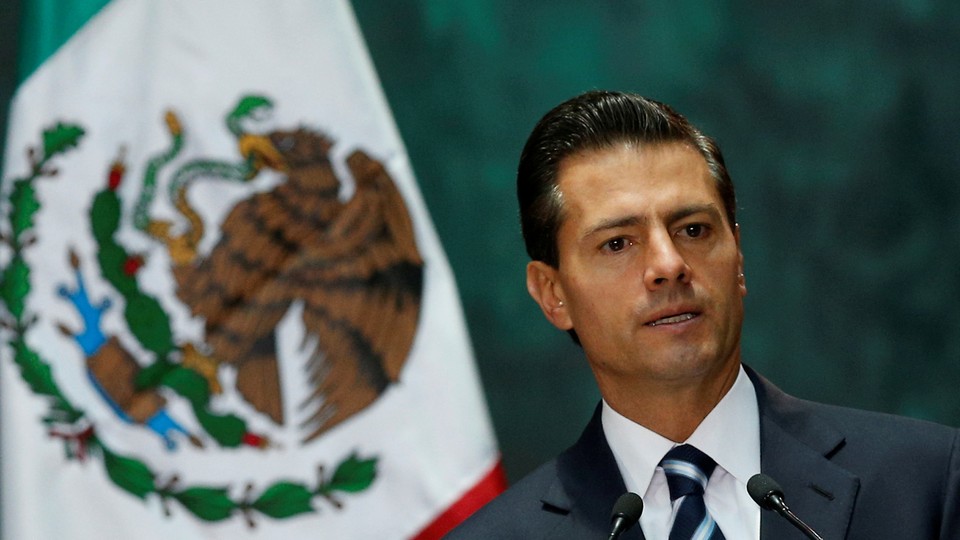 A meeting in Mexico City on Wednesday will bring together two of the most unpopular men in Mexico.
On the one hand, there's Donald Trump, widely reviled and frequently bashed in papier-mâché effigy over his derogatory comments about the country and its citizens—from the suggestion, in his campaign launch, that Mexican immigrants to the United States are by and large criminals and rapists, to his declaration that Mexico is an "enemy" of the United States.
On the other, there's Mexican President Enrique Peña Nieto, a telegenic and glamorous politician who has nonetheless been plagued by scandals and tainted by alleged ties to organized crime, a plagiarism scandal, and deep unfavorable ratings among women. Perhaps the two men will have some things to talk about when they convene at Los Pinos, the Mexican executive residence.
Peña Nieto, who is commonly known as EPN, faces troubles that run deep. In a poll conducted by the newspaper El Universal in July, 63 percent of respondents disapproved of his performance. (For comparison, Trump is at 75 percent unfavorability.) That's the result of a slow but steady erosion since shortly after he took office in 2012, when 56 percent approved and 29 percent disapproved. A full two-thirds said Mexico was on the wrong track. Eighty-four said they felt Peña Nieto was not in control of the country's problems. Almost six in 10 said the country was worse off during his presidency.
EPN's biggest problems are straightforward: Voters say Mexico's economy is too weak (though the peso tends to wax with Trump's troubles and wane when he does well). They are upset about widespread government corruption across the country—though that's not exclusively a problem restricted to Peña Nieto's  Institutional Revolutionary Party (PRI). And they're angry about how EPN has fought drug trafficking. Mexicans feel that he has not done enough to combat the narcotics trade, and the escape of Joaquín "El Chapo" Guzmán, the highly wanted cartel boss, from prison in July 2015 was widely viewed as evidence of government incompetence at best—or of collusion and complicity at worse. Peña Nieto must have been extremely relieved to be able to break the news on Twitter, in January, that El Chapo had been recaptured.
Peña Nieto, who turned 50 last month, has been president since 2012, when he won a bitterly contested election. He was the candidate of the centrist PRI, which held power in Mexico from 1929 until 2000. But at the turn of the millennium, Mexican voters finally turned the PRI out, installing Vicente Fox, who hailed from a more conservative party called the National Action Party. EPN represented the PRI's return to power after 12 years. Before running for president, Peña Nieto was governor of the state of Mexico, which surrounds Mexico City to the west, north, and east. In the 2012 election, his primary opponent was Andrés Manuel López Obrador, a leftist. Allegations of fraud and vote-buying tainted the election and led to widespread protests in the weeks immediately following the July 2012 balloting.
EPN's presidency has seen several rocky stretches. He pushed constitutional reforms and market openings, which have been met with mixed response; the Universal poll showed his reforms rated among both the most and least popular things he'd done. Despite promising to reduce violence connected to the drug trade, there have been several spikes in crime—including in the capital. The most notable is the disappearance of 43 students in the state of Guerrero, in which local officials are widely suspected of conspiring with drug cartels.
Peña Nieto has also introduced measures to stop corruption, but his efforts and credibility in that direction have been hurt by his own proximity to scandal. In the summer of 2015, it emerged that EPN's wife and finance minister both bought houses with financing help from a contractor who received hundreds of millions in government contracts. The president himself had lived rent-free in another home belonging to the contractor during his election campaign. A government investigation cleared EPN and his wife, though there are now new allegations that he took real-estate favors from a government contractor.
Just last week, investigative journalist Carmen Aristegui reported that EPN plagiarized nearly a third of his undergraduate thesis.
The good news for EPN, if not for the PRI, is that he does not face re-election: Presidents in Mexico are constitutionally limited to a single six-year term. Nonetheless, he's taking some political risks by welcoming Trump to Mexico City on Wednesday.
Peña Nieto has not minced words about Trump in the past, and like Trump, he has courted controversy. In fact, the president seems to have found the American candidate a useful punching-bag for improving his own standing. He has, unsurprisingly, said that Mexico will not pay for a wall along its border with the United States, even as Trump insists it will. (Trump likes to say that every time a Mexican official says this, he adds 10 feet to the wall's height.) Peña Nieto also accused Trump of  "xenophobic speech that reminds us (of the speech) of Hitler and Mussolini." More recently, EPN has seemed to soft-pedal his remarks about Trump, though he has made the comparison to Hitler and Mussolini repeatedly over the last year.
The political calculus for Trump in visiting Mexico is tough to figure out, as Dan Drezner and Philip Bump both explain. For Peña Nieto there is perhaps a more obvious payoff, though also some substantial risks. By inviting Trump to Mexico, EPN could distract from his own troubles, and he might appear statesmanlike—having lured the great ogre Trump to visit Mexico and reckon with the country face-to-face, in a meeting where Peña Nieto will presumably once again solidly reject any prospect of Mexico paying for the wall. After news of the meeting broke last night, he tweeted, "I believe in dialogue to promote Mexico's interests in the world and, principally, to protect Mexicans, wherever they might be."
On the other hand, politicians much more well-versed with Trump than EPN have found themselves flummoxed by the Republican nominee. Who knows what Trump might do or say in the meeting, or report about it afterward? New York Times reporter Elizabeth Malkin reports that Mexicans were immediately outraged by the invitation, and she wondered how the Mexican president planned to counteract Trump's spin. Her colleague Kirk Semple speculated that there could be large protests in Mexico City, and NBC and The Washington Post both reported that the U.S. Embassy had warned Trump's campaign against making such a trip on short notice.
"This is appeasement of the worst kind. Peña Nieto is like [Neville] Chamberlain to his Hitler," Alejandro Hope, a former Mexican intelligence official, told The Wall Street Journal. Fox, the former president, who has jousted in the media with Trump over the wall and other issues, blasted his successor. "He will even be considered like a traitor because we don't accept to be offended. I think this is a big mistake on the part of President Peña," Fox said.
Trump has said repeatedly that Mexican leaders are outsmarting American ones, and on Wednesday, Trump and Peña Nieto will engage in a battle of wits to see who fares better. The visit confirms an essential truth about politicians: Unpopular leaders will try all sorts of risky maneuvers to improve their standing.