The Saddest Olympic Celebration
What do you do when you're competing for a country that might disappear? You dance.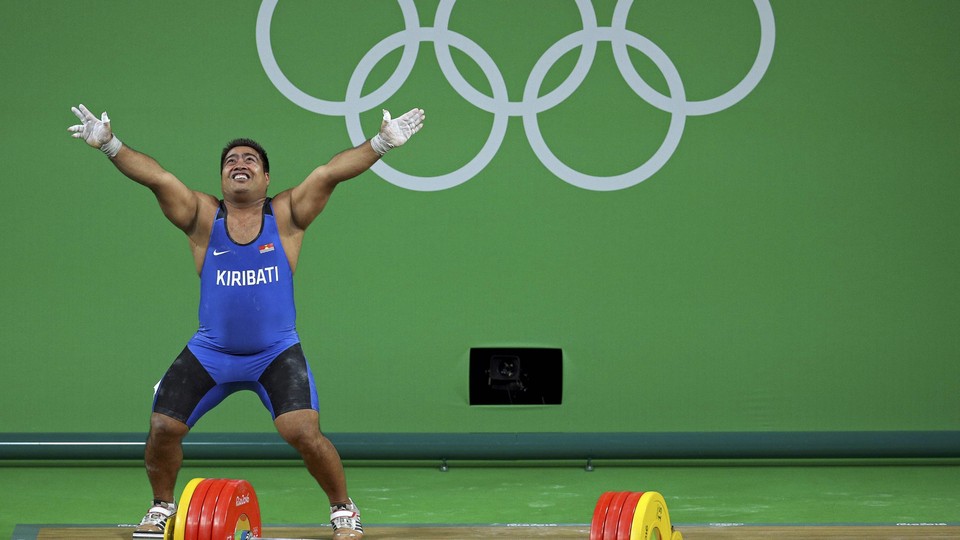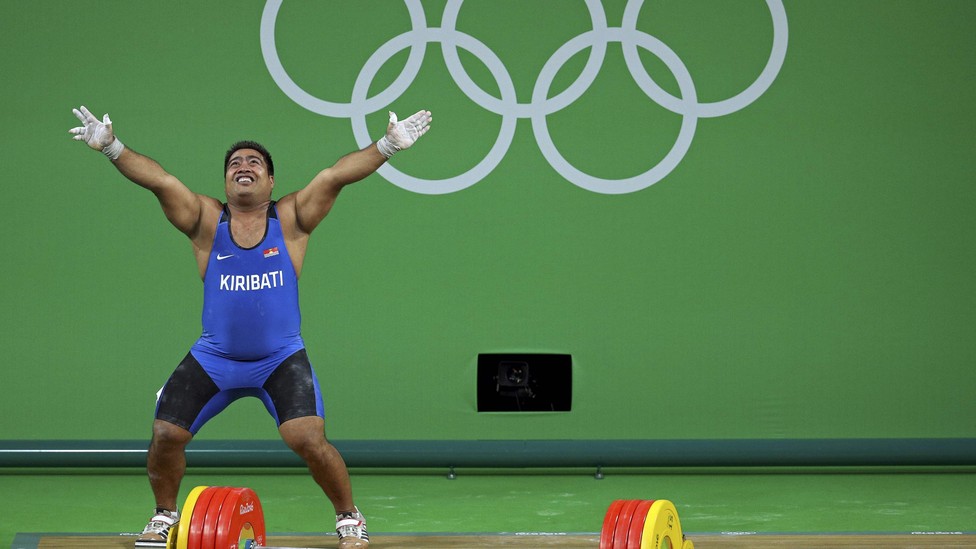 There are plenty of ways to celebrate victory at the Olympics: You can do the Lightning Bolt like Usain Bolt. You can do various things with your fingers like Michael Phelps. You can brag on Twitter. But rarely has anyone danced like David Katoatau did this week in Rio. And what's remarkable about his dancing is that Katoatau didn't win anything. The weightlifter from the Pacific island nation of Kiribati finished sixth in the men's 105-kilogram Group B final. He's dancing because he's not sure what else he can do at this point to help his sinking, storm-battered country.
Katoatau has been dancing at weightlifting competitions for a couple years now. In Rio, he told Reuters why: "Most people don't know where Kiribati is. I want people to know more about us so I use weightlifting, and my dancing, to show the world. I wrote an open letter to the world last year to tell people about all the homes lost to rising sea levels. I don't know how many years it will be before it sinks."
In that letter, which he wrote with the help of his coach, Paul Coffa, Katoatau despaired over the threat climate change posed to his homeland and other low-lying Pacific islands, and pleaded for international support to preserve Kiribati:
I have never felt so helpless in my life[.] As a sportsman I have offered everything to my country but I cannot save it. On behalf of all the people who will die for the country that will no longer exist and for the culture which will long be forgotten, I am asking for your help.

Last year I built myself the only home I could afford—a tebuia, a traditional hut—right next door to my parents. A few months later, it was destroyed by waves. …

The schools I have visited in Kiribati and the thousands of children I have met aspire to be something great. How do I lie to them and say their dreams are possible when our nation is disappearing?

I beg the countries of the world to see what is happening to Kiribati. The simple truth is that we do not have the resources to save ourselves. We will be the first to go.
Katoatau, who lives and trains in New Caledonia in the South Pacific, told Vice last year that young people in Kiribati now "see weightlifting as a way out of the country."
In the coming years, many of the nation's 100,000-plus residents may be seeking a way out. In 2014, Kiribati purchased $7 million worth of land in the Fiji islands, with the goal of securing an agricultural hub to ensure the country's access to food and a potential refuge should people need to flee Kiribati en masse. Before leaving office in 2016, former President Anote Tong encouraged his people to consider "migration with dignity" to nearby countries like Australia and New Zealand. Last year, a man from Kiribati lost a four-year court battle in New Zealand to become the world's first legally recognized climate-change refugee. The danger isn't necessarily that Kiribati will literally vanish; scientists believe its atolls may change shape and adapt to rising sea levels rather than be swallowed by the ocean. It's that, in 30 or 60 or 80 years, Kiribati will become either uninhabitable or prohibitively expensive to inhabit.
In July, The New York Times described Kiribati's predicament in vivid detail:
Much of Kiribati, a collection of 33 coral atolls and reef islands scattered across a swath of the Pacific Ocean about twice the size of Alaska, lies no higher than six feet above sea level. The latest climate models predict that the world's oceans could rise five to six feet by 2100. The prospects of rising seas and intensifying storms "threaten the very existence and livelihoods of large segments of the population," the government told the United Nations in a report last year. Half of the 6,500-person village of Bikenibeu, for instance, could be inundated by 2050 by sea-level rises and storm surges, according to a World Bank study.

The study lays out Kiribati's future in apocalyptic detail. Causeways would be washed away, crippling the economy; degraded coral reefs, damaged by warming water, would allow stronger waves to slam the coast, increasing erosion, and would disrupt the food supply, which depends heavily on fish supported by the reefs. Higher temperatures and rainfall changes would increase the prevalence of diseases like dengue fever and ciguatera poisoning.

Even before that, scientists and development experts say, rising sea levels are likely to worsen erosion, create groundwater shortages and increase the intrusion of salt water into freshwater supplies.
This is what makes Katoatau's dancing so moving. He's dancing because he's competing for a nation that might not exist by the 2048 Games, just as the home countries of the Marshallese and Tuvaluan delegations might not exist. (The Olympics themselves might become more challenging to organize in a warming world.) Katoatau is mourning as much as he's celebrating.
It's fitting, then, that the organizers of the Opening Ceremony in Rio devoted a good portion of the programming to conveying the urgency of addressing climate change. When Kiribati's turn came in the Parade of Nations, Katoatau led the way, wowing spectators by whirling around with the country's flag.
"It's not about the gold medal, because these kids can't win an Olympic gold medal," Coffa, Katoatau's coach, told Vice last year. "For David, just the fact that he's carrying the Kiribati flag at the opening ceremony and the world is seeing it, that's what matters. It's about just being there."