A Day in the Life of Brazil's Insane Bureaucracy
In a country that once created a Ministry of Debureaucratization, cutting red tape is a major industry unto itself.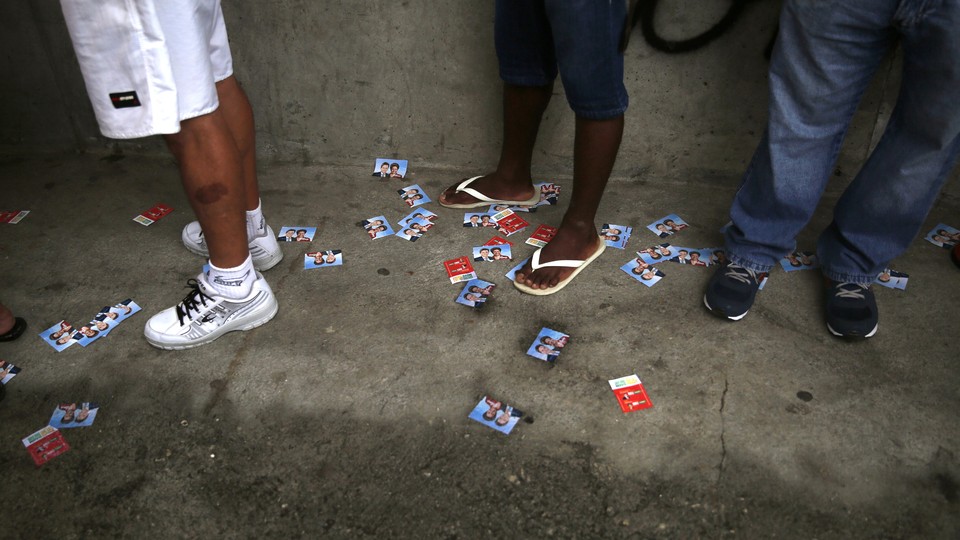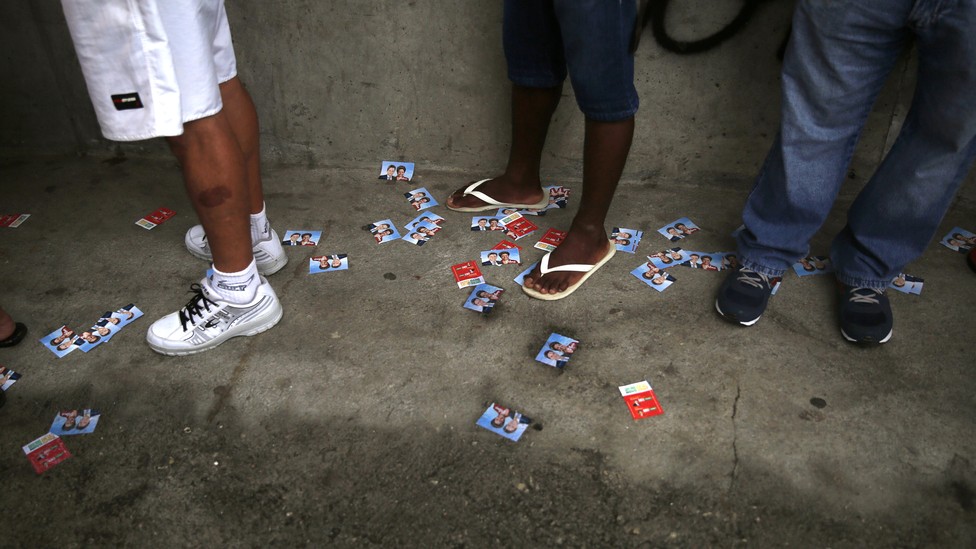 Paulo Fernandes and I were supposed to meet at 2:45 p.m. at the food court of Rio's Tom Jobim International Airport one day in May. When I spoke to him on the phone ahead of time, I told him I would be wearing a black and white dress. As I rode on the escalator to the third floor, someone called my name. I turned around.
"Senhor Paulo?" I asked.
Fernandes, dressed in casual slacks and a light, black jacket, clutched a manila envelope in one hand and a McDonald's milkshake in the other. He motioned to a table in the food court and sat down, pulling out a stack of papers from the envelope. Then he gave me a pen.
"Sign here, and here," he said, pulling pages out of the pile. He had already filled out the rest of the paperwork for me. I gave him two passport-sized photos and he stapled them to one of the sheets. After we had chatted for a few minutes, Fernandes walked me over to the Federal Police's immigration office, tucked into a far corner of the airport.
"I can't go inside, but I'll be waiting for you out here," he said. (Federal employees have told him they don't like it when despachantes lurk around)
Fernandes is one of those despachantes—a word which roughly translates as "expediters"—and he was helping me navigate the maze of Brazilian bureaucracy. He is basically a government greaser, and I hired him to help me file the necessary paperwork to renew my Brazilian residency. (My father's family is Brazilian, and although I was born in the United States, I grew up in São Paulo and obtained permanent residency, which is like a green card.) Despachantes like Fernandes are adept at maneuvering around local and federal red tape and have extensive government contacts at their disposal. Need to get a driver's license? A despachante can help. Need to buy a home? Hire a despachante. The amount of paperwork, personal documents, and agencies needed to authenticate forms for the most mundane transactions in Brazil is mind-boggling. Though renewing my residency was probably one of his easier jobs, Fernandes and I exchanged 31 emails before our meeting, in which I gave him information on my job, my travel itinerary, and details from my American passport and about my past travel to and from Brazil. He ended up filling out about a dozen forms for me. Many despachantes resort to "tipping" government clerks to get things done. (This is illegal and often nets despachantes in corruption stings.)
Fernandes, who has been working as a despachante for more than 30 years, said bribing government officials is not necessary. The 65-year-old former customs agent said patience is key, as well as creative thinking. It's common for federal employees to leave their jobs and start despachante businesses, like Fernandes did, because they know so many bureaucrats who might later help them out. To get me an appointment at the Federal Police's immigration office, Fernandes had an employee check the online scheduling system in the middle of the night several times, until he could get me an appointment that wasn't five months away. Before online scheduling was launched last year, Fernandes would send employees to wait in line overnight, so his clients would be among the first in line when the relevant government office opened in the morning. Otherwise, they would have to wait about six to eight hours, he said.
"People don't have time to wait in line like that," said Fernandes, who has an office in downtown Rio with one full-time employee and four freelancers.
Though headlines in, and about, Brazil often proclaim massive corruption in the country's highest political offices, the more tangible experience of the government for many people is apparent in the widespread growth of the despachante industry. It's a reflection of just how hard it is for average people to deal with the country's bureaucracy in everyday life. As Brazil's national organization for small businesses, SEBRAE, notes in its guide to opening a despachante business: "Brazil has always been categorized as a country with excessive bureaucracy. Photocopies, registrations, lines, document authentications, and forms all represent administrative activities that consume the time and resources of the productive sector. ... In this bureaucratic setting, business opportunities arise for the despachante industry."
Paulo Sotero, the director of the Brazil Institute at the Wilson Center, said in an interview that the despachante industry was inherited from colonial Portugal, which created the profession of customs despachantes in the 18th century. At the time, despachantes focused on speeding up the importing and exporting of merchandise through customs. In Brazil, the profession has grown much larger in scale since then, and has morphed into a quasi-official link between the public and its government. Bureaucracy has basically become part of the Brazilian economy, said Sotero.
"You create difficulties to sell solutions. That is where the despachante comes in," he said. In many other countries, people just hire lawyers to do some of the same type of work.
It's not like the Brazilian government hasn't tried to reform the system. As Sotero noted, in 1979, it created the (somewhat ironic) Ministry of Debureaucratization, which was dissolved less than a decade later. Critics say the federal agency was unable to work effectively with state and city governments. Now that the Federal Police have online scheduling, I only had to wait three hours after showing up for my appointment, instead of six or more, which Fernandes said was the norm before.
Aside from customs despachantes, government fixers are now involved in nearly every place private citizens meet the public sector. Regional despachante unions have grown so powerful that they will try to block any attempt to streamline government procedures, Sotero said. These unions have fought for official recognition of their profession for decades; in 2002, the legislature passed a law that gave such recognition, and this year it was amended to also regulate the industry (loosely). Though there are no official national figures on how many people work in the industry as a whole, the National Confederation of Document Despachantes estimates that there are about 30,000 document despachantes like Fernandes in Brazil—which doesn't include customs despachantes or motor-vehicle despachantes. (Fun fact: Twenty-four years ago, the state of São Paulo declared August 26th the Day of the Despachante.) Though it varies by state, in São Paulo, all one needs for the job is a high-school degree; the minimum salary for a document despachante there is approximately the equivalent of $440 a month, relative to a federal minimum monthly salary equivalent to about $271.
The industry has also helped institutionalize inequality. Not just anyone can afford the services of people like Fernandes, who charged me the equivalent of $500—a small fortune when converted to Brazilian reais. So what if you can't afford to pay? Can you still buy a home or register your car? "If people need something, they know they will have to pay," said Sotero. He added that if people have enough time, and a certain level of education, they might be able to figure out what is needed and get the documentation and validation on their own. Otherwise, they'll just, say, drive without a license.
Despachantes that I've worked with rarely mention the legally questionable side of their work. Sotero explained that tipping off public clerks, especially to move merchandise in and out of customs, is frequently called "part of the cost of doing business in Brazil." In the past year alone, major media outlets have reported the arrests of despachantes in corruption stings around Brazil. They've been accused of "buying" driver's licenses for clients from employees at the department of motor vehicles, bribing court officials into dropping DUI charges against their clients, and falsifying documents to obtain vehicle registrations and license plates.
The despachante I hired in São Paulo 10 years ago, when I last renewed my residency, seemed to know one of the clerks at the Federal Police office. After I met him at a coffee shop outside, we walked into the immigration office, where there appeared to be nearly 100 poor Andean immigrants seated in the waiting room. To my surprise, my despachante walked behind the counter to one of the clerks, whom he seemed to know, and my paperwork was stamped immediately.
I didn't see anything so blatant this time around, and the introduction of online appointments may have had something to do with it. During my three-hour wait in the Federal Police's office in Rio, I noticed a handful of people who appeared to be there with despachantes. Sitting across from me was Belman Agavendra, an immigrant from southern India, whose despachante seemed like he was on top of things. He even went to pick up sandwiches for the two of them. Agavendra, an engineer who works on an oil rig off the coast of Rio de Janeiro, said he was renewing his work permit, and couldn't have done it on his own. "He works for my company, so he does this all the time," Agavendra said.
One couple from Russia hadn't hired anyone, and it didn't turn out so well for them. A clerk, stunned that they tried to brave the bureaucracy on their own, asked me to serve as translator, since the couple didn't speak Portuguese and none of the clerks could speak English.
"Can you ask them if they hired anyone to help them with their application? Are they really here doing this by themselves?" he asked. The mother, Maria Seminova, seemed surprised by the question. She and her husband were trying—yes, on their own—to get residency through their son, who had been born the previous month in Brazil. A heated debate, volleyed in three languages, started over the format of the baby's birth certificate, and ended with the clerk storming off. "Tell them that I was going to authenticate some of their documents, but now I'm not even going to do that because they are being so arrogant," he said to me.
I didn't know how to help Seminova, who told me she didn't know what a despachante was. On my way out, Fernandes was waiting for me. I told him the couple's predicament and he said he could probably help them get the birth certificate reissued. I asked him how.
"I could just take out one of the [registry] clerks to lunch," he said. I gave them his business card.