A Shtetl Returns to Ukraine and the Agony of North Korean Olympians: The Week in Global-Affairs Writing
The highlights from seven days of reading about the world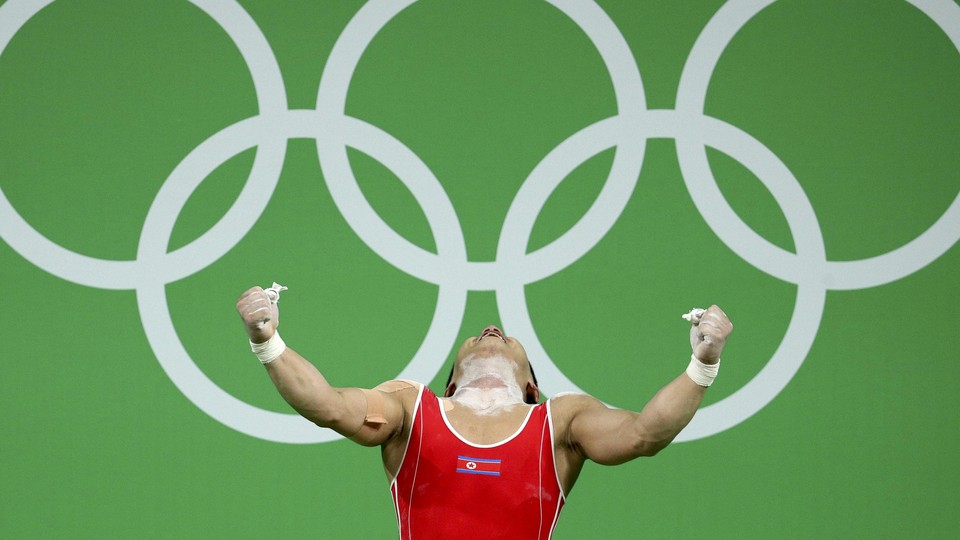 The Olympics Are Tough for All Athletes. For North Koreans, They're Worse.
Adam Taylor | The Washington Post
"North Korea is well-known around the world as a 'Hermit Kingdom'—a country whose citizens tend to have little to no access to the wider world and whose government has an antagonistic relationship with most other governments. Yet despite the country's isolation, North Korean athletes have competed in every Summer Olympics since 1972, except for two it boycotted (the 1984 games in Los Angeles and the 1988 games in Seoul)."
* * *
Banned From Working, Asylum Seekers Are Building Japan's Roads and Sewers
Thomas Wilson, Mari Saito, Minami Funakoshi, and Ami Miyazaki | Reuters
"Mazlum Balibay paves Japan's roads, digs its sewers and lays its water pipes—all for a country that doesn't want him.
Balibay, 24, is a Kurdish asylum seeker who fled to Japan more than eight years ago after he said his family was persecuted by Turkish security forces who tortured his father. He has since been on provisional release from immigration detention, which means he is barred from working while the immigration authorities consider his application for asylum and could be detained again at any time.
But the ban hasn't stopped Balibay from providing the muscle on a slew of public works projects funded by a government that refers to people like him as 'undesirable.'"
* * *
Sending Mail in Mongolia? 'Dissident.sloth.ploy' Could Be the Address
Bryant Rousseau | The New York Times
"If you happen to be invited to a party at the United States Embassy in Ulan Bator, Mongolia, you might address your R.S.V.P. to 'eyebrows.conforms.zebra.' Have a care package for a student at the Institute of Finance and Economics of Mongolia? Writing 'during.snapper.housework' on the parcel will get it there.
These oddly poetic three-word codes will soon act as a stand-in for the more common addressing convention of house number, street name and postal code, which never quite caught on in Mongolia, one of the world's most sparsely populated countries."
* * *
Fiddler on the Front Line
Linda Kinstler | Foreign Policy
"The Ukrainian Jews pushed off their land often migrated to other villages and urban centers, under increasingly strained conditions. The turn of the century made life harder still. More pogroms, far worse than before, swept through Ukrainian cities in 1905, killing hundreds. And as vibrant shtetl culture became a thing of the past, the towns became associated in the public imagination with the villages from Shalom Aleichem's stories: 'dire straits, with … broken-down Jews, wooden huts, rotting shingles.'
Until now. The Anatevka shtetl is being rebuilt, this time as a home for Jewish internally displaced persons fleeing the ongoing war in eastern Ukraine. The settlement's new founders are intent on bringing back a way of life that disappeared from the region long ago."
* * *
How Women Are Surviving Constant Violence and Starvation in War-Torn Sudan
Amanda Sperber | Broadly
"To say Sudan's Blue Nile state is 'forgotten' wouldn't be the right word. Most people have never heard of the place to begin with. The Sudanese civil war—which left millions dead of hunger and disease, leading to the secession and creation of South Sudan—isn't over in Blue Nile. Wedged between Ethiopia and South Sudan, the rebel-held Blue Nile and its sister area to the west, the Nuba Mountains, still fight against the government led by President Omar al-Bashir, the only sitting head of state wanted on charges of crimes against humanity."
* * *
Amid Crackdown, China's Last Liberal Magazine Fights for Survival
Anthony Kuhn | NPR
"Just days after editors ended publication of China's leading liberal history journal last month, a new edition of the magazine is out again. But the original publishers are calling this a pirate edition—and they're preparing to fight it in court.
The magazine, the Annals of the Chinese Nation, or Yanhuang Chunqiu in Chinese, is seen as the standard bearer of the embattled liberal wing of China's ruling Communist Party. The publication has made bold calls for democratic reforms and questions the party's version of history."