A Boston Marriage in Tanzania and an Existential Egg in Japan: The Week in Global-Affairs Writing
The highlights from seven days of reading about the world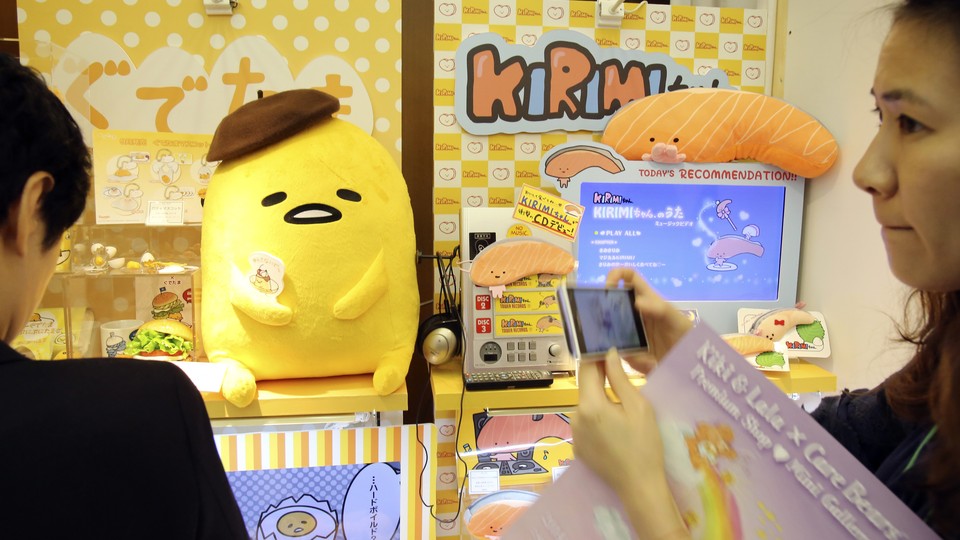 Why Straight Women Are Marrying Each Other
Abigail Haworth | Marie Claire
"As members of the Kurya tribe, a cattle-herding community with a population of roughly 700,000 spread across northern Tanzania, Juma and her wife, Mugosi, 49, are married under a local tradition called nyumba ntobhu ('house of women'). The practice allows women to marry each other to preserve their livelihoods in the absence of husbands. Among the tribe—one of more than 120 in the country of 55 million people—female couples make up 10 to 15 percent of households, according to Kurya elders. The unions involve women living, cooking, working, and raising children together, even sharing a bed, but they don't have sex."
* * *
Fishing in Guantanamo Bay
Ed Augustin | Roads and Kingdoms
"It feels like the prison really couldn't be further away. While we have come to associate Guantánamo Bay with torture, rendition, and indefinite detention, coverage of the prison in Cuba is glossed over. You hear about it less in Cuba than in much of the rest of the world.
Part of the explanation is that America is not the bad guy anymore. Keen to patch things up with the Americans, Cuban officials have instructed journalists in the country to stop using words like 'enemy', 'empire' and 'monster' when referring to the US. Another reason is that through Cuban eyes, Guantánamo Bay looks completely different."
* * *
How a Secretive Branch of ISIS Built a Global Network of Killers
Rukmini Callimachi | The New York Times
"Believing he was answering a holy call, Harry Sarfo left his home in the working-class city of Bremen last year and drove for four straight days to reach the territory controlled by the Islamic State in Syria.
He barely had time to settle in before members of the Islamic State's secret service, wearing masks over their faces, came to inform him and his German friend that they no longer wanted Europeans to come to Syria. Where they were really needed was back home, to help carry out the group's plan of waging terrorism across the globe."
* * *
The Devil Is Loose
Abe Streep | California Sunday
"Laredo is located in Webb County, a flat block of land three times the size of Rhode Island extending north and east from the Rio Grande. Most of its 3,400 square miles is a brush of mesquite, cactus, and huisache—privately owned ranchland. Outside the city limits, only about 14,000 people live in the county. Picture a thorny expanse with the population density of Western Sahara and comparable heat. Undocumented immigrants are often found dehydrated, abandoned by coyotes in the 105-degree summer. Border Patrol usually arrives first. Then come the medics."
* * *
1MDB: The Inside Story of the World's Biggest Financial Scandal
Randeep Ramesh | The Guardian
"Six months earlier, Justo had handed a British journalist named Clare Rewcastle Brown thousands of documents, including 227,000 emails, from the servers of his former employer, PetroSaudi, which appeared to shed light on the alleged theft of hundreds of millions of dollars from a state-owned Malaysian investment fund known as 1MDB.
The documents that Justo leaked have set off a chain reaction of investigations in at least half a dozen countries, and led to what Loretta Lynch, the US attorney general, described last week as 'the largest kleptocracy case' in US history."
* * *
One of Japan's Most Popular Mascots Is an Egg With Crippling Depression
Patrick Winn | PRI
"In Japan, there's a long history of personifying and anthropomorphizing inanimate objects. Gudetama is the most recent of a long, long lineage of mascot characters.
Many Japanese mascots will express emotions that Western mascots would not. In the West, mascots are used almost exclusively to cheer people up. In Japan, they're often used to get a point across or act as mediators in situations where you wouldn't want to express yourself directly."