Boris Johnson Mocked Foreign Countries, and Now They're Getting Their Revenge
Britain's new foreign secretary has memorably skewered many leaders and nations, and his undiplomatic words are back to haunt him.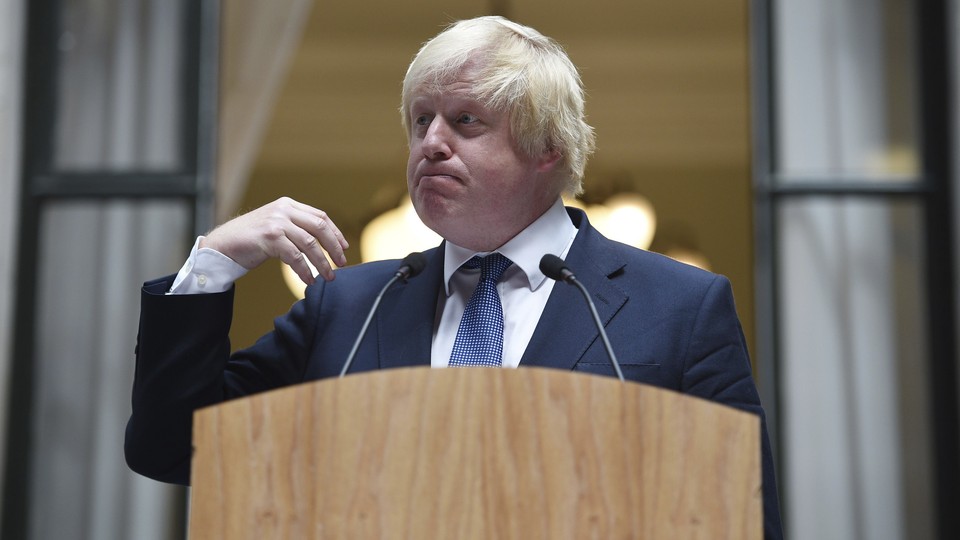 Boris Johnson, the tenuously United Kingdom's new foreign secretary, has made his feelings about many foreign countries and their leaders well known over his decades as a journalist and politician. Now the world is getting its chance to strike back, and it is showing that it can be just as acerbic as BoJo.
One might divide the world into West and East—Lord knows Boris would—in terms of reaction. The single most telling reaction from the West has to be that of U.S. State Department spokesman Mark Toner, who, upon learning the news during a press conference, broke into a broad, Cheshire Cat grin before snapping back to a blank poker face with preternatural quickness and delivering an anodyne answer. TL;DR: We don't love him, but we'll deal with him.
Johnson's French counterpart, Foreign Minister Jean-Marc Ayrault, took much the same route. "I have no worries about Boris Johnson, but you know well what his style is," he told Europe 1 radio. "He lied a lot during the [Brexit] campaign." Johnson visited the French ambassador's residence in London to celebrate Bastille Day on Thursday, but despite exercising his French skills to sing "La Marseillaise" in its original tongue, Boris was booed.
In Germany, TV presenters openly laughed at the news of Boris's appointment. Foreign Minister Frank-Walter Steinmeier's initial reaction was worthy of Boris: He mocked Johnson for having skipped out on his duties to lead Britain after the Brexit vote and having "instead played cricket," which he called "outrageous." Later, he took a more diplomatic, if still dim tone: "Boris Johnson is a shrewd party politician who knew how to use the Euroskeptic mood for himself. But now there are completely different political tasks in the foreground."
Former Swedish Prime Minister and Foreign Minister Carl Bildt went to the photo archive to belittle Boris, using an image from the moment when the then-mayor of London was trapped on a zipline:
Czech Member of European Parliament Pavel Telička quipped that although Prime Minister Theresa May was said to lack a sense of humor, "By appointing B. Johnson she proved the opposite."
And those are just the putative allies.
What about Russia, whose president, Vladimir Putin, Boris called "a ruthless and manipulative tyrant," despite "looking a bit like Dobby the House Elf"? (It's a legit comparison.) Actually, the Kremlin seemed ready to welcome Boris, a reaction conditioned less by the familiar first name and more by Russian officials' singular loathing for his predecessor, Philip Hammond, who has been named chancellor of the Exchequer.
Less pleased were the Turks. Although Johnson's great-grandfather was a Turk, he's no fan of current President Recep Tayyip Erdogan, and in fact won a vulgar poetry contest about Erdogan this spring. Prime Minister Binali Yildrim took the high road, saying of Johnson's appointment, "May God help him and reform him." A Turkish official suggested to the BBC that Ankara, too, would suck it up and deal with Boris—even though he rhymed its name with "wankerer" in his limerick. "His negative comments on Erdogan and Turkey are unacceptable," the official told the BBC. "However we're sure of one thing, that British-Turkish relations are more important than that and can't be hostage to these statements."
Johnson has reserved some of his most racist and reprehensible comments for Africa. In 2002, for example, he wrote that "it is said that the Queen has come to love the Commonwealth, partly because it supplies her with regular cheering crowds of flag-waving piccaninnies," adding that then-Prime Minister Tony Blair would enjoy a trip to the Democratic Republic of the Congo because "No doubt the AK47s will fall silent, and the pangas will stop their hacking of human flesh, and the tribal warriors will all break out in watermelon smiles to see the big white chief touch down in his big white British taxpayer-funded bird."
It's fitting, then, that the sickest burn on Boris should come from that continent, which he has argued would do better if still under colonial rule. Asked about the Johnson appointment, Ugandan government spokesman Ofwono Opondo was dismissive.
"Boris Johnson's opinion that countries like Uganda would be better off as a colonies is inconsequential," he said. "We would be more concerned if the U.S. or Russia appointed someone like Boris. But Britain no longer wields much power globally, that's why they have run away from the EU."
Opondo's jibe underscores the ironic situation in which Johnson finds himself: Having advocated staunchly for British retrenchment and divorce from the European Union, he now gets the task of dealing with a world in which that advocacy has complicate the work. Perhaps Theresa May really does have a sense of humor.