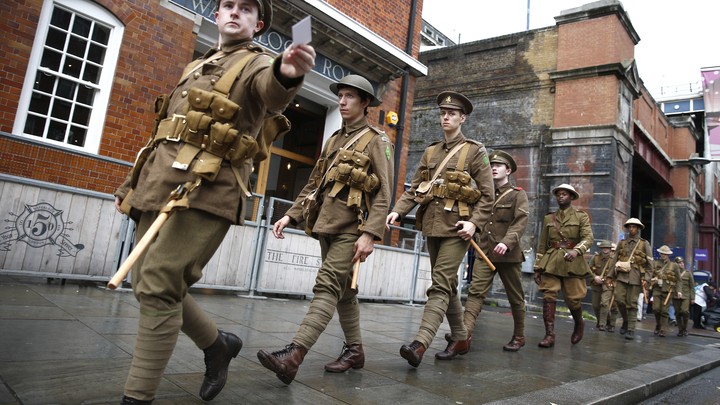 One hundred years ago today, the Battle of the Somme began.
The battle lasted five months, and it would kill nearly 1 million men. As my colleague David Frum writes, it is the battle that gave us some of the most enduring, horrifying images of the Great War: "the whistle summoning men 'over the top' of their trenches to be instantly slain by machine-gun fire; mass slaughter for pitiful gains of ground; indifferent and incompetent officers refusing to acknowledge that their plans had gone desperately wrong."
It is all the more frightening because, just a half decade prior, many of those men were not soldiers at all, but workers, tradesmen or children. They inhabited what they understood to be a bustling, cosmopolitan modern world, made global by trade, finance, and imperialism. For them, it was also a peaceful one: A major European war had not occurred in decades.
On Friday morning, commuters across the United Kingdom found themselves staring very similar people in the face. About 1,500 boys and men in World War I-era British military garb loitered in small groups, in railway stations and public squares across the country. If someone spoke to one of them, he did not speak in response; he would instead offer a card with the name, date of birth, and rank of a man killed on the first day of the Somme. More than 19,000 British soldiers were killed on that first day alone.
After all that has occurred recently #wearehere makes you stop in your tracks and be utterly humbled. pic.twitter.com/Qvfjc3o1g5

— julian hanshaw (@HanshawJulian) July 1, 2016
Soldiers seen in #WW1 uniforms today were part of #wearehere, a UK-wide event by @1418NOW https://t.co/NEvs3FOiEAhttps://t.co/Wom1DiJ0dC

— BBC (@BBC) July 1, 2016
#wearehere #lestweforget #somme #salisbury #wiltshire pic.twitter.com/2LpxQnvJ1e

— BarbaraLeathamPhoto (@BarbaraLeatham) July 1, 2016
If you ask, they silently give you a card telling you who they 'are'#wearehere #Sheffield pic.twitter.com/xn7QHlvDGf

— James Vincent (@BBCJamesVincent) July 1, 2016
The work was called We Are Here. The men only broke their silence to sing the British marching song from the period, "We're Here Because We're Here." At the Somme, soldiers sang the same song in the trenches:
Thank you to whoever has organised the #wearehere squaddies at @NetworkRailPAD I filled up when they sang pic.twitter.com/bAeqc6EfNU

— Mark Russell (@markrusselluk) July 1, 2016
Plymouth train station #wearehere pic.twitter.com/RdD4EzIuV0

— Kevin Johnson (@Kev_Johnson__) July 1, 2016
The culmination of #wearehere in #Sheffield - so poignant pic.twitter.com/FBnu6p0yUG

— Giles Searby (@GilesSearby) July 1, 2016
Twenty-eight theaters participated in the work, and the volunteer actors ranged in age from 16 to 52. As someone who did not see the work in person (I live in the U.S.), I was moved by watching social-media accounts of the memorial stream by at the #wearehere hashtag. Among them, often, were parents who tweeted proudly that their sons volunteered to serve as re-enactors—who then came to a throat-clenching realization:
My son is one of these young men. 100 years ago it would have been. #wearehere pic.twitter.com/CG6ctPJhHI

— George D Boukouris (@Doc_Turbo) July 1, 2016
Proud my son was a ghost soldier in #wearehere Glasgow but sobering as he's same age as many killed at #TheSomme pic.twitter.com/KatXH537un

— paul Kelbie (@paulKelbie1) July 1, 2016
Incredibly moving scenes at Waterloo station #wearehere pic.twitter.com/Sg6nSIBPBr

— Ritchie Parrott (@Parrottboy69) July 1, 2016
The Guardian and the BBC have revealed that the work was conceived and executed by Jeremy Deller, an English conceptual artist. Deller was previously best known for his 2001 work, Battle of Ogreave, in which he re-staged the Battle of Ogreave, a confrontation between police and striking miners that had occurred only 17 years prior. Since that work paid tribute to an event within living memory, Deller asked about 800 actors to re-enact the conflict side-by-side with about 200 miners who had been present for the actual event.   
Ultimately, the soldiers fighting on behalf of Great Britain (or one of its dominions) who died in the Battle of the Somme exceeded in number the total American death toll in the Second World War, on both the European and Pacific fronts. The German death toll was even higher. And not necessarily because the soldiers of the British and German powers had much real animosity for each other—indeed there's evidence that in many cases they saved their worst disgust for the higher-ups who had sent them. Even the title of the lyrics they sang attested to this regret: Why were they "here," on the front lines? Because they were here.
Recently, some British politicians have advanced a different view of the conflict.
"The war was, of course, an unspeakable tragedy, which robbed this nation of our bravest and best," said one of them earlier this year, according to the BBC. "But even as we recall that loss and commemorate the bravery of those who fought, it's important that we don't succumb to some of the myths which have grown up about the conflict. The conflict has, for many, been seen through the fictional prism of dramas such as Oh, What a Lovely War! ... as a misbegotten shambles—a series of catastrophic mistakes perpetrated by an out-of-touch elite."
That speaker was Michael Gove, then the country's education secretary. He is now a top contender to be its next prime minister.
We want to hear what you think about this article. Submit a letter to the editor or write to letters@theatlantic.com.
Robinson Meyer
is a staff writer at
The Atlantic.
He is the author of the newsletter
The Weekly Planet
, and the co-founder of the COVID Tracking Project at
The Atlantic
.