Paris: Where a Mistake Bloomed Into a Park
Miles of abandoned railway tracks give the city a rare chance to experiment with public spaces.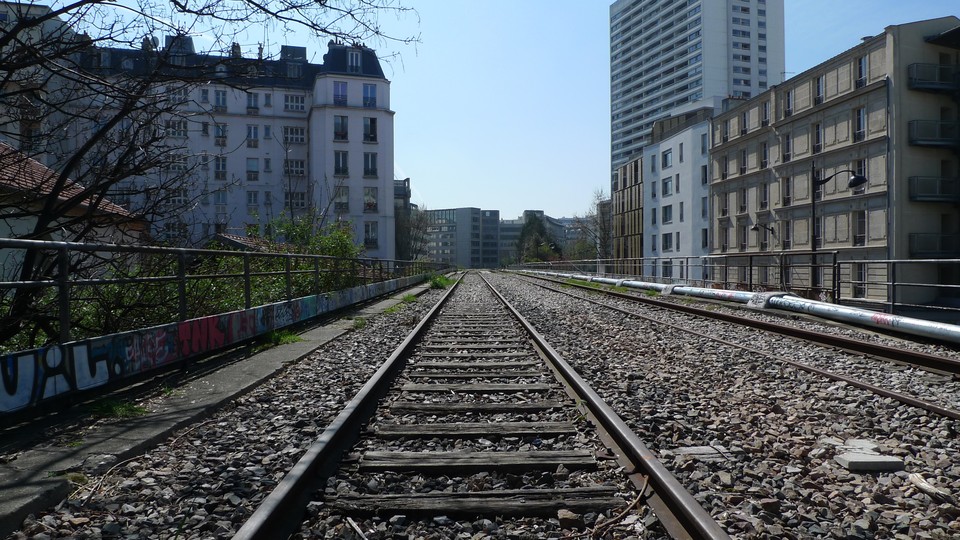 Right now, Paris has an opportunity most cities would kill for: a 32–kilometer strip of undeveloped land stretching through some of its most popular neighborhoods.
What makes this huge plot of land yet more unusual is that it is actually the product of a 150-year-old infrastructure mistake. The so-called Petite Ceinture ("Little Belt") railway was built in the 19th century around what was then Paris's edge, before being overshadowed just a few decades later by the Metro system. Most of the Petite Ceinture has thus been closed since 1934, though one section remained in service through 1985. Freight transit continued until the early 1990s, while some sections in western Paris were incorporated into other non-orbital lines. Current rules state that additions to the line can only be temporary, in case the line is reused for transit in the future, but mostly the line faded into obscurity as a forgotten tunnel of green through the city.
Reopening the line for public access is the sort of rare chance that doesn't come a city's way twice. It's ripe for a conversion along the lines of New York's High Line—itself, partly inspired by an earlier Parisian railway line conversion, the Promenade Plantée, which opened in 1993—but the sheer length of it is just so much longer. This summer has seen the launch of an ongoing public consultation on what to do with the Petite Ceinture, of which only a few small parts have as yet been opened to ordinary Parisians.
On Saturday, the city opened a former station on the line, Eastern Paris's Villa du Bel-Air, as a space for discussions and debates on the railway's future. The idea is that resident groups, city officials, and planners, can regularly meet in the actual space up for debate and together determine the future of that section. Between now and 2017, a further nine stations will be opened along the line to act as participatory centers. The stations won't just host discussions, but also writing and art workshops where citizens will be encouraged to develop creative ideas on the line's future.
The outcomes of these public consultations are naturally not yet fixed, but the likely uses will probably include community gardens and micro-reserves for wildlife, as well as community centers that could double as bars, restaurants, and cultural venues. The most utopian suggestions may not get further than a sketch on a napkin, but the city is covering itself well by making sure that public opinion is being woven into the line's future fabric.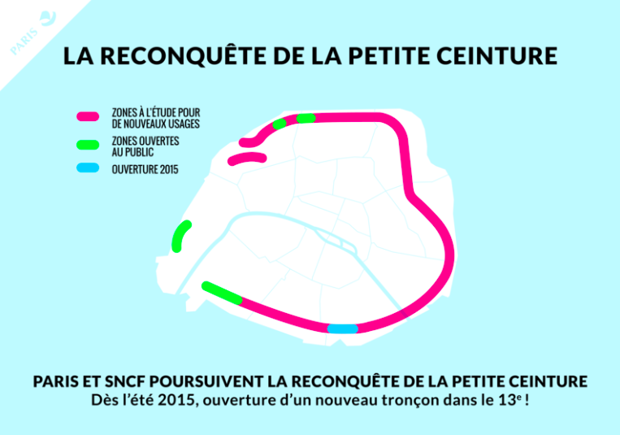 The project is Paris's largest railway conversion to date, but it's far from its only one. The city is currently trying to enlarge its stock of affordable housing, and some of the key sites for this effort are being taken over from RATP, the city's transit authority. Meanwhile SNCF, the national rail authority, has opened up five derelict or underused sites around the city for what the French call Éphémères, or pop-ups. Two years ago, one of the Petite Ceinture's stations was, in fact, reopened as La Recyclerie, a bar, restaurant, and urban farm, that offers workshops on sustainability and recycling. Last year it was joined by Ground Control, an old rail depot now filled with temporary bars and restaurants. Resurrected once more this year under the name Grand Train, the center's makeshift buzz has made it one of the big hits of 2016. Meanwhile, a new cultural center called Le Hasard Ludique in the 18th Arrondissement's former Saint Ouen Station is due to open within the next few months.
It may seem wasteful to use all these key sites for cultural centers and bars—even eco-conscious ones—but most of the locations should ultimately move on to other uses. And in the medium term, they fulfill a need gracefully. Paris is a densely built place where the use of each square foot was largely determined long ago. To have a few makeshift sites whose use is provisional helps to fan the city with a little fresh air, something the newspaper Le Figaro was probably alluding to in 2015 when it described Ground Control, a local watering hole, as the Parisian bar "that's most like Berlin."
This being an ancient, heavily populated city, however, no site is ever entirely unencumbered from previous uses. The Petite Ceinture has long been one of Paris's truly wild spaces, a dark corridor for graffiti artists with an almost mythical reputation, not unlike Paris's network of subterranean catacombs. Recently though, much of the track was actually in use, just not for transit. This winter, 300 homeless Roma were expelled from the railway, where they'd constructed shacks after failing to find homes elsewhere. Such accommodation served no one's needs well, but the idea of shipping out the homeless to use the site for a temporary music festival, as happened earlier this month, has understandably made some observers uneasy.
Likewise, a piece of land going unused is not the same as it being free. Among SNCF's grandest planned reuse projects, was a plan first discussed in 2014 for the so-called "Rail Cathedrals," a collection of lofty, early-20th-century train sheds just beyond Paris's northern boundary. Proposals to transform the sheds ultimately had to be scrapped when it turned out that emptying the buildings would be too expensive to justify for merely ephemeral, pop-up use. Clearly in Paris, there's no longer such a thing as a blank slate. Still, in auditing its underused spaces—and consulting the public on how best to use them—Paris is proving that even historic cities can find ways to reinvent themselves.
---
This post appears courtesy of CityLab.