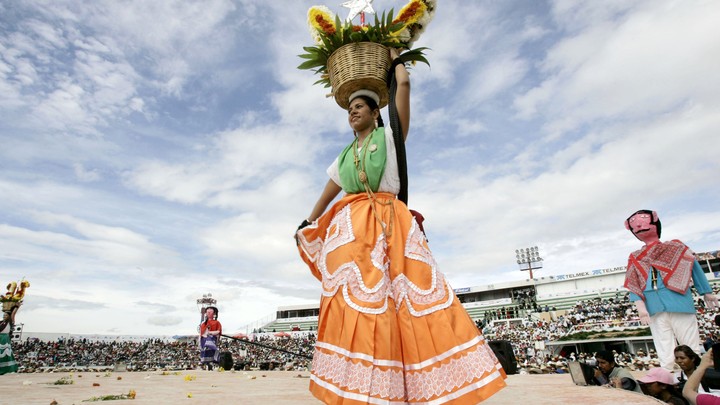 Why Teachers Have Been Occupying One of Mexico's Most Alluring Public Spaces Since May
Patrick J. McDonnell | Los Angeles Times
"With its towering cathedral, stately trees and many cafes, the central plaza here usually exudes a sense of peace and elegance — a place to dine, reflect or listen to the marimba bands that perform on the ornate, wrought-iron bandstand.
But sit-ins, roadblocks and violence linked to Mexico's roiling conflict between teachers and the federal government have cast a pall over Oaxaca City and the Guelaguetza, the signature annual celebration of the indigenous and mestizo heritage of this culturally rich state."
* * *
Can Bodegas Solve the Philippines' Internet Problem?
Rick Paulas | Pacific Standard
"Called sari-saris in Tagalog, the convenience stores are found on nearly every block, owned and operated by neighborhood families. They're community centers in a way, where customers can get canned goods, drinks, water, beer, cigarettes, prepaid phone credits, and other basic goods that any bodega or 7/11 has. But soon, they'll be offering one extra item to their customers: Wi-Fi."
* * *
Johannesburg Tours Reintroduce Residents to the City They Grew Up In
Ryan Lenora Brown | The Christian Science Monitor
"Manguza is describing the Johannesburg where they grew up, a city where race dictated everything from the park bench you sat on to the hospital where you were born and the neighborhoods in which you were allowed to live.
That's a history that still courses through Johannesburg's present. And it means that although everyone on this tour has lived in the city most of their lives, none of them have been to this part of town in nearly 30 years, since it began its slow drift from a mostly-white residential suburb to a nearly entirely black one."
* * *
In France, There's a Call for a Black Lives Matter Movement
Emma Jacobs | PRI
"The Black Lives Matter movement in the US didn't start the conversation about police violence in France, of course; but it has energized it. … 'The French media is always interested in questions of racism in the US. They don't have any trouble identifying it and condemning it,' [a protester named Fanny] Essiyé said. 'But when it comes to France, no.'"
* * *
Mortal to Divine and Back: India's Transgender Goddesses
Candace Feit | The New York Times
"Unlike transgender people in the West, they leave a conservative mainstream culture for an equally conservative subculture. Some live in communes with a strict network of rules under the authority of leaders they refer to as 'mothers' and 'grandmothers.'"
* * *
Russian Olympic Doping Scandal: How It Happened
Elon Green | Rolling Stone
"So: Is the doping program an actual Cold War-era Communist plot? Sort of. Current events, says Feifer, would naturally reflect the Soviet system because 'the country is run by a former KGB officer who sees foreign policy—and engaging with the world, in general—as basically sort of a KGB plot.' It's a game of subterfuge and the doping program 'is right out of the playbook.'"
We want to hear what you think about this article. Submit a letter to the editor or write to letters@theatlantic.com.