When a Dictator Becomes Part of Your Family
Editor's Note:
This article previously appeared in a different format as part of The Atlantic's Notes section, retired in 2021.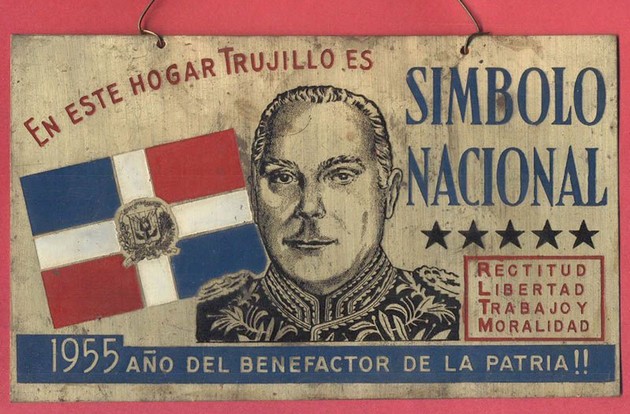 The Dominican Republic, where I'm from, is among the countries in the Americas that had authoritarian rulers for multiple decades. Almost all of my uncles and aunts, and both my parents, were born during Rafael Trujillo's reign of terror, which began in 1930 and ended with his assassination in 1961. His influence on the country, and on my own life, is still felt today.
When I was growing up, adults in my family talked politics all the time, almost as much as they talked baseball. But in our family, politics was personal because my father's father briefly worked for Trujillo, as an assistant of some sort. At our weekend family gatherings, some aunt or uncle could be found surrounded by nieces and nephews like me, breathing in a fresh retelling of a hand-me-down story from my grandfather's past—in hushed whispers, of course. My grandfather himself never uttered a single word about his work with the dictator, and he took that part of his life to his grave a few years ago.
In some versions of my relatives' stories, my grandfather was the official food taster, to whom his boss's meals would be presented for inspection and sampling. (To this singular culinary task my family attributed his strict adherence to mealtimes and table manners.) Other renditions described him as a personal secretary of sorts, handwriting dictated letters to society families whose daughters were "invited" to lavish balls thrown at the executive palace, where many young ladies were summarily deflowered by the head of state in well appointed bedrooms.
(Having studied Dominican history, I am highly suspicious of the circumstances that may have led to my grandfather working for such a man. The autocrat was known for conscripting people into his service or else.)
I am partially a product of the codes and mores established by my grandparents, who raised most of their children during the Trujillato. I was raised to accept and respect strict hierarchies in my own family and in organizations in general. I was expected to prefer and defer to men for decisions, control, and public leadership—all things I slowly unlearned and relinquished as an immigrant in 1980s New York City, where the only valid code was hard work.
Dominican author Junot Díaz has said that all Dominicans are Trujillo's children. I interviewed him in 2007 just before his Pulitzer Prize-winning novel, The Brief Wondrous Life of Oscar Wao, was published. Much of the plot takes place during the Trujillato, which the novel presents as a cosmic curse that befalls the island nation. This is what Díaz told me about Trujillo's place in his own life:
The evil of the father lasts. The consequences of those kinds of patriarchal traumas last to the point where the person no longer has contact with the origins of that evil. I had no concept that I was Trujillo's son. I had no concept until I was reading, got older, went traveling, and I was like, OK, my dad was a total copy of Trujillo. I mean he grew up in the military, during the Trujillato. He thought Trujillo was a great f* man, and we had in my family—and this is very common in many Third-World families—a dictatorship in the house. La dictadura de la casa. And everyone has different dictaduras, but the one that I lived under was a dictadura that would've made Trujillo very, very comfortable, because he helped design it.
The idea of having a genetic link to Trujillo—an evil force so pure that it warped an entire country—has stayed with me ever since. His legacy sometimes cautions me when I encounter limited thinking, when I consider untapped reasons for choices I've made, and as I raise two sons whose worldview I hope to make more capacious and expansive than mine.
***
Did you grow up under an authoritarian regime? Did your parents or other close family members? Please share your stories with us at hello@theatlantic.com and describe how you think the dictator's legacy shaped you.