The 'Brexit' Campaign: A Cheat Sheet
Britons are voting Thursday in a nationwide referendum on EU membership. Here is a brief guide to the issues, personalities, and policies involved in the sometimes-heated, often-entertaining debate.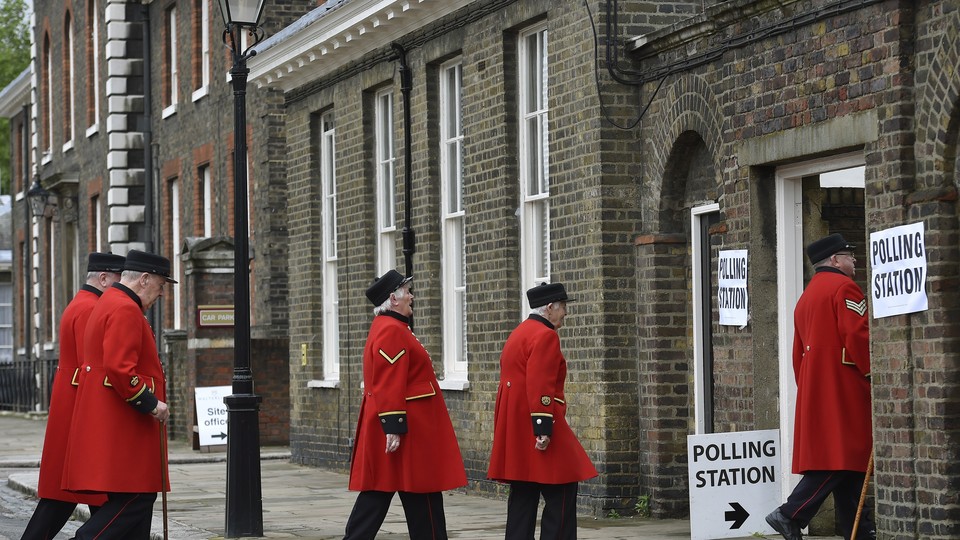 Updated on June 22 at 6:56 a.m. ET
The British are voting Thursday in a historic referendum on EU membership, a vote that could have implications not only for the U.K. but for the entire 28-member bloc that represents Europe's most ambitious post-World War II experiment as well as one of the world's largest economies.
Initial figures from the country's Electoral Commission said 46,499,537 people had registered—a record in Britain for what is only its third referendum ever. Polls opened at 7 a.m. local time (3 a.m. ET) and will close at 10 p.m. local time (5 p.m. ET). Under electoral rules, British media can only report on certain aspects of Thursday's vote, but the results will begin to emerge once the polls close.
Opinion polls conducted ahead of the referendum showed a statistical dead heat.
The intensity of debate is clear in recent remarks from U.K. politicians on opposing sides of the debate, who have invoked not only that exemplar of high-intensity rhetoric, Hitler (on behalf of the "leave" side), but his murderous, present-day ideological descendant, ISIS "caliph" Abu Bakr al-Baghdadi (in defense of staying).
There have been dire warnings about the consequences, economic and otherwise, of leaving the EU, pleas for the U.K. to remain, and impassioned arguments as well as practical ones for it to get out. But what exactly is at issue and who is saying what? What follows is an updating guide to the state of the debate ahead of the June 23 vote.
---
The Basics
What is "Brexit"?
It's a portmanteau that combines "Britain" and "exit." The convention is not original to this campaign; Greece's economic crisis last year raised fears—as yet unrealized—of a "Grexit" from the group of countries within the EU that shares the euro currency.
When is the vote?
Thursday, June 23
Who can vote?
Adult citizens of England, Scotland, Wales, and Northern Ireland all get a vote, along with Irish citizens who live in the U.K., as well as citizens from the more than 50 Commonwealth countries—former British colonies such as Australia, India, and Jamaica—who reside in Britain. U.K. nationals who have lived outside the country for less than 15 years are also eligible.
What are they being asked?
"Should the United Kingdom remain a member of the European Union or leave the European Union?"
Why are they voting on this in the first place?
Britons voted in a referendum in 1975 on whether to stay in what was then called the European Economic Community (EEC), the precursor to the European Union, formed among six founding countries in 1957 to facilitate the movement of goods and workers among its members; the U.K. joined the EEC in 1973. But the bloc has since become further integrated, rechristening itself the European Union in 1993, and has grown in both membership and influence. EU citizens can freely travel between member states, and much of the bloc has open internal borders. Many EU regulations apply to all 28 members. But the perceived burdens of free migration to the U.K. from elsewhere in the EU, and cumbersome regulations from the bloc's capital in Brussels has prompted some Britons to ask: Is EU membership worth it? Following his Conservative Party's victory in 2015 parliamentary elections, Prime Minister David Cameron fulfilled a 2013 pledge to schedule a referendum on the U.K.'s membership in the bloc.
What are the sides?
The official campaign from Britain to leave the EU is Vote Leave. The campaign to stay in the bloc is Stronger In. In brief, the "Leave" campaign argues that leaving the EU will allow Britons to "take back control and … spend our money on our priorities." The "In" campaign says, "Britain is stronger, safer and better off in Europe than we would be out on our own."
Allegiances are not defined by party affiliation. Both Cameron and Labour Party leader Jeremy Corbyn support staying in, as does George Osborne, the U.K.'s chancellor of the exchequer, a Conservative, who warned the country would become "permanently poorer," with its economy shrinking by 6 percent, if it left the bloc. But Boris Johnson, the former London mayor who belongs to the same Conservative Party as Osborne and Cameron, and who is a potential rival to Cameron for the party's leadership, is an advocate of leaving, as is Kate Hoey, a prominent Labour lawmaker, and the U.K. Independence Party, the right-wing political group.
---
Where British Politicians Stand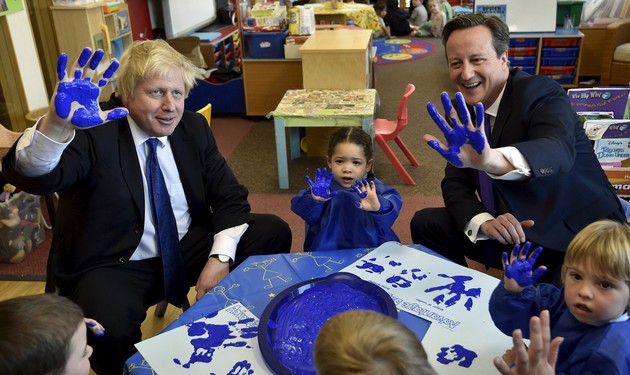 Prime Minister David Cameron, Conservative: STAY
Cameron sought—and received—better terms for the U.K.'s membership in the EU following negotiations that concluded in February, after which he said he supported staying in the bloc. "Britain can have best of both worlds," he said. He described leaving the EU as a "leap in the dark. I do not believe that would be right for Britain." And on June 21 he made a last-minute appeal to his fellow Britons: "Brits don't quit. We get involved, we take a lead, we make a difference, we get things done." He reiterated those comments on Wednesday:
If I had to sum up this entire campaign in a word, it would be that word 'together.' I think together we are better able to face the challenges from terrorism and climate change, we are better able to grow our economies, better able to drive good trade deals ... and I want us to get the good deals so we give better chances to everyone in our country.
Former London Mayor Boris Johnson, Conservative: GO
Cameron's rival for Conservative leadership is the loudest voice advocating Britain's exit. "There is simply no common political culture in Europe," he said May 9. Days later, he took it a step further, telling the Sunday Telegraph: "Napoleon, Hitler, various people tried this out, and it ends tragically. The EU is an attempt to do this by different methods." And, on Wednesday, he said it was time for the U.K. to "break away from the failing and dysfunctional EU system."
"This is a crucial time, lots of people will be making up their minds, and I hope very much they will believe in our country, believe in what we can do," he said.
Opposition Leader Jeremy Corbyn, Labour: STAY
Corbyn has long been a Euroskeptic, that is, unconvinced on the merits of the European project and its impact on individual states. But he is fighting, at least publicly, to keep Britain in the bloc. "It is not the European Union that is the problem here, it is the Conservative Government" of Cameron, he said May 14, hardly a ringing endorsement of the European project. He added: "Do we allow xenophobes to take over or do we instead occupy that political and intellectual territory of the idea that you can solve things together? You'd better build those alliances working with people rather than isolating yourselves from them."
Former Prime Ministers Tony Blair and John Major: STAY
Major, a Conservative, and Blair, a Labourite, made a joint appeal on June 9 for Britain to stay in the EU, saying a vote to leave could lead to Scotland voting to secede from the U.K. and imperil the peace process in Northern Ireland.
Major's words: "The plain, uncomfortable truth is that the unity of the U.K. itself is on the ballot paper in two weeks' time. There is a serious risk of a new referendum, not immediately perhaps, but eventually."
And Blair's: "We understand that, although today Northern Ireland is more stable and more prosperous than ever, that stability is poised on carefully constructed foundations. And so we are naturally concerned at the prospect of anything that could put those foundations at risk."
But Theresa Villiers, the government's Northern Ireland secretary who backs the Leave campaign, called the suggestion "highly irresponsible."
U.K. Voters: TOSS-UP
Daily tracking polls of the referendum indicate the contest is close: 41 percent voting to remain; 40 percent voting to leave; and 14 percent undecided. Here are the results of The Economist's tracking poll:
That figure had fluctuated dramatically in the days leading up to the vote, with the "exit" camp leading, but polls released June 20 suggested the prospect of an "exit" was diminishing, prompting a surge in global stock markets.
---
Taking Sides From Outside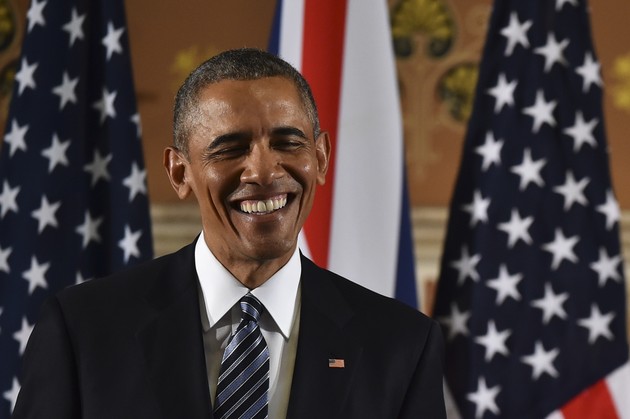 Former U.S. President Clinton: STAY
Writing in the New Statesman, Clinton echoed Major and Blair's comments, saying he worried about "future prosperity and peace of Northern Ireland" if Britain voted to leave. He added:
In the end, the decision is yours. As someone who has felt great admiration and affection for your nation for almost 50 years, and who has worked with you in office and through my Foundation for more than two decades, I have seen the difference your leadership has made both within the EU, and as a leading representative of Europe throughout the world. I hope you will stay.
EU Voters: STAY
The European establishment has given Cameron many of the benefits he sought for continued EU membership, and, presumably, wants Britain to stay. There are also fears that an exit would prompt other EU members to leave, further weakening a bloc that has been buffeted since 2008 by economic malaise and the most severe migrant crisis faced by the region since World War II. Perhaps more severe for the bloc is the threat of a credit downgrade for individual member states that are heavily exposed to Britain. European citizens, meanwhile, want Britain to stay.

European Council President Donald Tusk: STAY
Tusk, the president of the European Council, railed on May 17 against Johnson's invocation of Hitler, calling it "absurd."
EU remains most effective firewall against conflicts in Europe. Alternative is political chaos, national egoism & anti-democratic tendencies

— Donald Tusk (@eucopresident) May 17, 2016
U.S. President Barack Obama: STAY
The American president has, quite controversially, weighed in on Britain's upcoming vote. Obama's view: "The U.K. is at its best when it's helping to lead a strong European Union. It leverages U.K. power to be part of the EU. I don't think the EU moderates British influence in the world, it magnifies it." He added that even if Britons voted to leave the bloc, it wouldn't alter the "special relationship" between the two countries, even if it pushed the U.K. to "the back of the queue" on trade deals with the U.S.
Donald Trump: GO
The presumptive Republican presidential nominee said in an interview that aired May 16 that if he were British he would probably vote to leave. Trump also called the EU "very bureaucratic and very difficult" and a "disaster."
---
Economic Warnings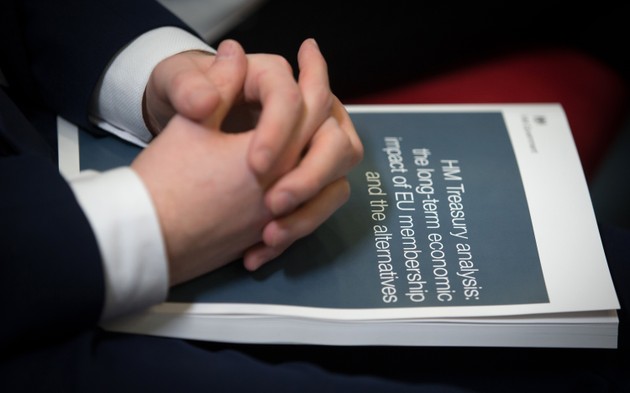 U.S. Federal Reserve: Janet Yellen, the chair of the central bank, told congressional lawmakers on June 21 that an exit  could have "significant economic repercussions" that would result in "a period of uncertainty both for the United Kingdom and for the future of European economic integration."
World Trade Organization: Roberto Azevedo, the head of the WTO, said in an interview published Wednesday by the Financial Times that leaving the EU would cost Britons an extra $13.2 billion in import tariffs. "Pretty much all of the U.K.'s trade [with the world] would somehow have to be negotiated," he said. Full interview here.
Institute for Fiscal Studies: The nonpartisan think tank has warned that Britain could face two more years of austerity measures if it votes to leave the EU.  Those steps were introduced as Britain emerged from the global economic recession. Here's an excerpt:
In the short run, our estimates therefore suggest that the overall effect of Brexit would be to damage the public finances. On the basis of estimates by NIESR, the effect could be between £20 billion and £40 billion in 2019–20, more than enough to wipe out the planned surplus. In the long run, lower GDP would likely mean lower cash levels of public spending.
OECD:
The Organization for Economic Cooperation and Development, the club of 34 mostly rich countries, warned Britain against leaving the EU.
International Monetary Fund:
The IMF said in mid-May that Brexit could hurt both the U.K. and Europe. Christine Lagarde, the IMF's managing director, said the impact on Britain's economy could range from "pretty bad to very, very bad."
Bank of England:
Mark Carney, the bank's governor, warned May 12 that the consequences of Britain's exit from the EU "could possibly include a technical recession."
Business leaders:
The private sector has come down on both sides of the issue. Large British companies and transnational corporations have warned against a vote to leave. But in a letter published in mid-May in The Telegraph, more than 300 other industry leaders said the EU's bureaucracy hurt Britain's competitiveness.  "Brussels' red tape stifles every one of Britain's 5.4 million businesses, even though only a small minority actually trade with the EU," they wrote, adding: "It's time to vote leave and take back control." But on June 20, three days before the vote, the heads of some of the U.K.'s biggest business figures and institutions, including Richard Branson and the Premier League, urged a vote to remain.