The World's Most Prolific Terrorists: The Taliban
The group committed more attacks than ISIS in 2015. But Islamic State strikes were deadlier.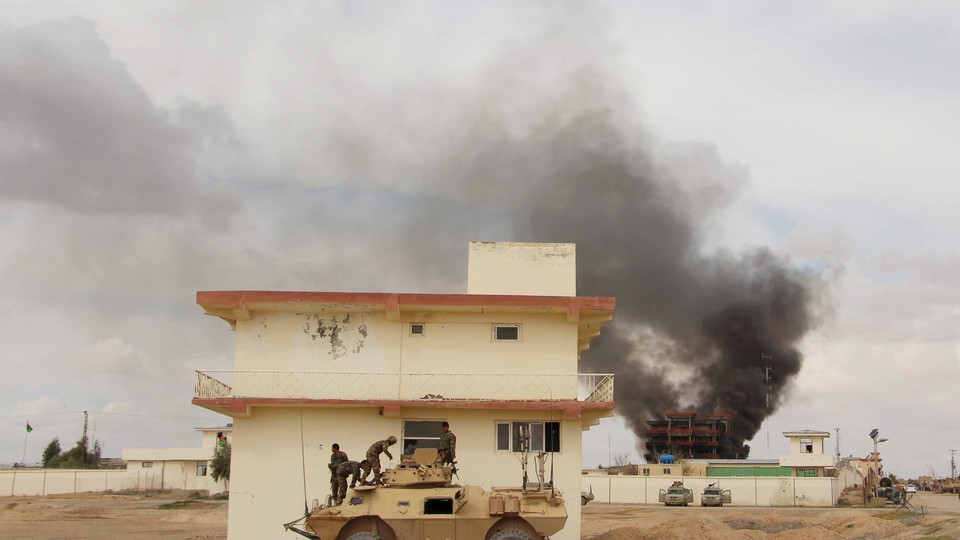 On Thursday, the U.S. State Department published its Country Reports on Terrorism: 2015—a congressionally mandated analytical and statistical review of global terrorism. It is important to understand how the U.S. government defines this subjective phenomenon: "The term 'terrorism' means premeditated, politically motivated violence perpetrated against noncombatant targets by subnational groups or clandestine agents."
Based upon my initial reading, there are five significant findings that stand out from the latest report.
There was an overall decrease in global terrorism. Reversing trends that had been established in recent years, there was a decrease between 2014 and 2015 in total attacks, from 13,463 to 11,774, and total fatalities, from 32,727 to 28,328. There was also a slight decline in the number of countries where attacks took place, from 95 to 92. However, to keep this slight decrease in perspective, it still represents a remarkable growth of 215 percent over the past five years—during President Obama's first full year in office, in 2010, there were 13,186 individuals killed by terrorists around the world.
Terrorism continued to be a phenomenon that is clustered in a handful of countries. In both the 2014 and 2015 reports, just over half of all attacks took place in five countries (Iraq, Pakistan, Afghanistan, India, and Nigeria), and three-quarters of all fatalities in five as well (Iraq, Nigeria, Afghanistan, Pakistan, Syria). Unsurprisingly, terrorism remains the preferred tactic of relatively weaker non-state actors who believe they can achieve their political objectives through violence.
There has been a slight change in the perpetrators responsible for the most attacks. The Taliban replaced the self-proclaimed Islamic State as the number-one global perpetrator for terrorism attacks, with 1,093, which represents an alarming increase of 69 percent since 2013. Meanwhile, the Islamic State replaced the Boko Haram as being responsible for the most fatalities, having killed 6,050 people in 2015, versus 5,450 for the Nigerian-based group. The biggest surprise was the removal of the Somali group al-Shabaab from the top-five list of perpetrators, that outfit having been responsible for the third-most attacks in 2014. The new addition to the 2015 list was the Kurdistan Workers' Party (PKK), which has re-committed to the use of political violence in a significant way, increasing the number of attacks from 47 to 38 and noncombatants killed from 12 to 287.
The annual Country Reports on Terrorism also provides a useful overview of the activities and estimated strength of all 58 groups that have been designated Foreign Terrorist Organizations. The most consequential and troubling revelation is the reach and estimated size of al-Qaeda in the Arabian Peninsula (AQAP). According to the State Department, "AQAP has since consolidated its control over Al Mukalla and has expanded its reach through large portions of Yemen's south," while its size has increased from "approximately 1,000 members" in 2014 to "4,000 members" in 2015. Consistent with recent statements from Pentagon officials, the estimated size of the Islamic State decreased from "between 20,000 and 31,500" to between "19,000 and 25,000." Meanwhile, Boko Haram was the same "several thousand fighters" size, but has "increasingly crossed Nigerian borders to evade pressure and conduct operations."
Finally, terrorism continues to pose an extremely small threat to the United States and its citizens. Between 2014 and 2015, the number of Americans killed by international terrorism decreased from 24 to 19. However, this is still fewer than the average number that have tragically been killed each year since 9/11, 27. The location of international attacks on U.S. citizens increased from six countries to 11, with the new countries being Bangladesh, France, Jordan, Jerusalem, Libya, and Mali. Since many critics of the current president have proclaimed that he has made Americans less safe from terrorists, it's important to understand that (even excluding 9/11), 277 citizens died in terrorist attacks under President Bush, and 109 under President Obama.
---
U.S. Citizens Killed by Terrorism Since 9/11
---
This post appears courtesy of the Council on Foreign Relations.