When Muhammad Ali Was in My Corner
The boxing legend helped secure the release of my brother, an American detained in Iran on a hiking trip.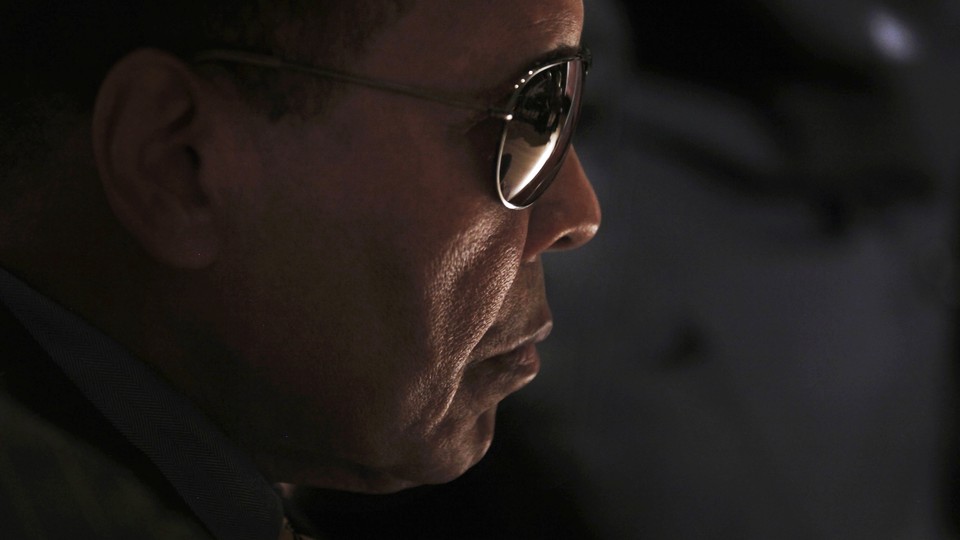 They were very intense days, 781 of them. Days filled with meetings in Washington, from the Oval Office to the suite of the secretary of state, and up and down Capitol Hill and Embassy Row. Days filled by crafting press releases, fielding media requests, and a grueling barrage of news interviews. Days filled with long Skype calls with our Iranian lawyer Masoud Shafii and conference calls with the State Department's Iran desk and consular services, each doing their best to keep us sane and informed enough. We, the families of the three American hikers imprisoned in Iran after wandering up to (if not necessarily across) the Iranian border in 2009, recruited anyone who might influence Iranian leaders to stop treating our loved ones—my brother Josh Fattal, and his friends Shane Bauer and Sarah Shourd—as political pawns.
Now, nearly five years since Josh and Shane were finally released (Sarah had been freed a year earlier), I look back on that period and one night pops out in my memory. In May of 2011, I was sitting on my childhood bed on the third floor of my parents' house in suburban Philadelphia, speaking with Lonnie Ali, Muhammad's wife, on the phone. Lonnie agreed that the time for quiet diplomacy had passed. Eight months earlier, Muhammad had sent a beautiful letter to Iran's Supreme Leader Ayatollah Khamenei, appealing for compassion. I still get choked up when I read it. Ali wrote of the youthful spirit of the hikers, their desire to forge people-to-people connections across political divides, saying, "I was exactly the same way as a young adult. I wanted to get to know people everywhere." In the letter, Ali recalled his two visits to Iran, most recently in 1993, and wrote candidly about his condition:
You may or may not know, that even at the time of my visit [to Iran] I was and still am afflicted with Parkinson's disease. It is a neurological disorder that affects mobility and causes other challenges involving motor movements in the body. My disease has worsened since my last visit to Iran to the point I don't travel as much and find it hard to walk with balance and speak clearly. Sometimes I cannot speak at all. I am not discouraged because I know everything is part of Allah's plan and am happy to do Allah's bidding while I am here on earth.

My life has been spent trying to help those who are in need all over the world. Allah blessed me with celebrity to help those who could not and cannot help themselves. I am not able to do as much as I used to but I still try to do what I can, where I can, to the extent I am able.
Ali had opened the letter reflecting wistfully on his two trips to Iran, and ended the correspondence by writing, "Insha'Allah, one day before I die, my eyes will once again watch the sun set in Tehran."
As with so many of the letters we sent to Iranian officials, there was no response.
That night as I spoke with Lonnie from my old bedroom with its posters of sports heroes from the 1990s, she said that she and her husband had discussed the matter and agreed that it was time to take the gloves off. They would participate in a press conference we had organized in Washington, D.C., with senior Muslim leaders from across North America to make the case that continuing to hold Josh and Shane went against Islamic principles of mercy and compassion, and to call for their immediate release. Although by then there had been many public appeals by many public figures calling for the same thing, this press conference would show a united front among the Muslim community of North America—and, we hoped, would have a unique resonance in Tehran. I was excited; the world would soon know that we had Ali in our corner. As John Limbert, an Iran expert and former hostage during the Iranian takeover of the U.S. Embassy in Tehran in 1979, told our families: "Iran does not respond to pressure. Iran only responds to a lot of pressure." The moral voice of Muhammad Ali and the media echo that followed would be a a lot of pressure. I thanked Lonnie profusely. She said, "As Muslims it's our duty. We believe that if you have to ask, it's already too late." I promised I would handle the logistics.
But the press conference was only days away and there were no first-class seats on direct flights from Phoenix, where the Alis lived, to D.C. that could accommodate Muhammad's condition. I spent the next three hours calling airlines trying to explain the situation with the hope that some accommodating manager or executive might find a creative solution. Corporate airlines evinced none of the Alis' compassion. I myself was on the third day of a hunger strike, my leg of a rolling fast that the Josh and Shane's families had undertaken to protest their continued detention. I began to grow despondent.
I had originally managed to bring our case to the attention of Lonnie and Muhammad Ali thanks to a distant connection, via my uncle Fred, to the boxing magnate and promoter Bob Arum, who had worked closely with Ali. Uncle Fred was an environmentalist who had worked with Arum's son John, an environmental lawyer, on green causes in the Pacific Northwest. (It was a tragic irony that John died on a hiking trek in Canada before my brother came home.) In desperation, I called Bob. He and his wife were walking around Vegas, talking to me on the speakerphone. Trying not to sound timid, I told him we needed to fly Muhammad to D.C. on a private jet—both ways.
"Give me a few hours," he said.
One hour later his wife Lovee called to say that all had been arranged.
At the press conference, Lonnie Ali spoke for Muhammad, who sat in a wheelchair by the podium as the families stood shoulder-to-shoulder with Muslim leaders from the U.S. and Canada, and next to the boxing legend who is also, to my mind, one of the greatest humanitarians of the 20th and early 21st centuries.
We were blessed to have tremendous support throughout our campaign for Josh and Shane's freedom. Our allies included a long list of Nobel Laureates, such as Archbishop Desmond Tutu. But as Ali noted in his letter, he had been blessed with celebrity, and of the many public jabs we sent the Iranian government, Ali's was the most potent. After the press conference, the diplomatic process accelerated—after I pressed for Obama to make direct contact with the sultan of Oman, who was acting as a diplomatic go-between, a letter from Obama to the sultan prompted a letter from the sultan to Khamenei, and soon we were hearing rumors that the supreme leader had issued a pardon. It would take all summer and most of September for Iran to figure out the choreography of the release, but Ali's press conference was a turning point. After the press conference, he continued to issue statements, even offering to take the arduous trip to Tehran if it meant he could get Josh and Shane's freedom. He helped create the public conditions for the secret diplomacy that would lead to Josh and Shane's release on September 21, 2011, and ultimately to a historic nuclear agreement with Iran.
Even later in life, even in the throes of Parkinson's disease, Ali glowed with the human spirit. Every time I spoke with Lonnie on the phone, and when I had the opportunity to visit them in their Arizona home, they transmitted a sense of peace in a time of anguish. I can only hope that the Ali family can find such peace now in their loss. I wish them strength, grace, and fortitude—the same qualities they conveyed so generously to our families.