How ISIS Weaponized the Media After Orlando
In the space of minutes, Omar Mateen transformed from an "ordinary" mass shooter into a global terrorist.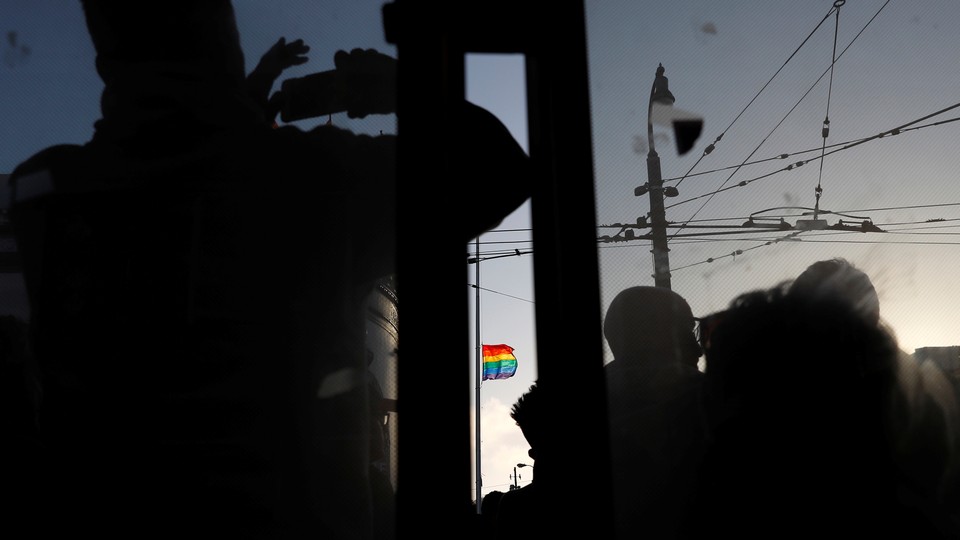 Before Omar Mateen walked into Pulse nightclub and shot 49 of its patrons and staff to death, he was a nobody. In the hours that followed, though, he was catapulted to global infamy. When rumors of his ideological inclination first went public, observers stopped talking about him as if he was an "ordinary" mass shooter and effectively put the full force of ISIS behind him. He stopped being a mere man with a gun and was transformed, via the media and politicians, into a full-fledged ISIS operative, a human manifestation of the group's international menace.
The media frenzy that followed in the wake of those first reports was inevitable and, to an extent, justified. A gunman with pro-ISIS leanings murdering dozens of people in a Florida nightclub deserves to take over the news agenda. Yet there's another sense in which portrayals of the attack—wherein, at least when it first came to light, Mateen's supposed ideological association set the frame—played directly into ISIS's hands. Before the caliphate's media team had even uttered a word, the organization was handed credit for the massacre as reports emerged that the killer had expressed support for it—an act that evokes dark hints of a worldwide conspiracy, even though it requires no genuine ties to the caliphate in Iraq and Syria.
About 12 hours after the gunman's siege on the nightclub was broken, ISIS did eventually say something. It released a one-sentence claim stating that Mateen was an "Islamic State fighter," stopping short of clarifying the extent of his connections to the group. Observers were left asking if he was directed to carry out the massacre by ISIS's external-operations command, egged on by foreign-fighter friends, or merely inspired by its propaganda.
While such distinctions may seem pedantic, they are fundamentally different things representing fundamentally different types of threat and requiring fundamentally different types of responses. The first would suggest that Mateen was a formal operative in contact with—and receiving direct instruction from—the upper echelons of the ISIS caliphate, something that would represent the harshest of indictments upon U.S. intelligence services if it were true. The attacks in Paris and Brussels, in which several of the attackers traveled to Syria and appear to have had links to the Islamic State's leadership, are examples of this kind of affiliation. The second possibility would put Mateen in the ranks of the two men who opened fire outside of a Muhammad cartoon contest in Garland, Texas, last May, who were in contact with low-level jihadis on Twitter but had little going for them in terms of organizational ISIS connections. The last option, that Mateen had no connections to anyone in ISIS but wanted to nevertheless kill dozens of people and dress it up as an act of war, would put the attack more in line with one of the more than 130 mass shootings that have happened in the U.S. in 2016, regardless of how many ISIS fans celebrate it. In short, these nuances matter.
Based on what's emerged so far, it seems most likely that Mateen fell into the last category, and was motivated to kill as much by his hatred for gay men as his love for the caliphate.
Mateen's choice of target doesn't quite add up. There's no denying that ISIS hates homosexuals—indeed, it regularly casts them off the top of tall buildings and films the process. However, when it comes to waging war against the "Crusader enemy," it doesn't really matter to the organization if the victim is gay or straight. In the many calls to arms by Abu Muhammad al-Adnani, the ISIS spokesman, he has never specifically demanded that targets should be chosen on the basis of sexuality: The key criterion is that they are "Crusaders." If anything, that the majority of the dead were gay was, for ISIS, a distraction. As one supporter wrote on Telegram in the wake of the attack, "the shooting in Orlando was NOT a target on homosexuals, they were killed because they were Americans." That Mateen was so bent on targeting a gay club in particular suggests that he could have been led by something other than unbridled ISIS ideology.
The reticence with which ISIS responded to the massacre, and the absence of any further details on its central media outlet, Nashir, also suggest that this was not an operation that had been planned from above. If it was, it would probably be apparent by now. Even though ISIS media outlets have already issued photo essays depicting children celebrating the massacre, as well as an article on the attack in the weekly caliphate newspaper al-Naba, the way ISIS responded to Mateen's actions has been palpably different from its responses in the wake of atrocities in Paris and Brussels. After Orlando, ISIS's official media arms provided minimal information on the attack, or the attacker, and spent little time dwelling on it. In the immediate aftermath of Paris and Brussels, though, there was none of this ambiguity—the caliphate's media team went to much greater lengths to take credit by releasing long audio and written statements in, among other languages, French, English, Arabic, and Turkish.
Of course, if you are Donald Trump, none of this matters. However, the problem is not just the candidate's efforts to capitalize on the massacre. In the media's rush to report on Mateen's seemingly tenuous ISIS connection, there was little time for reflection on the aggregate effect of this coverage—the possibility that, by jumping on the "it's ISIS" bandwagon, each actor was, to varying degrees, allowing itself to be weaponized as an instrument of the caliphate's propaganda of the deed.
This isn't just a concern because it serves the simplistic "us versus them" clash-of-civilizations rubbish that Trump is peddling. It's a concern because this kind of response is precisely what ISIS has always been working toward. The immortalization of Mateen as an ISIS operative meant that, without necessarily lifting a finger, the group was once again able to menace the world—with its adversaries all the while doing most of the legwork.
The Orlando attack was not the first time that ISIS benefited in this way. For another example, take the case of Man Haron Monis, who lay siege to a café in Sydney, Australia, in December 2014. When Monis's pledge of allegiance to ISIS head Abu Bakr al-Baghdadi came to light, the Australian press joined politicians in playing up the supposed connection. This narrative was reinforced a few weeks later when Monis was heralded as one of the caliphate's "mujahidin" in ISIS's English-language magazine, Dabiq. Monis, in this account, was no ordinary man, but an agent of ISIS's universal threat.
As demonstrated in the inquest that followed the siege, though, he was no such thing. A schizophrenic man wracked by delusions of grandeur, Monis spent his life searching for influence. Prior to becoming an "ISIS terrorist," he'd variously described himself as an Iranian intelligence officer and an ayatollah, established a clairvoyant business that doubled as a front for sexual abuse, and been rejected in his attempts to join an outlaw motorcycle gang. His ISIS "allegiance," which was just the latest episode in this quest for attention, was paper-thin—he even brought the wrong flag to his siege.
But these details, which could have put Monis's actions in their rightful context, proved less compelling a narrative than his supposed allegiance to ISIS. So instead, the picture of Monis the global terrorist prevailed.
Now, in the aftermath of the massacre in Orlando, the world faces a similar situation. The picture emerging of Mateen is of a young, confused man with a flimsy understanding of his own motivations. In addition to expressing support for ISIS to a 911 operator, he reeled off a list of influences that had nothing to do with the Islamic State, namedropping, among others, the Tsarnaev brothers, who conducted the 2013 Boston Marathon bombings, and Moner Mohammad Abu Salha, the American that blew himself up in Syria in 2014 as a member of Jabhat al-Nusra, a group ISIS recently referred to as a "criminal gang." And, instead of pledging "allegiance" to the ISIS caliph on Facebook, he announced his "alliance to abu bakr al-Baghdadi," using all the wrong honorifics. His ideological incoherence went beyond confused salafi-jihadism, which is a distinctly Sunni phenomenon. Indeed, just three years ago, he claimed to coworkers that he was a member of the Shia extremist group Hezbollah. This is not the behavior of an ISIS ideologue.
Continued scrutiny of conflicts like these in Mateen's personality is crucial; otherwise, the act of terrorism lives on. Portraying self-starters as calculating, zealous operatives instead of the muddled individuals that they often are only magnifies the impact of their attacks and incentivizes copycats. Crude political rhetoric, exacerbated by certain types of media coverage, feeds this vicious cycle.
In the war against ISIS, nuance is everything. Even if its insurgency is flagging in Libya, Syria, and Iraq, its terrorism is not going anywhere. If the response to it continues to be characterized by hype and inflammatory ignorance, we are only encouraging ISIS's efforts to stage attacks like the one in Paris and inspire more massacres like that in Orlando.