The Search for EgyptAir Flight 804
Investigators say a French vessel looking for the aircraft has detected a signal from one of the data recorders.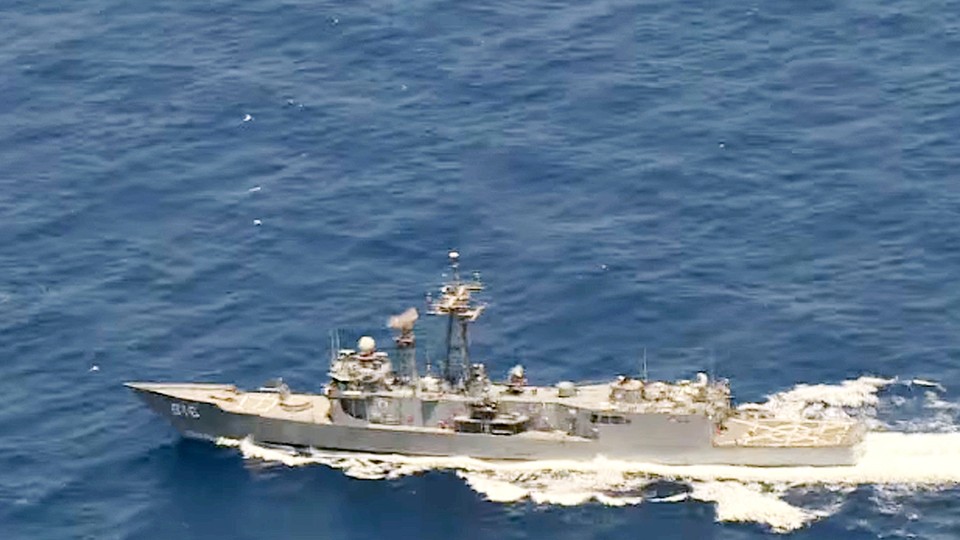 What we know so far:
—Egyptian and French investigators say a French vessel looking for the aircraft has detected a signal from one of the data recorders.
—Egypt's military says parts of wreckage of EgyptAir Flight MS804 were found in the Mediterranean, some 180 miles north of Alexandria.
—The Airbus A320, which "disappeared from radar" May 19, had been flying from Paris to Cairo with 66 people on board.
—The cause of the crash is unclear.
---
Updated on June 1 at 1:37 p.m.
Egyptian and French investigators say a French vessel in the Mediterranean has detected a signal from one of the data recorders belonging to EgyptAir Flight 804.
"The signal from a beacon from a flight recorder has been detected," said Remi Jouty of France's Bureau of Investigations and Analysis (BEA). Egyptian officials had previously announced that the French vessel La Place had detected the signal.
The flight data recorder and the cockpit voice recorder—together informally called the black boxes—could provide clues to what caused the Airbus A320 to crash on May 19. The initial speculation was that a terrorist attack downed the plane, but no group has claimed responsibility for the act—a rarity as terrorist groups often compete with each other to claim responsibility.
---
Updated on May 21 at 12:36 p.m.
The Egyptian military released pictures Saturday morning of the wreckage and debris found so far, which includes "an uninflated life vest, a seat, a purse, shoes, carpet, a scarf, parts of chairs and cushions, and a sling bag," CNN reports. "The EgyptAir label appeared on one piece of wreckage."
Egyptian officials also said their U.S., British, and Russian counterparts have offered assistance in locating the flight data recorder and cockpit voice recorder.
---
Updated on May 20 at 5:21 p.m.
Aviation Herald, an aviation-related website, is reporting there was smoke aboard the plane—but it's not yet clear what caused that smoke or whether that development had anything to do with the plane's eventual fate. The website based its reporting on data from the Aircraft Communications Addressing and Reporting System (ACARS), which transmits data from a plane to the ground. The messages relayed from the plane spanned minutes.
Here's more from Aviation Herald:
On May 20th 2016 The Aviation Herald received information from three independent channels, that ACARS (Aircraft Communications Addressing and Reporting System) messages with following content were received from the aircraft:

00:26Z 3044 ANTI ICE R WINDOW
00:26Z 561200 R SLIDING WINDOW SENSOR
00:26Z 2600 SMOKE LAVATORY SMOKE
00:27Z 2600 AVIONICS SMOKE
00:28Z 561100 R FIXED WINDOW SENSOR
00:29Z 2200 AUTO FLT FCU 2 FAULT
00:29Z 2700 F/CTL SEC 3 FAULT
no further ACARS messages were received
---
12:37 p.m.
EgyptAir says body parts, aircraft seats, and luggage has been found.
EGYPTAIR Official said that Egyptian Military and Marine Forces have discovered more debris /1

— EGYPTAIR (@EGYPTAIR) May 20, 2016
passengers' belongings, body parts, luggage, and aircraft seats. Search is still in progress. /2

— EGYPTAIR (@EGYPTAIR) May 20, 2016
---
10:01 a.m. ET
At a news conference in Athens, Panos Kammenos, Greece's defense minister, said Egyptian authorities had informed their Greek counterparts that "a body part, two seats and one or more items of luggage where found in the search area."
He said the items were found in an area slightly south of where the aircraft vanished from radar. That area is a particularly tricky part of the Mediterranean to search:
---
Updated on May 20 at 5:48 a.m. ET
The Egyptian military says it has found parts of the wreckage from the missing EgyptAir flight that vanished off radar Thursday in the Mediterranean, about 180 miles north of Alexandria.
Here's the military statement:
Egyptian airplanes and naval vessels were able to find on Friday some passengers' belongings as well as parts of the plane debris.
The military said the search operating was now also focused on finding the plane's black box.
The Egyptian Armed Forces have informed EGYPTAIR that they have found first debris from the missing aircraft operating flight MS804 #MS804

— EGYPTAIR (@EGYPTAIR) May 20, 2016
---
Thursday's coverage
3:40 p.m. ET
EgyptAir first said that it did not know whether the debris seen in the Mediterranean belonged  to the plane. It then Greek officials had said the debris, in fact, did belong to the missing EgyptAir flight. Now, unnamed Greek officials  are telling news organizations the wreckage is not from the plane.
Senior Greek air safety official says debris found so far in the Mediterranean Sea does not belong to aircraft. https://t.co/n8O35O7bJ8

— The Associated Press (@AP) May 19, 2016
EgyptAir later said the debris seen in the Mediterranean was, in fact, not from the missing plane.
In Washington, John Kirby, the U.S. State Department spokesman, said it's premature to speculate on what caused the crash. At the U.S. Defense Department, Peter Cook, the spokesman, said a P3 aircraft belonging to the U.S. Navy is helping with search and recovery efforts in the Mediterranean.
---
1:02 p.m. ET
EgyptAir now says Greek authorities have found debris near the island of Karpathios, including apparent aircraft parts. Here's more from the airline's statement on Facebook:
CNN, meanwhile, is quoting Ahmed Adel, EgyptAir's vice president, as saying: "We have found the wreckage."
---
12:49 p.m. ET
EgyptAir says it cannot confirm that debris from the plane has been located:
With reference to the information aired by several TV channels about finding wreckage of the missing Egyptian aircraft /1

— EGYPTAIR (@EGYPTAIR) May 19, 2016
EGYPTAIR has contacted the concerned authorities which did not confirm this information. /2

— EGYPTAIR (@EGYPTAIR) May 19, 2016
---
10:33 a.m. ET
The Greek Civil Aviation Authority has provided a timeline of when the flight was in Greek airspace:
2:24 a.m. local time: The aircraft enters Greek airspace. "It was Radar identified and cleared by the competent Air Traffic Controller for the flight path."
2:48 a.m. local time: The flight was transferred to the next area and was cleared by air-traffic control for exit from Greek airspace. "The pilot was jocund and thanked in Greek."
3:27 a.m. local time: Greek aviation authorities tried to communicate with the flight in order to transfer communication and control from Greek to Egyptian officials.
Despite the repetitive calls, the flight did not respond and thus the Air Traffic Controller called on the emergency frequency without response.

At 03:29 am local time the flight was over the boundary point, between ATHINAI and CAIRO FIRs [Flight Information Region].

At 03:29:40 am local time the flight signal was lost from radar, almost 7 NM south/southeast from KUMBI point (boundary point, between ATHINAI and CAIRO FIRs), within Cairo FIR.

Immediate assistance of the Hellenic Air Force radars was requested for possible target tracking, with no avail.

At 03:45 am local time Search and Rescue (SAR) operations were activated through JRCC (Joint Rescue Coordination Center), NAOP (National Air Operations Center)and ADIC (Air Defense Information Center), while updating the Egyptian Civil Aviation Authorities.
---
10:00 a.m. ET
Egyptian Civil Aviation Minister Sherif Fathy says "the possibility of having a terror attack is higher than the possibility … a technical problem"  caused the plane to crash.
Separately, Greek state TV reported that debris had been spotted in the Mediterranean, but the objects were nowhere near the area where it is thought to have gone down.
Missing #EgyptAir aircraft debris found south of greek island of Karpathos in southern Mediterranean - greek state tv

— ReutersAerospaceNews (@ReutersAero) May 19, 2016
---
07:51 a.m. ET
Sherif Fathy, Egypt's civil-aviation minister, says while he will not deny the EgyptAir Flight MS804 might have crashed, authorities are not ruling out other possibilities, and, for now, he will refer to the aircraft as "lost."
"We haven't located the plane yet," he said at a news conference.
---
06:29 a.m. ET
French President Francois Hollande says EgyptAir Flight MS804 likely crashed into the Mediterranean.
"The information we have gathered—ministers, members of government and, of course, the Egyptian authorities—confirm, sadly, that it has crashed," he said at a televised news conference. "It is lost."
And, he added, no hypothesis has been ruled out in why the plane went down.
Earlier, speaking to reporters at Cairo airport, Sherif Ismail, the Egyptian prime minister said: "The search operation for the aeroplane is currently under way in the area where it is thought to have disappeared when communication was lost."
And, at a news conference in Athens, Greek Defense Minister Panos Kammenos said the plane made "sudden swerves" and plunged from 37,000 feet to 15,000 feet before it vanished over the Mediterranean.
Here are his remarks from a news conference:
At 3:39 a.m., the course of the aircraft was south and southeast of Kassos and Karpathos. Immediately after, it entered Cairo FIR (flight information region) and made swerves and a descent I describe: 90 degrees left and then 360 degrees to the right.
---
05:36 a.m. ET
A Greek military C-130 aircraft and an EMB-145 H early-warning aircraft have  been deployed to the Mediterranean Sea to search for EgyptAir Flight MS804, which "disappeared from radar" early Thursday morning, the Greek Embassy in London said.
Other aircraft are also on their way, the announcement said.
Greece participates in the rescue operation underway in the sea region 130 nautical miles southeast of Karpathos,... https://t.co/PBrbiyjXSA

— Greek Embassy UK (@GreeceinUK) May 19, 2016
The reason for the plane's disappearance is as yet unclear, though Airbus, the aircraft's manufacturer, said it had been "lost."
---
Updated at 1:42 a.m. on May 19
EgyptAir Flight MS804 from Paris to Cairo "disappeared from radar" on early Thursday morning, the airline said.
An informed source at EGYPTAIR stated that Flight no MS804,which departed Paris at 23:09 (CEST),heading to Cairo has disappeared from radar.

— EGYPTAIR (@EGYPTAIR) May 19, 2016
56 passengers, seven crew members, and three EgyptAir security personnel were aboard the Airbus A320 airliner when it vanished from radar, according to the airline. Among the passengers are a child and two infants.
Flight MS804 departed Charles de Gaulle Airport in Paris late Wednesday night at 11:09 p.m. local time and was scheduled to land at Cairo International Airport at 3:05 a.m. local time.
According to EgyptAir, the flight disappeared from radar about 10 miles inside Egyptian airspace at about 2:45 a.m. Cairo time. The airline said the plane was flying at 37,000 feet when contact was lost.
FlightAware, a website that tracks aircraft radar signals, showed Flight MS804's last position about midway between the Turkish and Egyptian coasts over the eastern Mediterranean Sea.
According to the manifest, the passengers included 30 Egyptians, 15 French nationals, 2 Iraqis, and one citizen each from Algeria, Canada, Chad, Kuwait, Portugal, Saudi Arabia, Sudan, and the United Kingdom.
The Egyptian Navy has deployed search-and-rescue teams towards the flight's last known position, EgyptAir said.
We'll update this story with additional details when they become available.