Paris to London's Businesses: If Brexit Happens, Come Here
French business leaders look to grab a share of British finance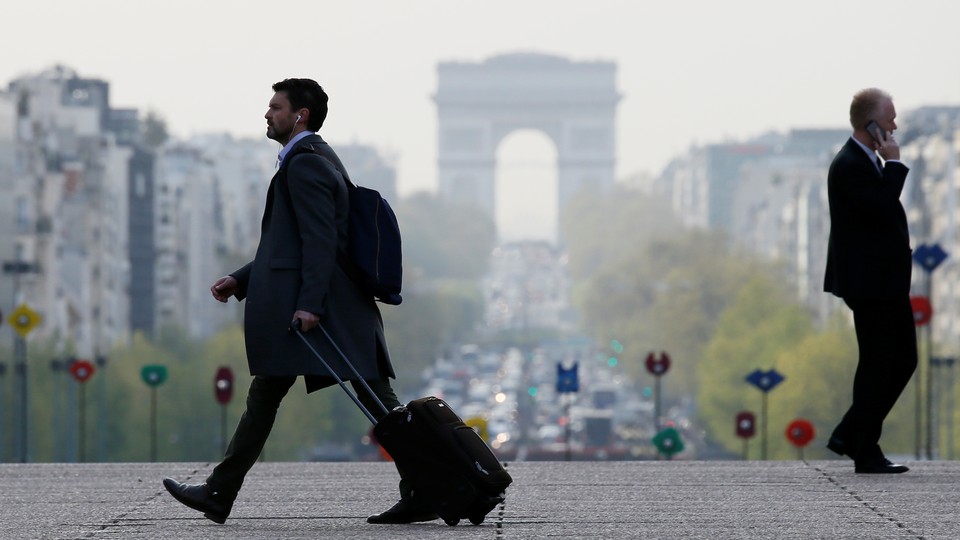 If Britain leaves the EU, then come to us. That's the message coming this week from Paris, where a group of Parisian politicians and finance experts gathered to announce plans to grab a share of London's finance business should the United Kingdom vote this month the leave the Union. The U.K.'s referendum on Brexit looms on June 23, and the result looks very close indeed. Some in Paris know this, and they're standing in the wings waiting to attract any post-Brexit London exiles. As Paris Deputy Mayor Jean-Louis Missika put it: "We are rolling out the red carpet."
They aren't really, though—at least, not yet. What happened Wednesday was really Greater Paris's political and business leaders waving to the international press to remind them of their existence, rather than the announcement of any new policies. And while no one in Paris actually said they want Brexit to happen, the tone of comments was nonetheless somewhat tart.
"Britain can't blackmail Europe forever without giving an answer at some point or other," said Patrick Devedjian, president of the Hauts-de-Seine department where Greater Paris's La Défense business district is located. The CEO of trans-European stock exchange Euronext described London's domination of European finance as an "offshore anomaly," while the director of financial services company Societé Générale said, "We need to be completely clear—we are indeed in a position to challenge [London]."
But will the scenario Paris is preparing for actually happen? Right now, the polls predicting the U.K.'s June 23 referendum are in a dead heat. Britain's "Leave" and "Remain" camps have been more or less neck and neck throughout the referendum campaign, but as of three days ago, The Economist's Brexit Poll Tracker had the pro-leave camp ahead by just one percentage point. Already, some companies are saying they will cut jobs in London and relocate staff elsewhere if Brexit happens—notably HSBC bank, which said it would shift 1,000 jobs across the Channel to Paris.
It's highly likely that other companies would follow suit, but it's currently not possible to say how many. That's because British voters are being asked to make a decision about leaving the EU without any clear answer as to what the U.K.'s subsequent relationship with the union will look like if Britain gives up membership.
Would Britain follow the model of non-EU member Norway, which contributes substantial funds to the union and thus gains tariff-free access to the European Economic Area? This would lessen the necessity for companies to relocate, but it would mean paying into the EU without having a say in its decisions—the proverbial taxation without representation—and mean the U.K. would still need to follow the great majority of EU regulations.
Alternatively, Britain might sever all payments into EU funds, achieving greater sovereignty. This would mean losing tariff-free access to its largest market, one side effect of which would surely be many London-based European operations relocating to cities still within the EU. Brexiteers have tended to fudge questions like these, preferring instead to invoke Hitler, or focus on issues like immigration (though even here their approach is somewhat incoherent).
If Brexit provoked a stampede from London, Paris would still have to compete with other cities such as Frankfurt, Dublin, and Amsterdam also eyeing their share of London exiles. But even if the U.K. votes to remain in the EU, the uncertainty the referendum has created may still be to the advantage of other EU cities. As often happens when political change is afoot, the markets have got the jitters and investors are already moving billions out of the U.K. Some form of recession is forecast if the U.K. votes to leave, the question is how low things will go. London may increasingly look like a city detached from its continent—or at least be portrayed that way by rivals. As Valérie Pécresse, president of the Île-de-France region within which Greater Paris is located, put it on Wednesday:
The sensible choice [for businesses] is not to stay in a land that could leave Europe one day, but to make a choice to invest long term in a land that will always stay in Europe.
---
This post appears courtesy of Citylab.