Why Britain Left
The June 23 vote represents a huge popular rebellion against a future in which British people feel increasingly crowded within—and even crowded out of—their own country.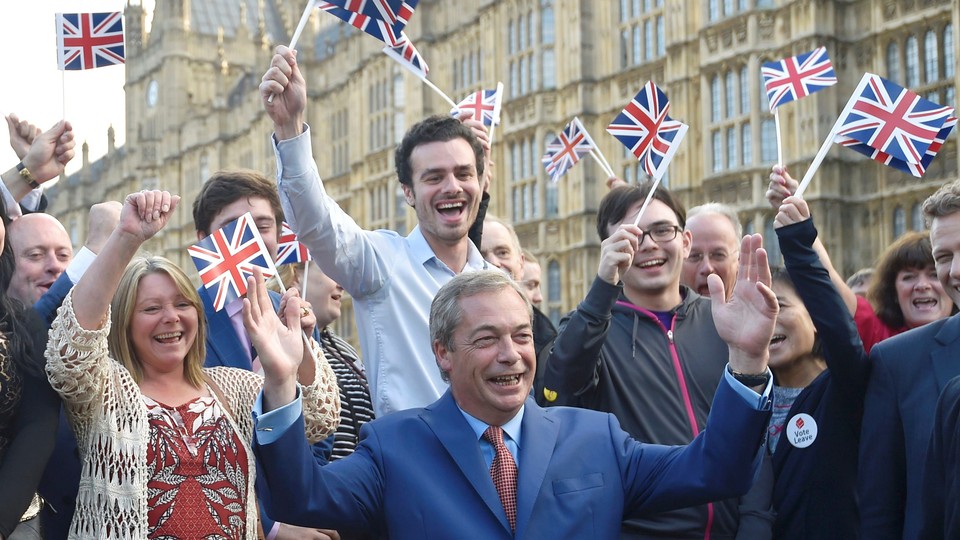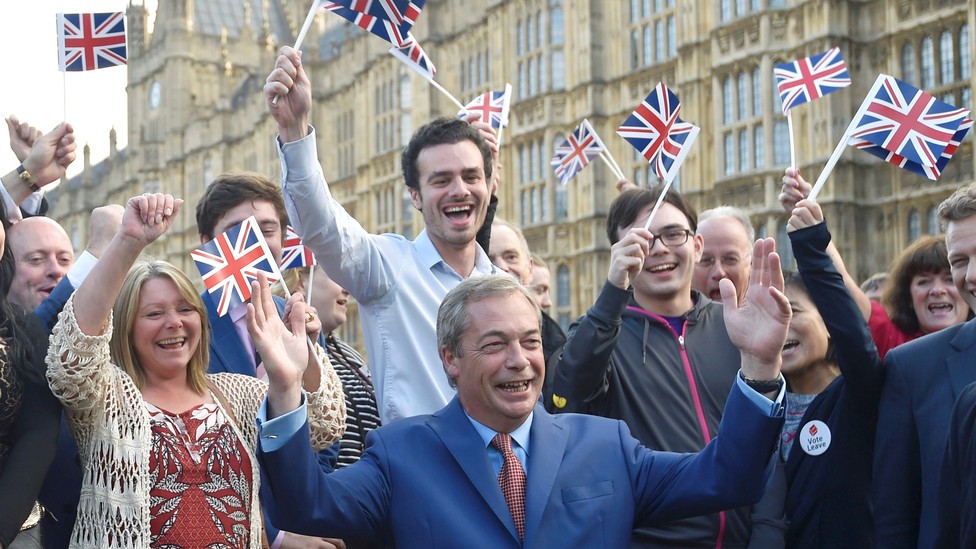 I said goodnight to a gloomy party of Leave-minded Londoners a few minutes after midnight. The paper ballots were still being counted by hand. Only the British overseas territory of Gibraltar had reported final results. Yet the assumption of a Remain victory filled the room—and depressed my hosts. One important journalist had received a detailed briefing earlier that evening of the results of the government's exit polling: 57 percent for Remain.
The polling industry will be one victim of the Brexit vote. A few days before the vote, I met with a pollster who had departed from the cheap and dirty methods of his peers to perform a much more costly survey for a major financial firm. His results showed a comfortable margin for Remain. Ten days later, anyone who heeded his expensive advice suffered the biggest percentage losses since the 2008 financial crisis.
But there will be other casualties too, of course. Prime Minister David Cameron has resigned. It seems improbable that Jeremy Corbyn, the hapless old radical who bumbled into the leadership of the Labour Party, can long outlast him. In the opening hour of trading on Friday morning, 120 billion pounds of stock market value evaporated. EU nationals working in the United Kingdom must wonder how long they can stay, and so must British retirees now enjoying the sun of Spain, Italy, and southern France. Will London's overheated property market come off the boil? What's the future of the vast industry that finances and insures the commerce of the European continent?
For Americans, there are other questions. The U.S. government has long favored Britain-in-Europe, both because the U.K.-EU single market speeds U.S. business on the continent, and because U.S. policymakers have long worried about the statism and anti-Americanism likely to prevail in an EU from which Britain is absent. "I think Europe is strengthened by Britain's participation. I think our overall Western world economic strength is likewise improved and strengthened by Britain's participation." So said President Gerald Ford on the eve of the 1975 British referendum on entry into the EU, and his words could have been repeated by any or all of his successors.
But here's a domestic question for American leaders and thinkers.
The force that turned Britain away from the European Union was the greatest mass migration since perhaps the Anglo-Saxon invasion. 630,000 foreign nationals settled in Britain in the single year 2015. Britain's population has grown from 57 million in 1990 to 65 million in 2015, despite a native birth rate that's now below replacement. On Britain's present course, the population would top 70 million within another decade, half of that growth immigration-driven.
British population growth is not generally perceived to benefit British-born people. Migration stresses schools, hospitals, and above all, housing. The median house price in London already amounts to 12 times the median local salary. Rich migrants outbid British buyers for the best properties; poor migrants are willing to crowd more densely into a dwelling than British-born people are accustomed to tolerating.
This migration has been driven both by British membership in the European Union and by Britain's own policy: The flow of immigration to the U.K. is almost exactly evenly divided between EU and non-EU immigration. And more is to come, from both sources: Much of the huge surge of Middle Eastern and North African migrants to continental Europe since 2013 seems certain to arrive in Britain; as Prime Minister David Cameron likes to point out, Britain has created more jobs since 2010 than all the rest of the EU combined.
The June 23 vote represents a huge popular rebellion against a future in which British people feel increasingly crowded within—and even crowded out of—their own country: More than 200,000 British-born people leave the U.K. every year for brighter futures abroad, in Australia above all, the United States in second place.
Now the American question:
By uncanny coincidence, EU referendum day in the U.K. coincided with the U.S. Supreme Court decision that halts President Obama's program of executive amnesty for young illegal immigrants and their parents, an estimated 5 million people. American policymakers—like their U.K. and EU counterparts—have taken for granted that an open global economy implies (and even requires) the mass migration of people. Yet this same mass migration is generating populist, nativist reactions that threaten that same open economy: The anti-EU vote in the U.K., the Donald Trump campaign for president in the United States.
Is it possible that leaders and elites had it all wrong? If they're to save the open global economy, maybe they need to protect their populations better against globalization's most unwelcome consequences—of which mass migration is the very least welcome of them all?
If any one person drove the United Kingdom out of the European Union, it was Angela Merkel, and her impulsive solo decision in the summer of 2015 to throw open Germany—and then all Europe—to 1.1 million Middle Eastern and North African migrants, with uncountable millions more to come. Merkel's catastrophically negative example is one that perhaps should be avoided by U.S. politicians who seek to avert Trump-style populism in the United States. Instead, the politician who most directly opposes Donald Trump—presumptive Democratic nominee Hillary Clinton—is doubling down on Merkelism.
Hillary Clinton's first reaction to the Supreme Court decision on executive amnesty looks at the issue exclusively and entirely from the point of view of the migrants themselves: "Today's heartbreaking #SCOTUS immigration ruling could tear apart 5 million families facing deportation. We must do better." That U.S. citizens might have different interests—and that it is the interests of citizens that deserve the highest attention of officials elected by those citizens—went unsaid and apparently unconsidered. But somebody is considering it. And those somebodies, in their many millions, are being heard from this year: loud, clear, and angry.