Convictions in the Ugandan World Cup Bombing Trial
Seven men were found guilty of the 2010 attacks that killed 74 people.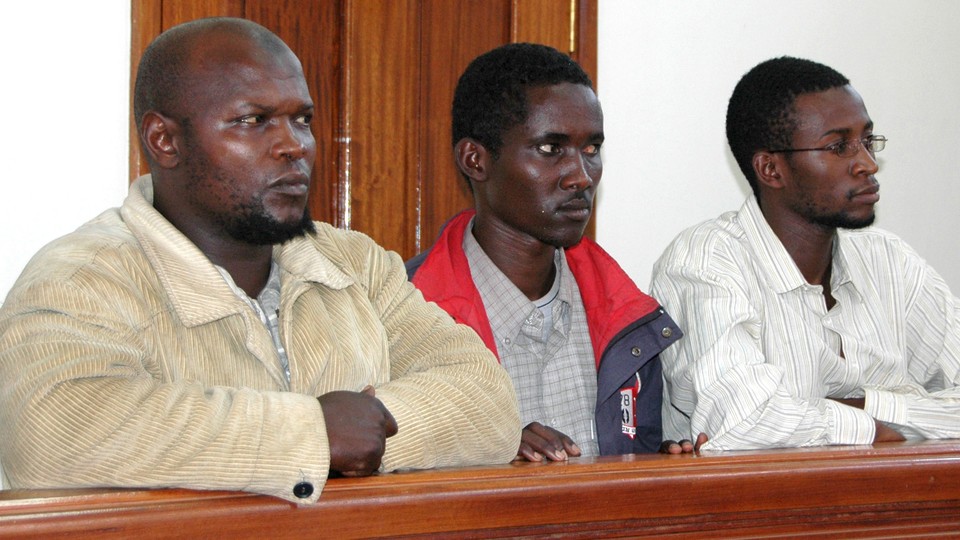 A Ugandan high court judge found on Thursday seven men, including the accused mastermind, guilty of terrorism for the twin bombings that targeted crowds watching the 2010 soccer World Cup in Kampala, the country's capital. The attacks killed 74 people and wounded 80 others.
In all 13 men had faced charges related to the attacks claimed by Al-Shabab; all were cleared of charges of belonging to a terrorist group because in 2010 Uganda didn't recognize al-Shabab as one. Among those convicted was Isa Ahmed Luyima, a Ugandan, who prosecutors said was the mastermind of the attack on a rugby club and Ethiopian restaurant.
The BBC has a breakdown of the verdicts:
Seven people on trial in Uganda for the twin 2010 World Cup bombings have been found guilty of terrorism,76 counts of murder and attempted murder
Five people have been acquitted of those charges—and Dr Kalule Suleiman has also been acquitted of an extra charge of aiding and abetting terrorism
Another man, Muzafar Luyima, who was facing charges of an accessory to terrorism after the fact has also been acquitted.
In total there are seven guilty verdicts and six acquittals.
Thursday's verdicts come after delays prolonged by accusations that security agents kidnapped and tortured some of the men on trial. The BBC reported the convictions are among the first of al-Shabab suspects outside Somalia, where the group operates.
Uganda is the largest contributor of troops to the African Union force that fights al-Shabab in Somalia.