Why American Sanctions on Burma Are Easing
The Southeast Asian country has transitioned to a democracy, but the military is still powerful—and some U.S. sanctions will stay in place.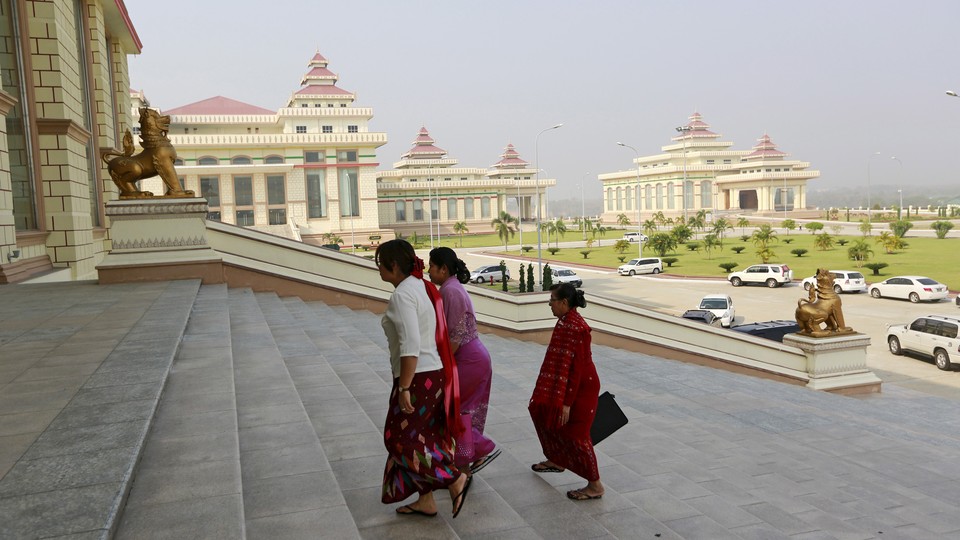 Following Burma's historic elections last November and the transition of power away from the military to a new ruling party in April, the United States is ready to start lifting sanctions against the Southeast Asian country.
Recognizing Burma's strides toward a democratic government, the Obama administration announced Tuesday it was lifting sanctions on 10 state-run companies and banks in the country that is also known as Myanmar. In April, the party of former political prisoner Aung San Suu Kyi took power. But the military, which ruled for five decades, still has political and economic influence.
Announcing the lifting of sanctions, President Obama said in a statement:
The Government of Burma has made significant progress across a number of important areas since 2011, including the release of over 1,300 political prisoners, a peaceful and competitive election, the signing of a Nationwide Ceasefire Agreement with eight ethnic armed groups, the discharge of hundreds of child soldiers from the military, steps to improve labor standards, and expanding political space for civil society to have a greater voice in shaping issues critical to Burma's future.
The president, however, did say that despite the progress, Burma poses an "extraordinary threat" to U.S. interests and will keep trade and investment restrictions on the military.
U.S. businesses have complained there hasn't been enough room to invest in Burma because of sanctions. As the Associated Press reports:
Although several major U.S. firms like Coca-Cola, General Electric, Chevron and Caterpillar are now operating in Myanmar, U.S. investment of $248 million represents less than 1 percent of total foreign investment there, a much lower proportion than in other Southeast Asian countries.
Further, the AP reports there are still concerns among U.S. lawmakers and humanitarians that ethnic minorities will continue to be targeted in the country.