Russia and Ukraine Swap Prisoners
Nadiya Savchenko, the captured Ukrainian air-force pilot, has been freed in exchange for two Russians.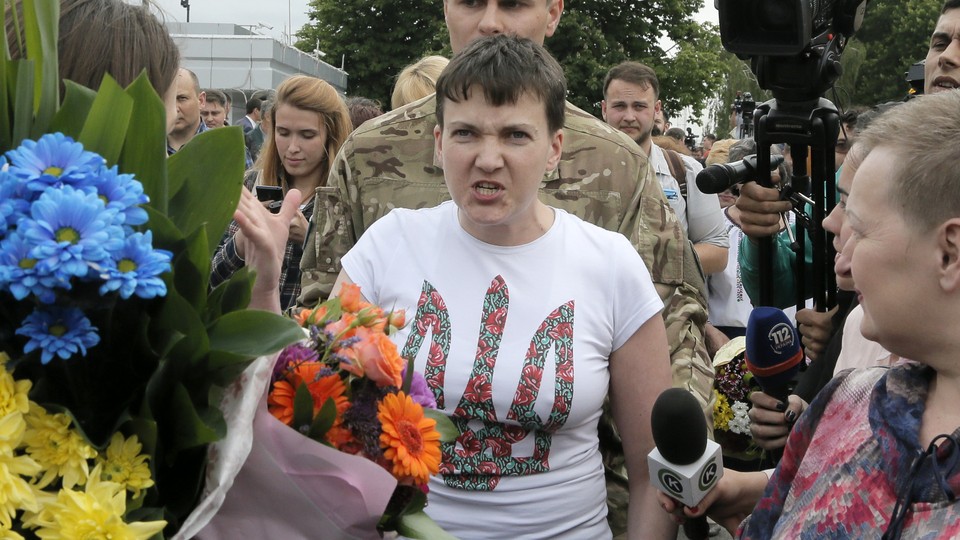 Updated on May 25 at 11:33 a.m. ET
Nadiya Savchenko, the Ukrainian air-force pilot captured by Russian-backed rebels in eastern Ukraine in 2014 and sentenced to 22 years in prison in Russia, has been freed in exchange for two Russians held by Ukraine, officials from both countries announced.
"I am free," Savchenko said upon arriving in Kiev, the Ukrainian capital, aboard President Petro Poroshenko's plane.
Russian President Vladimir Putin announced that he had pardoned Savchenko after meeting with the families of Yevgeny Yerofeyev and Alexander Alexandrov, the two Russians for whom she was exchanged. Poroshenko, in turn, pardoned the Russians, who had been sentenced last month to 14 years in prison on charges of terrorism in eastern Ukraine.
Savchenko was captured in June 2014 during a clash between Ukrainian government forces and separatists in Luhansk. She was found guilty in March in the deaths of two Russian journalists who were killed by artillery fire.
Savchenko had denied the charges against her, as had Yerofeyev and Alexandrov.
As my colleague Marina Koren previously reported, Savchenko is the first woman to graduate from the Ukraine's Air Force University in 2009, and has become a national hero following her capture and conviction.