Turkey's New Prime Minister
The country's ruling party has elected as leader Binali Yildirim, a longtime Erdogan ally, paving the way for him to replace Ahmet Davutoglu.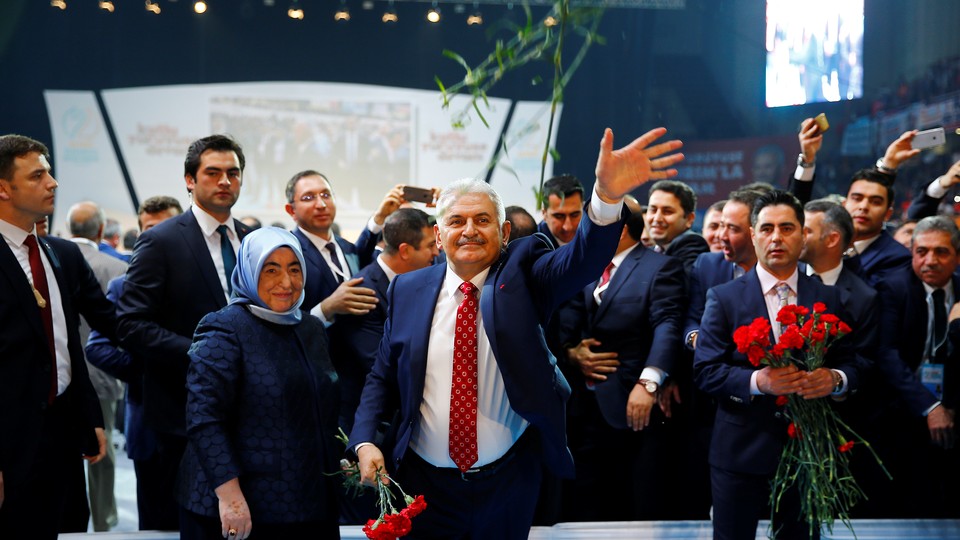 Turkey's governing party has elected an ally of President Recep Tayyip Erdogan as its new leader, allowing him to assume the office of prime minister.
Binali Yildirim, the country's minister of transport, maritime, and communication, received 1,405 out of a total of 1,470 votes at a meeting of the Justice and Development Party, or AKP. Yildirim was the sole candidate for chairman at the special session called after Ahmet Davutoglu announced earlier this month he would not seek re-election.
Yildirim is a longtime ally of Erdogan; in the 1990s, Yildirim ran a high-speed ferry company in Istanbul, where Erdogan was mayor, according to Reuters. He has held his ministerial position since 2002. Davutoglu formally resigned hours after the vote, AP reported. Erdogan is expected to formally ask Yildirim to form a new government later Sunday.
Davutoglu's decision to step down was widely believed to be a result of irreconcilable differences between Davutoglu and the president. Yildirim is expected to support Erdogan in his hopes of transitioning the country to a U.S.-style presidential system. Erdogan's two predecessors held largely ceremonial roles and never chaired a cabinet meeting, which were overseen by prime ministers. But since his election in 2014 Erdogan has absorbed the power of the prime minister's office and has sought constitutional reforms that would extend presidential authority and, to some observers, advance his own political ambitions.
Erdogan and Davutoglu's falling out began over the country's fight against the Kurdistan Workers Party, or the PKK, a separatist group the Turkish government considers a terrorist organization. Government forces and PKK have been engaged in a decades-long armed conflict in the country's southeast, punctuated by several failed cease-fires. The AP's Suzan Fraser and Dominique Soguel recently gave this timeline of the politicians' fraying relationship:
Erdogan lambasted Davutoglu after he spoke of the possibility of resuming peace talks with Kurdish rebels.

The gulf widened over Davutoglu's opposition to the pre-trial detention of journalists accused of spying and academics accused of voicing support for the rebels of the Kurdistan Workers' Party, or PKK. Erdogan spurned his premier and even suggested that anyone deemed to be supportive of extremists should be stripped of citizenship.

But what sealed Davutoglu's demise was his lukewarm support for a powerful presidential system.
Yildirim on Sunday called for a new constitution to recognize Erdogan's expanded role.
"The most important mission we have today is to legalize the de facto situation, to bring to an end this confusion by changing the constitution," he said. "The new constitution will be on an executive presidential system."
He also said "operations will continue without pause" against the PKK.