Another Blow Against Turkish Journalism
Journalists Erdem Gul and Can Dundar were sentenced to prison for revealing state secrets. But that's only after someone tried to kill Dundar outside the courthouse.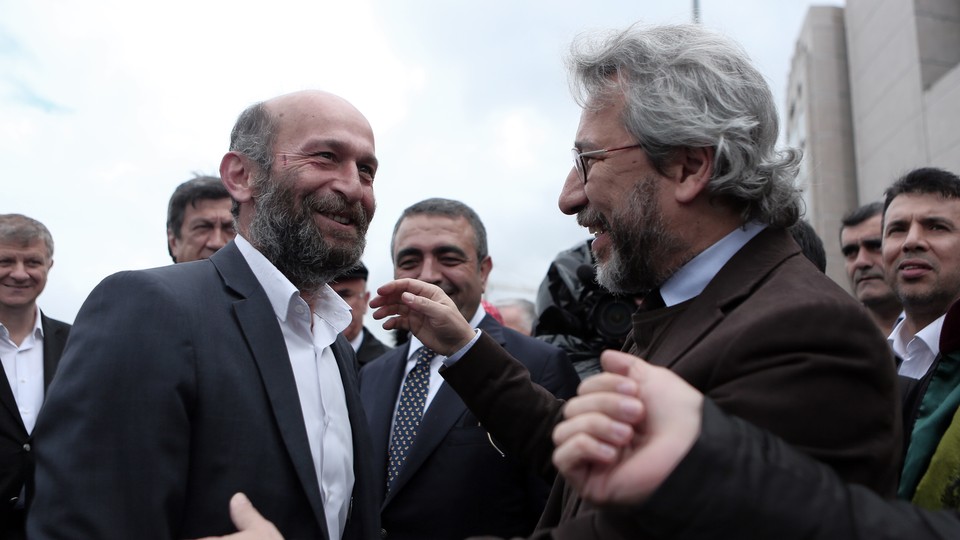 A court in Istanbul sentenced journalist Erdem Gul to five years in prison and his colleague Can Dundar to five years and 10 months for revealing state secrets. Hours before the verdict, a gunman tried to kill Dundar outside the courthouse as he spoke to reporters. He was not injured and the gunman was arrested.
As we have previously reported, Dundar is the editor of Cumhuriyet and Gul, its Ankara bureau chief. Their newspaper published a story in May 2015 that alleged Turkey was shipping arms to Islamists in Syria. The government was incensed and Recep Tayyip Erdogan, the Turkish leader, said: "The person who wrote this news shall pay a heavy price for it, I won't just let it go." The two journalists were arrested last November and charged with espionage and revealing state secrets. The journalists denied the charges against them.
On Friday, the Turkish court found them guilty of revealing state secrets, but not guilty of the more serious charge, espionage, which carried a possible life sentence. They've said they will appeal the guilty verdict—and will remain free pending appeal.
Their prosecution has been criticized by journalism-watchdog groups, with the Committee to Protect Journalists calling the verdict "unjust."