The Geopolitics of Eurovision
Ukrainian officials are thrilled and their Russian counterparts fuming at the results of the popular singing competition.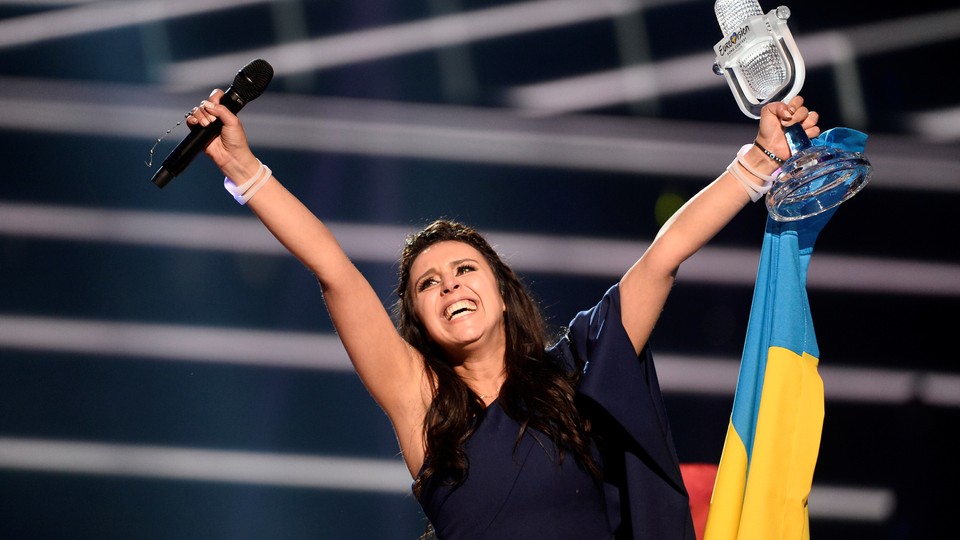 Eurovision is meant to be a politics-free zone—"lyrics, speeches, gestures of a political or similar nature" are banned, according to the rules. But that doesn't always happen.
In 2014, when Anastasia and Maria Tolmachevy, the twin sisters representing Russia, got on stage to perform in Copenhagen, the audience booed. The competition aired just two months after Russia annexed Crimea, the Ukrainian peninsula, a move decried by nearly all the participating countries. Both Russia and Ukraine had qualified for the finals, and Eurovision suddenly became a reflection of geopolitical affairs.
Two years later, the tensions were still on full display Saturday in Stockholm. Russia's representative, Sergey Lazarev, performed "You Are the Only One," a love song. Ukraine's representative, Jamala, performed "1944," a song lamenting the expulsion by the Soviets of Tatars from Crimea. Neither Russian nor Ukrainian juries gave each other votes. While Lazarev won the vote among all television viewers, he scored third place, and Jamala took first place overall. Ukrainian officials were thrilled, but their Russian counterparts were not.
"It was not the Ukrainian singer Jamala and her song '1944' that won the Eurovision 2016, it was politics that beat art," told Frants Klintsevich, the deputy chairman of the defense and security committee of the upper house of Russia's legislature, told Russian reporters after the final round. "If nothing changes in Ukraine by next year, then I don't think we need to take part."
Jamala, the first Crimean Tatar to perform at the contest, says she wrote "1944" for her great-grandmother and her five children who were deported from Crimea under Joseph Stalin; they were among the nearly 250,000 Crimean Tatars expelled that year. She told Radio Free Europe/Radio Liberty that the song is also dedicated for Crimean Tatars living under Russian control now:
When she sings it, she said, she remembers her own family, which is still in Crimea.

"Now the Crimean Tatars are on occupied territory," she told RFE/RL. "And it is very hard for them. They are under tremendous pressure. Some have disappeared without a trace. And that is terrifying. I would not want to see history repeat itself."
Russian officials had attempted to convince Eurovision to ban "1944," which they said was a clear political statement about the conflict in Ukraine—and therefore in violation of the contest's rules—but Eurovision backed Jamala and Ukraine.
The lyrics of "1944" are in English and Crimean Tatar, the first time a Eurovision entry has included the language of Crimea's ethnic minority. Human-rights activists say discrimination against Crimean Tatars has increased since Russia took over the peninsula.