The Big Stories This Week: Obama in Hiroshima, Lego Debates, and More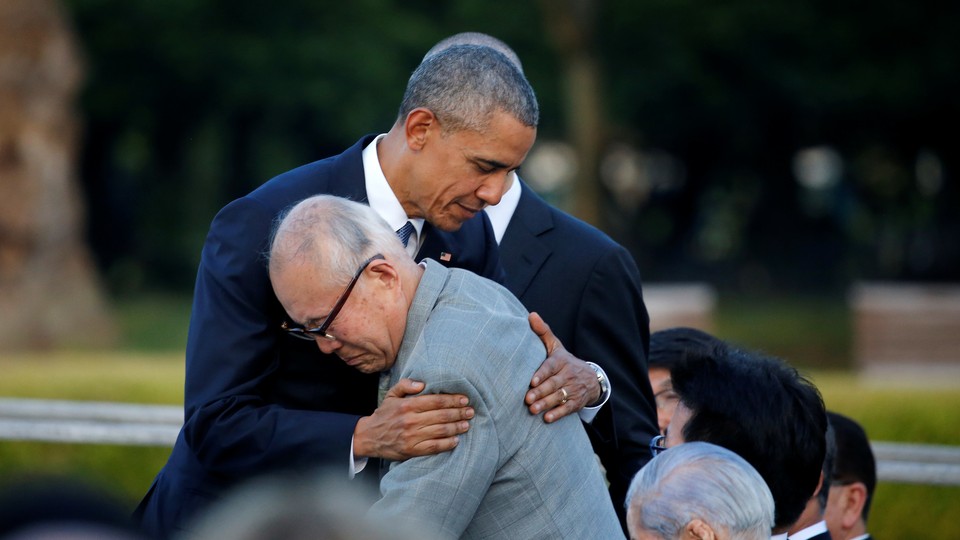 Editor's Note:
This article previously appeared in a different format as part of The Atlantic's Notes section, retired in 2021.
The Politics of Saying Sorry
This week, Obama visited Hiroshima—the Japanese city on which the U.S. launched the first-ever atomic bomb strike—becoming the first sitting U.S. president to do so. There, he laid wreaths at a memorial to victims of the blast, met with survivors, and pushed for an end to nuclear warfare. One thing he didn't do? Apologize for the attack.
Should he have? Uri investigated the international "politics of apologizing": "Setting aside the arguments for and against the bombings of Hiroshima and Nagasaki, what makes apologizing different for countries than for people?" And Alan compiled photos of Hiroshima—then and now.
Berning Bridges
Another week down, still no Democratic nominee. "Is Sanders—the onetime liberal gadfly whose views few of his colleagues heeded—simply enjoying the spotlight's validating glow for as long as it lasts?" Molly asked. "Or is he as delusional as some of his dead-ender fans? It's impossible to tell."
Either way, it's probably not good for the party. And "with Trump stirring in these early polls, that healing process can't start too soon to soothe the nerves of anxious Democrats," Ron wrote. Last week, Clare hit on this: "As the Sanders campaign presses forward, it must carefully consider whether the senator's ambition for a political revolution is a goal best achieved by actively stoking the anger of his supporters—and, in a sense, encouraging them to tear it all down." Readers are weighing in on the race here.
Brick by Brick
"If you want to look at how a toy evolves over time, Legos are probably your best bet," Julie wrote. She and Adrienne both delved into the plastic-brick manufacturer's transitions over time—and what they say about our society.
In 2012, the company launched its Friends line—which "includes a pop star's house, limousine, TV studio, recording studio, dressing room, and tour bus; a cupcake cafe; a giant treehouse; a supermarket; and a hair salon"—targeted at young girls. Still, "Lego hasn't been able to shake the perception that original Legos are for boys," Adrienne writes. "Friends, not surprisingly, hasn't helped." Despite the rosy release, the overall amount of plastic weaponry in Lego sets has only increased: As Julie reported,"the proportion of sets [since 1978] that included weapons increased by an average of 7.6 percent annually."
Above All, Calories
Counting calories just got a lot easier, literally: Michelle Obama, the healthy-eating movement's leading surrogate, unveiled the FDA's new label design, featuring a significantly enlarged calorie reading.
But James critiqued the changes: "Calories are one metric to consider among many—they tell us nothing other than, if we were to set fire to this food, how much energy would be released?"
Five Things You Shouldn't Miss
Talk Back
We're still looking for readers to weigh in on:
Email your responses to hello@theatlantic.com.